Same news released today in form of Press Release Announcements by Company
I have been looking for other players in EWIS and so far I have found only one (other than two mentioned in previous post) - Interconnect Wiring.
https://www.interconnect-wiring.com/aircraft-wiring-harnesses-manufacturer/
There are 1-2 good videos on the website. From the looks of it, it looks like EWIS is pretty employee intensive - every interconnect/EWIS requires hand assembly and manual testing (just a impression from videos)
Customers →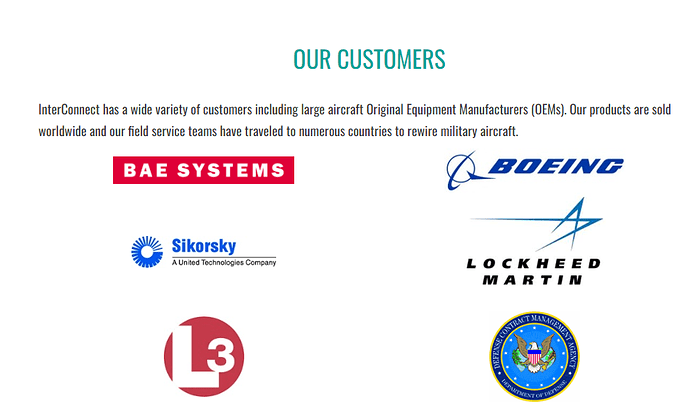 Another interesting thing from website is - "We are the sole licensee of Lockheed Martin for F-16 electrical products"
It looks like no other company can do EWIS, electronics products for F-16.
EWIS looks moderately complex products to me, so question to ponder over is - how does one generate competitive advantage?
We should try to compare if there is advantage in RM sourcing (where does Rossell buys wires from?), labor cost (this is most likely one - give labor intensive nature), long approval cycles (Rossell is probably late entrant).
Another thing to note from website is - other products of Interconnect Wiring. This is probably next stage in product evolution for Rossell. Some of the products (like Relay Panels) looks to be complex and 1-2 product segments like these can elevate business profile of the company.
Disc - Tracking Position, not a buy/sell reco.
Some insights on the Techsys capabilities-
They were among the six companies that received SIATI (Society of Indian Aerospace Technologies and Industries) award in 2016 in presence of ISRO chairman

(https://www.aeromag.in/Magazines/473250625.pdf#page=44)
Commentary from Mr Dennis Swanson, Vice President, Boeing Defense, Space & Security in India: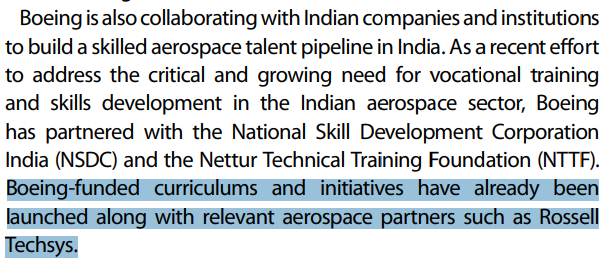 (https://www.aeromag.in/Magazines/1535970456.pdf#page=38)
While it has been covered in this thread that Rossell Techsys has won Boeing 'Supplier of the Year' award twice, it is even more interesting that they won this within 2-3 years of inception (first co in the world to do this).
"It is kind of unheard of to have a company go from start up to 'Supplier of the Year' this quickly"
(Rossell Techsys LinkedIn site)
(https://www.themachinist.in/digital_assets/74/TheMachinist-July2016.pdf#page=18)
Seems like Rossell has a partnership with them

(Competencies | Rossell Techsys)
Disc- I have a tracking position
Only thing I couldn't get my head around is the opportunity size. They have been supplying to Boeing and LM for a while. Although the management said that they want to be a 1000 Cr company is aerospace alone, I couldn't delineate from where the growth will come. Anyone studied in that direction ?
Discl: Holding from lower levels and added during the recent dip.
Have been tracking this as a aero defence offset contract player. Clients are mostly smaller defence products and not bigger civil aviation with hundreds of miles of cables. But maybe they scale up in time.
While lot of orders are happening, aero defence purchases are lumpy (once in decades) with deliveries over years, quite difficult to predict revenues here and long-term growth. Sukhoi 30 MKI has been under manufacture for ~20 years, about 10-20 deliveries every year, it was still under production with 2-3 years to go when Rafael was bought. Such deals can be very complex.
F-35 has been a trillion dollar failure with 100 million USD per piece. Tech is fast forwarding to much less complex drones and missiles which do not need expensive life support systems etc. We are seeing perhaps the last generation of 25 ton manned machines.
Why should a skilled, labour-intensive, moated business depend on defence offset handouts? Not many companies have made money in aviation (defence) business, Boeing share price can be a reflection of that.

These are the guys who introduced majority contracted technical labour force due to the immense cyclical nature of biz.
Disc: not invested, interested in aviation
Isn't grounding of 737 max a predominant reason for that or is it defence related business ?
Also Lockheed Martin in to pure defence play and still doing well ?
Yes, nicely put, indeed maybe because Lockheed is much more defence pure play and Boeing is more general aviation, and has been hit by the 737 MAX crisis. But then so is Airbus by pre-mature shutdown of A380 production. Aviation is difficult, huge investments in manufacturing and R&D, with unpredictable run-rate of success. A struggling global duopoly mostly subsisting on govt subsidies due to strategic concerns.