Same news released today in form of Press Release Announcements by Company
I have been looking for other players in EWIS and so far I have found only one (other than two mentioned in previous post) - Interconnect Wiring.
https://www.interconnect-wiring.com/aircraft-wiring-harnesses-manufacturer/
There are 1-2 good videos on the website. From the looks of it, it looks like EWIS is pretty employee intensive - every interconnect/EWIS requires hand assembly and manual testing (just a impression from videos)
Customers →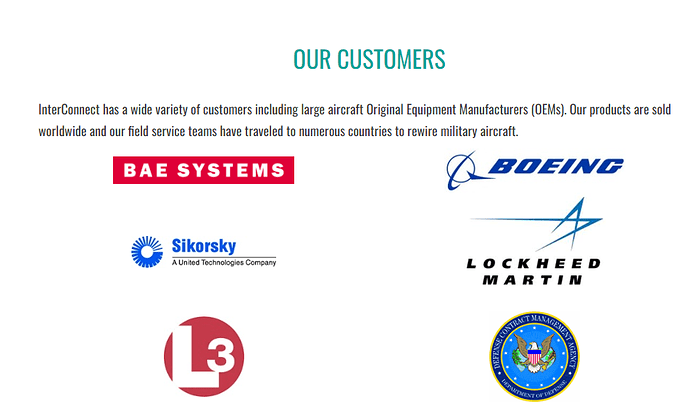 Another interesting thing from website is - "We are the sole licensee of Lockheed Martin for F-16 electrical products"
It looks like no other company can do EWIS, electronics products for F-16.
EWIS looks moderately complex products to me, so question to ponder over is - how does one generate competitive advantage?
We should try to compare if there is advantage in RM sourcing (where does Rossell buys wires from?), labor cost (this is most likely one - give labor intensive nature), long approval cycles (Rossell is probably late entrant).
Another thing to note from website is - other products of Interconnect Wiring. This is probably next stage in product evolution for Rossell. Some of the products (like Relay Panels) looks to be complex and 1-2 product segments like these can elevate business profile of the company.
Disc - Tracking Position, not a buy/sell reco.
Some insights on the Techsys capabilities-
They were among the six companies that received SIATI (Society of Indian Aerospace Technologies and Industries) award in 2016 in presence of ISRO chairman

(https://www.aeromag.in/Magazines/473250625.pdf#page=44)
Commentary from Mr Dennis Swanson, Vice President, Boeing Defense, Space & Security in India: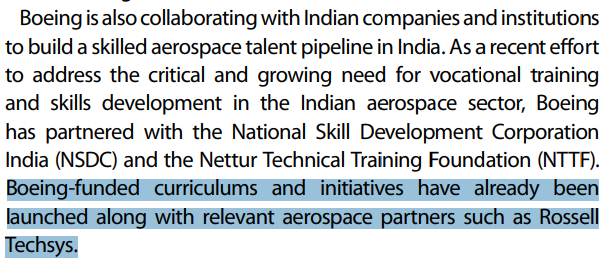 (https://www.aeromag.in/Magazines/1535970456.pdf#page=38)
While it has been covered in this thread that Rossell Techsys has won Boeing 'Supplier of the Year' award twice, it is even more interesting that they won this within 2-3 years of inception (first co in the world to do this).
"It is kind of unheard of to have a company go from start up to 'Supplier of the Year' this quickly"
(Rossell Techsys LinkedIn site)
(https://www.themachinist.in/digital_assets/74/TheMachinist-July2016.pdf#page=18)
Seems like Rossell has a partnership with them

(Competencies | Rossell Techsys)
Disc- I have a tracking position
Only thing I couldn't get my head around is the opportunity size. They have been supplying to Boeing and LM for a while. Although the management said that they want to be a 1000 Cr company is aerospace alone, I couldn't delineate from where the growth will come. Anyone studied in that direction ?
Discl: Holding from lower levels and added during the recent dip.
Have been tracking this as a aero defence offset contract player. Clients are mostly smaller defence products and not bigger civil aviation with hundreds of miles of cables. But maybe they scale up in time.
While lot of orders are happening, aero defence purchases are lumpy (once in decades) with deliveries over years, quite difficult to predict revenues here and long-term growth. Sukhoi 30 MKI has been under manufacture for ~20 years, about 10-20 deliveries every year, it was still under production with 2-3 years to go when Rafael was bought. Such deals can be very complex.
F-35 has been a trillion dollar failure with 100 million USD per piece. Tech is fast forwarding to much less complex drones and missiles which do not need expensive life support systems etc. We are seeing perhaps the last generation of 25 ton manned machines.
Why should a skilled, labour-intensive, moated business depend on defence offset handouts? Not many companies have made money in aviation (defence) business, Boeing share price can be a reflection of that.

These are the guys who introduced majority contracted technical labour force due to the immense cyclical nature of biz.
Disc: not invested, interested in aviation
Isn't grounding of 737 max a predominant reason for that or is it defence related business ?
Also Lockheed Martin in to pure defence play and still doing well ?
Yes, nicely put, indeed maybe because Lockheed is much more defence pure play and Boeing is more general aviation, and has been hit by the 737 MAX crisis. But then so is Airbus by pre-mature shutdown of A380 production. Aviation is difficult, huge investments in manufacturing and R&D, with unpredictable run-rate of success. A struggling global duopoly mostly subsisting on govt subsidies due to strategic concerns.
I'm not sure if I understood this!
The holding company is getting Rs 10/- face value shares @156/- while retail investors like us have to buy a Rs 2/- face value share @ 150-200 per share?
Promoters get shares at 1/5th the market price? Isn't this against share holder interest.
Apologies if my analysis is incorrect…
It was quite exciting to read the latest annual report of the company - Rossell India Ltd financial results and price chart - Screener
Inline with the aggressive growth ambitions, the order book has increased a lot. Interesting to see a small co getting a single order of $100 mln (multi-year)! this is what usually we see in bigger software cos.


Probably we didn't understand the significance of the newsarticle when it came few months back - Rossell Techsys Wins Boeing Contract to Manufacture Wire Harnesses for the T-7A Red Hawk Platform | Business Wire
Overall order book is now over $200 mln! (though it is very long term…so need to see the annual run rate in coming years)



Coming to concerns:
As these are large contracts, need to see how the co will manage RM price and forex risk
These contracts are based on the success of client and particular models
Aviation segment has been dull in recent times…would like to see better nos
Debt and working capital management
Looking forward to the AGM today to get more insights.
Ayush
Disc: Invested in family and client acs. Biased and can change views.
Anyone who attended the AGM, request if you could share the jist of the vision for Techsys…i believe Rishab Gupta spoke about the future plans of Techsys.
Interesting Facts/Developments From Transcripts noted at Morning Coffee
Tea Division
Tea production from outsourced leaf to increase from 3.05 Lac Kg to 5.00 Lac Kg
Appropriate time to acquire 2-3 large estates taking the overall production to 9 to 10 million kgs in the next 3 to 5 years. Current Production 50 Lacs KG Appx.
Techsys
ROSSELL Techsys Division awaits decisions on various bids totaling more than ₹4000 crore that it has submitted in the last 18 months.
For T‐7 Rossell has all of boings portions. We're doing it as a sole source completely for Boeing for the complete T‐7 aircraft of Boeing portion.
Cost of wire harnesses per aircraft is anywhere from 2% to 3% for for aircraft or helicopters.
We are also expanding our geographies more from the US. Now we're
moving to Europe as well.
Disc. No Recommendation. Do your Own Check. Invested.
points well noted.
Just to add one more significant point, Techsys seeking to enter wire harness for commercial aircrafts which have larger bodies and hence bigger order values compare to defense aircrafts.
I had looked at Rossell few weeks back and in the couple of hours I spent, I came away with so many questions and doubts. I see that this company has piqued the interest of the investing community due to this Techsys division's foray into aviation/defense manufacturing. It does sound exciting but this did not pass some of my basic filters and smell tests.
We would assume this is high-tech vertical in the defence space but looking at the margins doesn't seem to say so.
Although the topline has grown consistently, the margins between FY18-FY22 has gone like this 6% → 12% → 19% → 14% → 12%. That's a wide range and a lot of variation. This does not give the impression of a business doing a lot of value-add. It means that the value-add is minimal/marginal and is being drowned out by the variation in gross margins?
While the topline has grown from 64 Cr to 155 Cr. Has the company put up any capex in plant and machinery to handle these new orders?
Clearly, this business doesn't need a lot of investment in plant & machinery, so the possibility is that this is a very labour intensive business and probably the value-add in this business is purely labour? That might also explain the good RoCE (Tea is a labour intensive industry - so this business is more close to Tea business than a pure-play defense business like HAL with 24% OPM and ~55% GM?) So does it mean that when this business get a 2000 Cr order, they will have to hire a lot of labour to scale?
Another line of thought, that jumps up when looking at Inventory days.
The inventory days are awfully high. That's like a 1.5 years or so! No other tea business has such poor cash conversion cycle. So clearly this has something to do with Techsys division. They have to procure RM and perform labour-intensive tasks on it for a year or more before they can ship? Does the vendor cover forex fluctuations? The management seems to think that Rupee depreciation is a natual hedge. What happens when Rupee appreciates instead?
So who funds this inventory? Do they have a relationship with Boeing or whoever to fund this liability? Looking the balance sheet sheds some light
So these guys have to borrow to buy whatever this commodity is on their own for orders to be delivered 1.5-2 years later. So a 2000 Cr order might mean they may have to borrow 1200-1500 Cr and trust the Rupee to be a natural hedge? (90% of RM is imported)
If you see the above two, the RM price fluctuates over the long-term a fair bit and going by back of the envelope calculations, the Gross Margins here may not be more than 20% and the labour value-add perhaps around 5% (Am assuming this is unskilled labour with a low-wage)
The worst case for this company is when they win a 2000 Cr order, raise debt and buy inventory and RM price crashes over the next year and Rupee appreciates. It can essentially wipe-out everything.
Again, I am making a lot of guesswork here because the AR or AGM transcript is so opaque. So many good questions asked by participants and the answers by the management are outright comical (in my opinion)
Whenever I see stuff like this, I run away.
Disc: Just a customary glance and not invested due to lack of clarity and what I consider are red flags. Posting here because I might be missing something.
Good research bro, loving your details and perspective toward company.
I feel there is lot of misjudgement in your analysis so I take the liberty to clarify. Intention is to just put facts and thoughts out there.
Firstly, Techsys is a highly skilled labour intensive process so therefore no addition to plant & machinery. You are right about margins, they are sub 15% as of now.
Inventory days are high due to the time taken in readying the wire harness, which in the agm transcript, Rishab Gupta has in clear words said that inventory days going to come down to 3months. Excerpt of speech quoted below:
"I would just like to add one point that sorry on the question was raised on inventory levels as of today. Rossell inventory levels are close to 6 months. It was a strategic decision taken, but overtime definitely the idea is to come down to 3 months now. "
On the 2000 cr order, they can deliver 500 cr/quarter and use the sale proceeds to fund the RM for the next quarters orders, so i really doubt they need to borrow more than 2-300 crs.
I agree that Harsh Mohan Gupta's comment on Billions is rather uncalled for, but he is not luring investors by that as the promoters own 75% of the company so they arent interested in stock price, but are here for the growth of the company.
I agree mgmt could have answered point wise to each question raised, but they are always tight lipped. More can be learnt from Rishab Gupta's detailed interview in Asia One magazine.
The way i have understood this company is,
that are par excellence at what they do and have earned extremely sticky customers so very high entry barrier
Apart from Defense, Wire harness opportunities in commercial aircrafts is a huge and company is well placed to benefit
As of now wire harness but the plan is to get into higher value add businesses. They are tight lipped about this, but that is the plan. first acquire sticky customers, then grow your product portfolio.
From tea when they can venture into defense, why would they not plan to grow into high value add in defense.
Disc: Invested since a year.