To start off with, one common misconception out of the way, Roblox is not a game - but a platform for users to play games and for developers to build games. On relative terms, as a model it's closer to Youtube than to gaming companies. Being a platform, it solves the problem of coming up with the next big thing/next big game the same way Youtube solved for video.
Metrics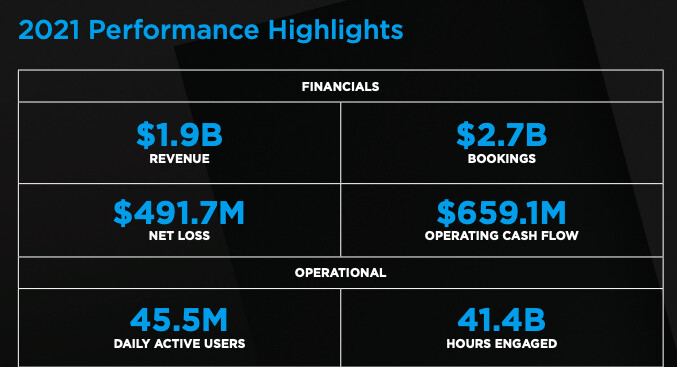 (Revenue is GAAP revenue; Bookings is the amount of Robux, the in-game currency bought during a certain period by users. This is a non-GAAP number but a more accurate reflection of revenues during a given period. More on this later)
Roblox launched in 2006 and it's been built up over 16 years now.
Users - The company has amassed 49.5MN DAUs (Q4) across the globe. The geographic split is 22% North America, 28% Europe, 22% APAC, 28% RoW. Age wise split is 48% under 13 years of age and 52% over 13 years of age. North America has seen 2.5 average hours per daily user. Europe at 2.2 hours. APAC at 2.66 hours. The Average Booking Per Daily Active User (ABPDAU) was about $15 last quarter.
Experiences - During 2021 over 1,900 experiences generated more than 1 million hours of engagement. In 2020 and 2019 only 1,500 and 800 experiences had that level of engagement, respectively. In December of 2021, 40% of the top 1,000 experiences were "aged up" wherein greater than 50% of engagement was from users aged 13 and older. The top 10 experiences accounted for 45% of Robux earned in December of 2021, down from 57% in December of 2020 showing more developers taking their share of the Robux economy.
Monthly Payers - An average of 11.9 million monthly payers with an 89% repurchase rate contribute to the bookings on the platform. The platform is largely free for the rest. The company is also working on the subscription model that credits users a certain amount of Robux every month. How users spend their Robux on the platform is fairly interesting. About 70% of the Robux is spent on in-game experiences. And 30% of the Robux is spent on catalog or otherwise personalizing their avatars on the platform.
Developers - The Roblox developer community earned $538.3 million in 2021. Two years ago, that amount was $112 million. These financial incentives, which include engagement based payouts, are effective in motivating existing developers and attracting new ones. This is a bit dated from the end of 2020 but, Roblox had 1.5Mn creators earning something out of their creations on the platform. An interesting note from the shareholder letter is on the payouts shared with the developers - the number of developers earning over $30,000 was nearly 800, or approximately 2x the trailing twelve month number measured at the end of Q1 2020. Similarly, the run-rate of earnings for the 1,000th developer was over $29,000 in March 2021, up from roughly $8,000 in March last year. About 300 developers earned more than $100k, which is a small but growing number as the platform evolves.
There is also a good bit of diversity in which countries these developers are from which enables them to tailor experiences to suit the local context. As indicated in concalls, the top 10 experiences in each country could be different which is inherently due to developers localizing the experiences for these different countries and Roblox supporting gameplay in multiple languages.
Management commentary on developer economics:
The philosophy was to create a system that connects our people on our platform with our developers and allows flexibility in our developers to create amazing content, and then to monetize that in a balanced and freemium way with our player base and the people on our platform. This system has turned out to be enormously powerful and as different countries have come online, whether it's the U.S. and Canada, or whether it's Philippines, Brazil, and Russia, in all of these countries, over time, we've seen the combination of amazing content and the players becoming more embedded in our platform in driving higher and higher booking per DAU.
There are no big levers we have been turning except to provide a platform and tools where developers are making increasingly high quality content and that's been driving the engines. We have made some small adjustments over time and we continue to move as much money as we think is financially prudent back to the developer community. An example would be in March, where we increase the engagement based payout rate by approximately 75%, which is driving the money we're transferring to developers based on timing within the platform. I know future predictions on where dev ex is going, but this general philosophy of we want to run a lean business and move as much money to our developers as possible.
Over the last four to five years, every year, as we've tracked what developer number one, developer 10, developer 100, developer 1,000 make, we've seen all of these categories continue to grow. The total amount of money now going to each of those categories has continued to grow, and I believe will keep growing. The developers coming to our platform, I'm looking, can I support or can we support a studio? Our largest studios now aren't individual hobbyists. They are teams of 10, 20, 30, 40 professional devs and that's part of why we're seeing all of this money flow into the platform. All of the developers and creators on Roblox are UGC creators, whether it's developer number 1 or developer number 1000 in the pipeline. There's a complementary system where even way down at developer number 10,000, as Mike mentioned earlier, there's an organic effect where when that cheque shows up, surprisingly, because that experience that is really experimental, we believe there's an interaction with that developer where it's motivational to create content on our platform, and it contributes to the funnel of these developers that are rising in the ranks to 1,000 to 251 and ultimately number 1. Even our top developers participate in engagement based payout.
The Metaverse
I'm drawing this block from a good article about the metaverse that Roblox is building since it's explained beautifully. As its under a paywall, summarizing the key points here:
Roblox talks about 8 parts of the metaverse they are building.
Avatar - The avatar is the expression of the player in the virtual world and how each player chooses to represent themselves here. These are designed by the user or purchased via Robux.
Friends - Users bring their real world friends into the virtual world, apart from the new ones they make on the platform. Users can chat with friends over text and voice.
Immersiveness - Roblox is investing heavily and working on the game engine so 3D worlds can be everything from cartoony to highly realistic. This is to appeal to the widest possible audience and the immersiveness becomes even more important considering their efforts to age up their user base.
Global and mobile - Games dynamically downshift graphics and rendering on older devices, or where internet connections are poor. Localization rollout is very far along, but slowed by their focus on content moderation.
Variety - There are millions of worlds created by users and developers. And easy switching between the worlds. Users average ~20 worlds. There are elements of real game like experiences and experiences where the avatars just vibe with the other avatars much like a hanging out in the physical world.
Easy movement between worlds. Games load incrementally, as data is needed. Users average playing 20 different games per month.
Robux - their in-game currency. Robux is the currency of the Roblox economy. Users convert currency into Robux. Robux is used to pay for the avatars and in games. Some part of the Robux is accumulated by developers from users who spend on their game. Developers can further use the collected Robux to promote their game, further build out their game. Or convert Robux at a pre-fixed rate into currency again.
Safety and civility - This is important for the growth of the platform, especially considering the age of the large chunk of the user base. The company invests quite a bit on AI and human moderators to maintain the safety and civility on the platform and not let trolls ruin it. This is partly the reason why the company is also methodical and slower in launching new features on the platform that could impede on the civility on the platform like voice communication.
What's interesting about Roblox is the strategy they are adopting for their version of the metaverse:
Making it a fully UGC platform solving for having to always come up with the next big game, instead opening it up to developers and creators to launch games that can attract users.
There are 300 developers who earn more than $100k through Roblox and this community is fast growing and becoming more professionalized. They have paid out nearly 583 Mn USD to developers in 2021, an increase of 64% and incentivizing more developers to build realistic games and experiences on Roblox.
Emphasizing on social aspects of gameplay and on civility and trust.
Monetization through Robux with the optionality of advertising in the future.
The "moat" comes when they reach enough scale. They are not close yet.
Their vision includes taking this model of engagement with your friends through games to other areas like live events, education and work.
What they're trying to make work on the metaverse is really complex. And it pays to have focussed all their efforts into it over years. Management commentary on the tech complexity in what they're building out:
The technology is very complex. The technology to support, ultimately, a 50,000-person concert, where we all feel like we're there, we can talk to our friends next to us. We can wave across the stadium, it feels totally realistic, the audio is awesome and there's 50,000 people doing that, that's a huge technological challenge. Side by—so that technological challenge, I just want to put that out there, in that it's very exciting that there's so much work to do. We're pretty far into this. If we look back to Second Life on their dot-com (phon) this started a long time ago. So, there's a lot of fun stuff to do. Our focus for the last 15 years has been on innovation and invention and really shepherding in where we feel the metaverse is going to go, whether it's when we had four people, right now, we have 1,200 people. That will continue. There's a wonderful focusing effect for a company like ours when we're only working on one thing. Everything we do piles into making this single platform better and better. So, we do have this Roblox benefit of extreme focus, with 1,200 people and growing. The other thing that we believe is long term for a metaverse utility, it must be a civil and safe platform that welcomes six-year olds and, at the same time, welcomes 30-year olds who are working together. This is very complicated. This takes—I think it's much easier to start from that civility and safety foundation and then open up the freedom than to try to reel it back in and go the other direction. So, we really think that's a wonderful opportunity for us as well.
Roblox Financials
Roblox has one of the more quirky revenue recognition models that masks the true cash flow generation happening in the company. Users purchase Robux, the internal game currency to spend on the platform for their avatars or in game experiences. However, Roblox recognizes this revenue in two ways:
Consumable Virtual Items: Robux spent by the customer on a consumable. Recognized immediately upon consumption on Roblox.
Durable Virtual Items: Recognized over the period of lifetime of paying user. This number is generally 23 months as per Roblox. So any durable item bought using Robux by the user is considered deferred revenue over 23 months and spread out basically over 8 quarters.
Again, point to consider is these are all digital goods. There is a very negligible marginal cost to these digital goods. And durable virtual items are nearly 90% of the platform revenue vs 10% for consumables.
This means, the bookings are a more accurate indicator of what's happening in the business in any particular time period. Bookings is defined by Roblox as revenue plus change in deferred revenues. Or in other words, the amount of Robux purchased during that period by users. GAAP revenues are a reflection of the activity of past 8 quarters while expenses are a reflection of spends of the current quarter.
Bookings were 2.7B USD in 2021 and 770Mn USD in the last quarter. Let's deconstruct the financials for last quarter with non-GAAP numbers and bookings as the proxy equivalent of revenues and see how it looks.
Adjusted gross margins would be ~75%.
Cost of goods sold includes:
Cost of revenues which is primarily the amount paid to their channels of distribution as commissions for in-store purchases on Google Play Store and Apple App store. This number is 190Mn USD ~25% of revenues (adding back deferred cost of revenue).
Other operating expenses include,
Developer exchange fees which is primarily money paid out to developers at a pre-fixed rate in exchange for the Robux the developers have accumulated from Roblox users on their games. This number is 159Mn USD ~20% of revenues.
Infrastructure, trust and safety are self explanatory, which are investments into building out the platform itself, cloud, moderation, security, etc. This number is 136 Mn USD ~17%
The other big line items on the expenses side are the R&D and SG&A expenses which are 22% and 11% of revenues.
They have made their intentions clear that their priorities lie in expanding the user base and building more engagement. Towards that, we should see more increase in developer payouts and infrastructure, trust and safety spending. However, my hunch is the trendline on commissions to app stores should see a downwards trend owing to regulatory reasons, pressure on big tech to reduce commissions. (see South Korean rules now forcing third party payments on app store) This would do wonders to the gross margin, for all gaming companies. Not just Roblox.
This is what the numbers hide, this is already an efficient org with healthy operating cash flows and free cash flow to operating cash flow metrics. They spend very little on marketing and a lot of the user growth is word of mouth and the user base bringing their friends from the physical world into the virtual world.
Management commentary on margins and how they are thinking about scaling:
Given the size and scale of the business and the investments that we're making, I would just caution everyone against looking at margin leverage immediately happening or in the next few quarters. Obviously, the unit economics of the business are quite positive and we're happy with the cash flow that the business is generating. On the other hand, we see our role right now as investors in this business, not as optimizers of the margin. I don't mean that in a pejorative sense, I just mean we are in such a big opportunity, we are so far from the user base and the scale that we want this business to be at. We have so many things that we want to invest in, in product and technology, that will enable more and more developers to build incredible content and bring that to a broader set of users that we still are much more focused on those investments. Again, hiring more people. It's great to be at over 1,000 employees. It's amazing how we've grown that employee base over the last few years, but the ambitions of this business, when you're talking about billions of users, it'd be thousands and thousands of employees. We have a long way to go in terms of investment in growing the headcount in the business and as we've been talking about, the economics of the developer community. If we keep our eyes focused on that, I think, generally that will just pay incredible dividends because it will ultimately drive greater growth in the top line of the business.
Roblox Core Business Growth
Roblox currently has ~50 Mn DAU users and the company's goal is to take this to 1 Bn overall users (not DAU) with this growth coming through,
International expansion
Aging up or growing the older user base
Expanding the platform's breadth of use
We can see how this strategy has been playing out for them. The growth rates pre-pandemic in the more mature markets of North America had been hovering around 30% and the pandemic lifted the boats of all the gaming companies and compressed a few years of growth into just a few quarters. We can see similar levels in Europe too with the pandemic led growth being digested. The core user base growth is now coming from APAC and RoW with countries like Japan and India clocking significant YoY growth ~100%.
Aging up of the user base is in two parts - retaining the existing user base that is aging up every year and attracting the older TG with investments in more realistic games suited to the TG. We are seeing this play out with the 13+ grouping growing at a much larger rate even on a higher base than the under 13 grouping. What is also interesting is the details shared in the last concall around the 17-24 cluster. This has now become 20% of the DAUs and growing 50% YoY. This group can have a disproportionate effect on the bookings metrics as they have higher disposable income to spend on Robux than the kids who are essentially dependent on their parents money for Robux purchases and are more valuable with advertisers too, in the future. The current ABPDAUs are about $5 per month and have scope to increase with the aging up of the user base and is a key lever for Roblox to increase bookings.
Management Commentary on Roblox growth in Q4 FY22 letter:
User and engagement growth right now are being driven primarily by international expansion and growth in users aged 13 and older. These expansions have been priorities for us for a number of years and we are excited to see growth throughout parts of Asia, Europe, and Latin America, as well as with older users.
Bookings, for now, are driven primarily by the United States and the United Kingdom which are both opening up from COVID restrictions and returning to school and work. While engagement and payer conversion are higher than they were going into the pandemic in these countries, this is where year over year comparisons are currently toughest.
Year over year bookings comparisons should improve starting in the May-June time frame.
Bookings growth in Q3 and Q4 of this year should be much closer to user growth rates than they were in January, and our exit growth rates this year are expected to be good indicators of 2023 growth.
Our focus will continue to be on building an amazing product with world class engineering. We have several key areas of product focus and we believe that if we stay laser focused on delivering those, as a byproduct, we will build a business that has the ability to compound its top line at high rates of growth for the foreseeable future.
Additional Growth Levers
The bulk of monetization is now happening through customers who purchase Robux to spend on the platform. Monetization through advertising, brand partnerships and music is unexplored at the moment. The management commentary on this indicates how they look at this opportunity.
The brand partnerships with Nike, Gucci, NFL and the live virtual concerts hosted are interesting directions in how they want to take this forward. They want the advertising element to not interrupt the flow while being part of the surroundings of the experience. Further, while they themselves are working with the brands and on concerts currently to onboard them - Roblox wants to make this completely self-serve for the companies and artists to build their own experiences and events on Roblox.
Management commentary: (snippets from different calls)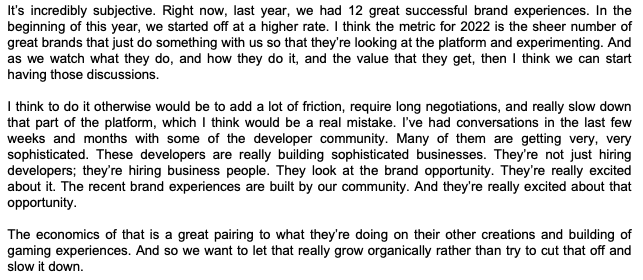 This is fairly nascent though and only represents an additional optionality for Roblox to explore.
The second growth lever available to the company is in terms of increasing sales and marketing spends. Roblox usually is spending around 3-4% of revenues on sales and marketing and any increase in sales and marketing spends can have a multiplier effect in terms of user growth and bookings growth.
Management commentary:
We're just really, really careful about spending and that model has been really efficient for us over the years. It's driven really great unit economics and we've been in a situation where we haven't had to spend a lot of money to drive user growth. That organic signal to us is one that tells us that the product is doing well. I don't think you should expect to see us change that over the next few years
Roblox Studio
This is the low/no-code game development platform for the developers. There is an array of environments, characters and built in models to use for developers to build out their experiences which add functionality and ease of development. Complex gameplay needs to be scripted in Roblox's Lua language. Below is a video for a glimpse of how it is to create an experience/game on Roblox studio.
Risks
Bulk of the user growth is now coming from RoW markets, which contributes to lower bookings value. North American ABPDAUs are higher by 3-4x over Europe and APAC, and 9-10x higher than RoW. The growth in US markets is coming off a high base and stagnating. The ultimate beneficial effect due to Covid on the business remains to be seen when they grow on this current base and retain the users and engagement of the past year. Especially in North America. Management commentary in the last call addressed this question in a way: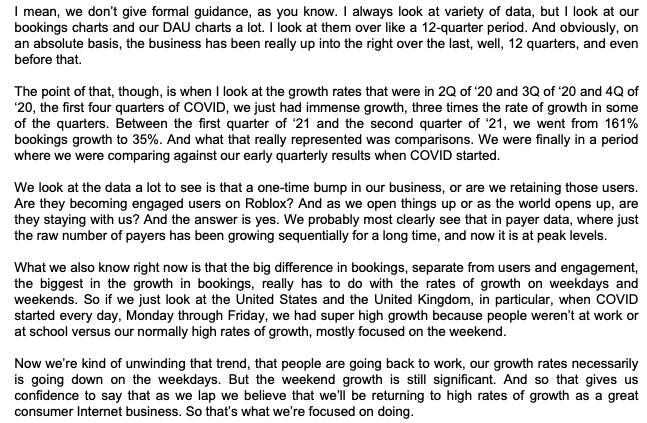 Remains to be seen what a sustainable growth rate for the North American market will be once the high growth rates in user base and engagement hours are normalized for in the current year.
A large chunk of the user base is still under-13, as the user base ages up, it's incumbent on Roblox to keep them on the platform with games that have salience to them and compare favorably with alternatives. While they have not been breaking out data on age groups more than under-13 and over-13, there are some helpful numbers being shared in the concall about the 17-24 demographic. This demographic is about 20% of DAUs and growing at 50% YoY and it will be interesting to track how this important demographic behaves going forward for the aging up the user base goals of Roblox and in terms of meaningfully contributing to the ABPDAU.
Management commentary on this: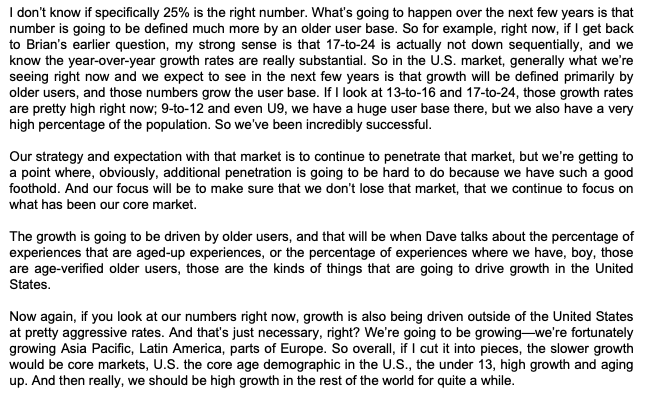 Competition and AR/VR risk- there is competition heating up in this space and Roblox still hasn't achieved the scale of a Meta and is a relatively minor player without the deep pockets of Meta who has an advantage in AR/VR hardware form too pushing forward with Oculus.
Management
They are a management that's methodical in building out new features and product roadmap clear on what they want the platform to look like in the future. Even the investor day announced quite a few feature announcements without ship dates as a policy. With spatial audio integration for players to communicate with each other, the company has been methodical in launching it in phases for developers first, learning as they go and launching it for the above 13 only user base in order to ensure trust and civility on the platform.
It merits going through the investor day transcript from November. It's a great place to look at and understand the business in greater detail. And also to understand what the management is really building on this platform.
Disc: Tracking position. Not a recommendation. Will add further components to the thread as this story evolves.