Highlights from AR 2022-23
********************************'
MARKET EXPANSION & RDSS SCHEME →
Our strategic inroads into the untapped markets of Eastern India, and
capitalising on the RDSS Scheme, underscore our adaptability and dedication
to broadening our horizons. Furthermore, our proactive stance in the
Smart Metering Segment has allowed us to secure a dominant market
share.
PIONEERING IOT POWER SOLUTIONS —> We're thrilled to announce our journey
into IoT power solutions. This pivotal move aims to harness a potential
market opportunity valued at approximately Rs. 30,000 crores
FINANCIAL OVERVIEW:
Our fiscal accomplishments this year have been truly extraordinary. With
top-line figures soaring by 197.74% and bottom-line figures witnessing an
incredible rise by 1,934.78%
OPERATIONAL BRILLIANCE : Reduction in working capital days from 229 to 107 and
fostered an impressive 116.90% surge in inventory turnover.
WORKING CAPITAL STEWARDSHIP : Our proactive strategies have culminated in a commendable 45% reduction in work-in-progress materials. This has positively streamlined our inventory
cycle.
Way Forward : To achieve turnover of Rs.5000 crore by the year 2030
To eliminate electrocution from the nation by 2027;
To eliminate electrical power and equipment theft by 2028;
Certifications : We have been accredited with OHSAS 18001:2007 certification, ISO
14001:2015 certification, ISO 27001:2013 certification, Certificate of
Compliance as per RoHS Directive (2002/95/EC) of the European Parliament
and of the council on the restriction of use of certain hazardous Substances
in Electrical and Electronic Equipment's, Certificate of Compliance as per
REACH and ISO 9001:2015 Certification
Financial Results :–>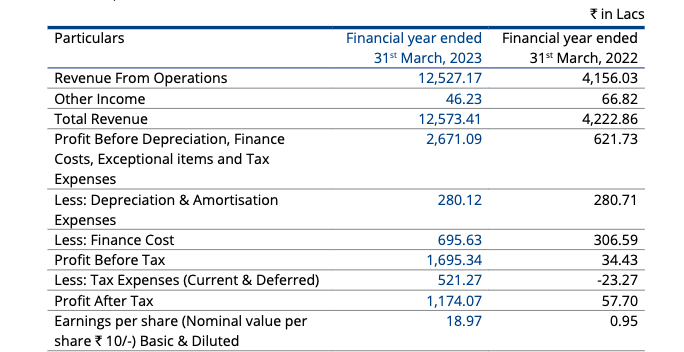 Credit Rating : During the period under review, the Company has obtained
credit ratings from Infomerics Valuation and Rating Private
Limited, a Credit rating agency, for long-term bank facilities
as IVR BB-/Stable and for short-term bank facilities including
short-term bank facilities (proposed) as IVR A4