Quick background: I started saving in equities only in the last 2 years and prior to that was primarily saving via FDs/PPFs. Started investing in mutual funds since 2016 via SIPs and started looking at equities only in the last 3 months. This is my portfolio that I have as of today (most of the bets seem to be post the correction except a couple here and there). Would love feedback.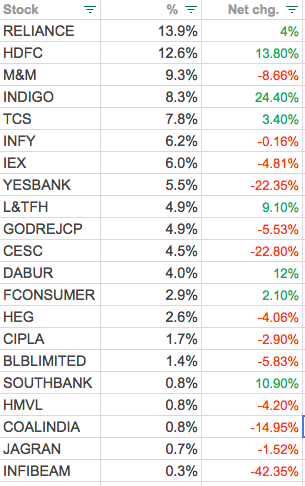 Notes:
My stock portfolio is only about 2-3 months old and I intend on investing aggressively in this. About 50% of my monthly savings goes into Equity MFs and remaining 50% into Stocks. The bonuses go into PPF and whatever is left again into equities. As of now debt accounts for 55% of my portfolio and I intend to trim it further down to 35% over the next year (allowing me to have cash to deploy in market in the next 6-8 months apart from my monthly savings).
Reasons for stocks:
As you can see, my biggest holdings are in blue chip stocks since I am new and my only strategy was to pick a few sectors like IT, Auto, FMCG, BFSI and find some of the top companies there and invest. It's only recently that I have started to look at midcap stocks.
Reliance: Due to Jio. Though worries that Mukesh bhai has taken too much debt. But hopeful that Jio will figure out monetization.
HDFC: Got it at a dip. Every mutual fund in the country has this stock, and thought can't go wrong with this, exceptional management team.
M&M: Bought when the stock fell by 200 Rs (though it fell further). Believe that they are going to play a big part in electric vehicles, tractors etc. And because of good management.
Indigo: Possibly the only airlines out of India which can become a major international player and yet remain profitable. Fantastic track record of execution. Will probably hold unless there's a major oil crisis.
TCS/INFY: Feel both these companies are embracing digital well and an increasing portion of their revenues are coming from these higher margin activities. Good management teams.
IEX: This is a long term bet on the fact that eventually all energy will have to come onto an exchange (as of now only surplus energy is traded here). This business has virtually no competition and has a 70% EBITDA with 30-40% PAT. The only issue is how quickly will the market come on board. It's a matter of time.
YES Bank: Was too mesmerised by the price drop
L&T Finance: Hoping it will be a turnaround story. Management focusing on a few areas instead of doing everything like they were doing earlier leading to better profitability ratios (and hopefully reducing NPAs due to reduction in wholesale/infra lending).
FMCG buys like Godrej, Dabur, Future Consumer because felt these are innovative businesses (Future/Godrej more than Dabur), but Dabur has a strong rural presence and was hoping with the upcoming elections, it would fare well for Dabur. Future Consumer because of their added advantage due to their retail store presence which will aid distribution.
HEG just because feel the China opportunity will last another few years. It's revenue/profit growth has been staggering over the last years.
Rest are just random buys (which I will divest in the next few months, except South Indian Bank, where I intend on increasing shareholding).
As of now my portfolio is about breakeven (actually a slight profit, since there's additional shares from the CESC demerger which are yet to be priced)
I have a very high tolerance for risk, since I am around 30 and plan to invest about 40% of my equity portfolio in small/midcap stocks which are on a growth trajectory.