Thanks for this. Can you please share the source as well?
Thanks. Are we sure of the embassy numbers here? Their FY21 guidance is ₹21.45 / unit. For ₹24.4 in FY22, they'll need 14% uplift. Not saying they can't but seems difficult looking at their declining occupancy numbers as businesses need less space in WFH scenario.
They are looking at lease maturity in 2.1m SF space in next 5 quarters which represents 6-7% of the rent. Backfilling in these times seems difficult to me.
Just curious, does nav hold any meaning or significance here as
Who calculates it?
How is it calculated and how often?
Real estate deals are always opaque and variable…so true nav should be the value of the asset if sold…which in itself is arbitrary …so Nav is just like an arbitrary book value…
@rishi87
Estimates factor in a 5% annual rent escalation which is included in their contacts.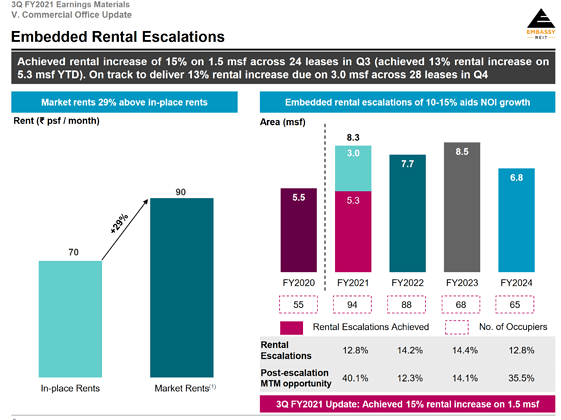 Source:https://www.embassyofficeparks.com/media/filer_public/fa/d7/fad7e56b-7480-4905-88eb-7d7bf4f35178/3q_fy2021_earnings_materials_2.pdf
Before the ROFO assets(Embassy Tech Village) were acquired the projected NDCF as I can recall was about ~Rs. 1850 Cr and Rs. 1950 Cr. for FY22 and FY23 respectively.
After factoring the acquisition this should improve to approx. ~Rs 2300 Cr. and Rs 2420 Cr. for the next two fiscal years, if not slightly more especially if there is a recovery in the market.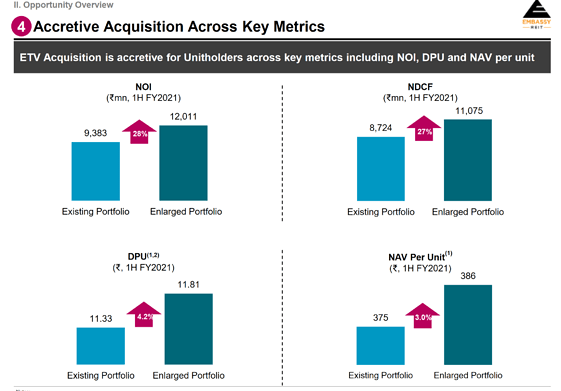 Source:https://embassytechvillage.com/media/filer_public/16/2f/162fcf55-6cd3-441c-ae83-7d2fa17e2276/acqusition_presentation.pdf
Just for context…Embassy REITs distribution was 24.39 for FY20 before Covid came into the picture.
Also reiterating that I am not recommending any investment, just shared as I had compiled the data for my own benefit and reserve the right to be wrong.
Krishna already answered this in detail but the short answer is that they aquired a very large asset (my partner works at this office and I have visited this office personally; in some sense I'm her landlord now, lol) called embassy tech village. This transaction happened in December. So the distribution of cashflows to unitholders included the expanded base but the asset did not contribute to the distributable cashflow base. For this reason, Q3 was a one-off. Overall the transaction was cashflow accretive. The occupancy in embassy tech village is 98%. During a global pandemic. Flipkart head office is at embassy tech village. These are extremely premium A* office spaces in India's own silicon valley, Bangalore. If at all there might be any merit in investing in real estate, then imo it has to be in embassy reit. A set of premium office spaces managed by professionals (their quarterly reports are 200 pages long. They have investor presentation and concalls every quarter). Imo this is a very attractive alternative to "owning a shop for rental yields" that indians have typically done.
For these kind of factual questions that cut across companies I think best way to get the info would be to Google:
https://www.google.com/search?q=how+is+reit+nav+calculated&oq=how+are+reit+nav+&aqs=chrome.1.69i57j0i22i30.4146j0j4&client=ms-android-samsung-gs-rev1&sourceid=chrome-mobile&ie=UTF-8
Are equity market deals any better? Both are markets where portions of ownership are traded between a seller and buyer. Nav is an indeed an arbitrary book value number, but as long as we are consistent in how we compute it across companies it becomes a useful tool for comparing the companies. Similar to book value. If anything I'd say that book values are a bit more complex since they include things like goodwill which in reality is not really an asset. Nav for reit is literally just the price of the real estate assets as asertained by anybody (anybody can calculate the nav, and more importantly project into the future).
Btw the reason that all these ReITs have recently reduced in the value (imo) is that the market is factoring in the risks of reduced commercial real estate demand due to the wfh culture continuing even after covid pandemic. My 2c based on talking to many people are as follows:
In medium term there is bound to be some reduction in commercial real estate demand. But with something like a reit, the investment horizon Is decades, not years. (Does one own a shop or house for few years or for decades) Unless there are country level disruptions, the reit would continue to do well imo. With such a large investment horizon, medium term trends are only noise.
A counter force I see both annecdotally and also in reit presentations is the de-densification of ofrice spaces. Many of embassy renters are Fortune 500 companies. For them, employee health is a very large objective (they realise that long term employee health matters way more than short term cost saving by densifying the office). So, it would not be unreasonable to expect the premium office spaces to become less dense meaning a boost for office demand.
A bet against reit is a bet against Indian private sector growth. This is because imo indian homes are not well suited for conducting business long term. Unlike the much larger American homes, we don't have spare rooms lying around which one can use as a home office.
As per all internal reports I have seen productivity has gone down since covid pandemic began and optimally effective collaboration is definitely not possible unless we visit the office for a few days a week.
For all these reasons at these levels of 320/330 I am a buyer in embassy reit. Why embassy? Observe the trends in revenues and net distributable cash flows. Embassy is the most desirable curve (upward sloping at small angle). Brookfield and the likes are too volatile. Since REIT is a part of my capital protection part of portfolio so I would happily settle for 7% distribution which is more consistent than a 10% which wobbles a lot.
Disc: invested in embassy reit. This is not investment advice. Only adding my thoughts as an educational exercise. Suggest everyone to do their own research and due diligence of consult investment advisor before investing.
Good discussion.
Is there any clarity as to what happens when the 99 year leases for some of the REIT properties end? I would imagine a very small impact on present valuation, but would be good to know.
These land parcels are leased from City Development Authorities or any other Competent Body and are generally part of SEZ's or Industrial parks.
The extension of the lease at the end of the term will depend on the terms of the lease, the property can be converted to freehold or the lease can be extended for another term of 99 years which is usually the norm.
Registered valuers estimate the asset value.
They take market rent levels and apply a suitable cap rate / yield to arrive at the valuation. I think the REIT regulations require them to do it once a year at least.
Fully agree - sold / transaction prices are closer to reality.
Crux here is that valuation provided by registered valuers is nothing more than their opinion of asset value. So it can different from actual transaction prices sometimes, especially in times such as these when risk has increased as long term demand for office space seems to have been impacted.
Thanks - that's helpful. Do we have an idea around the quantum of payment involved when extending the ground lease? Is it a high % of the property value? Also, do these Dev Authorities extend the lease in advance or one has to wait until the end?
Thing is ideally the property value should have an impact due to reducing unexpired term of ground lease. E. G. I will be hesitant to buy an asset with remaining ground lease < 10 years at normal market prices when I have similar assets in the market having > 40/50 years remaining term. I could buy the former at a discount though.
The option for renewal of the lease is exercised by the lessee via written communication prior to the term expiring(3-6 months) as per the terms defined in the lease deed.
The 'premium' or quantum of payment for renewal after the end of the 99 year period will depend on the terms of the lease and/or the market conditions prevalent therein.
Thanks. Has the TDS document been sent to you/others for the Q3 distribution.
I still have not received it for both Mind space and Embassy distributions.
Thanks for taking basic queries

Yes, I have received distribution from both Mindspace & Embassy, Mindspace on 24 Feb & Embassy on 25 Feb.
Agree, these are mere calculations and not reflective of true value (which may be both more or less). Also, in case of equity the market price or NAV (of mutual fund) is a result of collective wisdom of Market (which again can be right or not right, but its is open and collective). Idea is that as an investor, I would not buy an REIT just because it is at significant discount to book value because book value is itself arbitrary and not a result of collective wisdom and free market forces.
The share price of REIT is more reflective of true value and as your point 2 mentions the significance of "rent" here even in calculating the book value - Any investor buys the REIT for Rent yield and if you see in US currently interest rates are close to 0 and REITs have a yield of around 2-3%. Applying same delta to a 5% FD rate and a delta of 2% gives the result of REITs should currently trade at around 7% yield (this is not accurate and just for purpose of representation of my thoughts that REIT valuations depends solely on its Rent yield). So if you see the value or rather share price of REIT depends on rent yield and only rent yield (and so does the book value).
I think they are good investment in a falling interest rate scenario, but imagine if the rate cycle reverses and interest rates in India reaches back to say 8%, then in order for REIT to trade at yield of 10-11% either their rent yield should increase proportionally (booming office market) or its share price should fall proportionally (Like what happened in last 1 year during pandemic when interest rates fell and office rent market did not boom).
Also another important point I have in mind is that Real estate is a very capital intensive business. For growth, these REITs need to take debt. As investor, I generally keep away from large capital intensive business and where huge debt maybe needed because here the management decisions/interest rates and economy fluctuations play a role as big as the in general booming real estate market (primary reason why many people invest in Real estate or REIT and if they do it in their own personal capacity, they may not leverage the way the managers of REIT may do - unless of course if they are governed by any regulations on leverage/debt front and have the most ethical management concerned not just about growth of assets but also growth of yield and REITs share price.
Disc: Not invested, but interested. Tracking. Above are personal thoughts and I maybe wrong in my assessment. Not a recommendation to buy/sell.
The entire 7 percent yield is not tax free. On average around half the payouts have been in the form of interest which is taxable according to normal slabs. So for 30 percent tax bracket the real yield will be (70 percent of 3.5 percent) + 3.5 percent which is around 5.95 percent.
@solankidarsh
Thanks so much for this. Agree my calc doesn't seem correct as I assumed all distributions in the form of dividends.
Most of the things this guy says are moot in current context and primarily are only a reflection of his biases "why invest in this new product which I don't understand when you have FDs".
This would make a lot of sense when FDs were giving 10% returns. That's not the case any more. The maximum one can get from an established bank is 6% pretax and 4% post tax. ReIT Yields are much higher. The total returns are even higher due to the underlying risk associated with any ownership.
Thanks for presenting opposing views.
Though one thing I don't get is how these people always skip the fact that REITs underlying real estates value will also increase over time.
Plus people happily buy property with 4% yield pre tax and sit on it but don't like 7% post tax yields!!
Totally agree that risks are there but in this video he completely skipped mentioning the capital gains that can come from the property.
Infact in a high interest rate environment the inflation will be high causing the property to appreciate in value.
We need to focus on where the puck is moving, not where the puck is. I quote from the Concall:
Source: Q3FY21 concall
IMO reits are one of the best decadal capital preservation opportunity that we have right now.
Disc: Invested and positively biased.
Thank you Sahil. This is great info.