Hi everyone,
I am 29 yrs old, and took up investing in direct equity just about 6 months back - so yes, truly a newbie here. And I think I am really lucky that I found out this portal so early on my investing journey - it might just change the whole outcome for the better. I would sincerely request all the members here to help me build a portfolio that can give me 15-20% CAGR for the foreseeable future. I'm open to receive really critical feedback - so if you feel my current folio is nothing is junk, please dont hold back from saying so.
But before I share the portfolio, let me give you some context, maybe some of you may find it relevant while offering suggestions.
I have a day job in the pharma sector since last 5 yrs; however, I have been able to save money since last 3 yrs only. My total corpus at this moment is reasonably small. Below is a rough allocation of my total net worth:
20% in instruments like EPF, PPF, NPS
30% in cash ( I segregate them in different liquid funds, each linked to a separate goal). I have some surplus here which I can invest
25% is in Equity MF right now, which I intend to shift to direct equity once I have the confidence
25% in direct equity
So here is my current portfolio (image attached). I'm also mentioning the reasons of the buy, if that helps.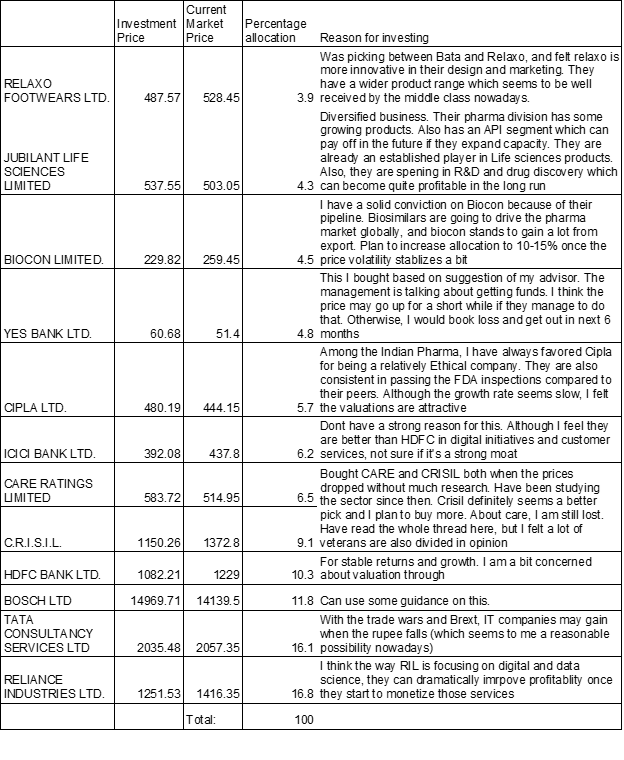 Planning to Buy: ITC, Info Edge, 3M, LTTS/Tata Elsxi (one of these two). Any guidance on these would also be helpful.
Thanks in advance,
Ratul