HI All,
Currently Steel is in a strong bull cycle. which we can see in the quarterly results of big companies for last few qtrs. This steel bull cycle can be attributed to china steel production cuts for improving pollution situation. Apart from that cyclical recovery and steel demand in end usage sectors is also going up due to Govt push in infra and housing segment.
I came across this stock, which is a micro cap (50cr mcap aprrox). Rathi bars mainly makes bars and billets. They have significant presence in north india with brand name "Rathi and rathi thermax" amd manufacturing plant in alwar.
There are few good things I noticed, which i will be sharing.
First of all the company has shown tremendous improvement in recent quarters.
below tables are taken from screener.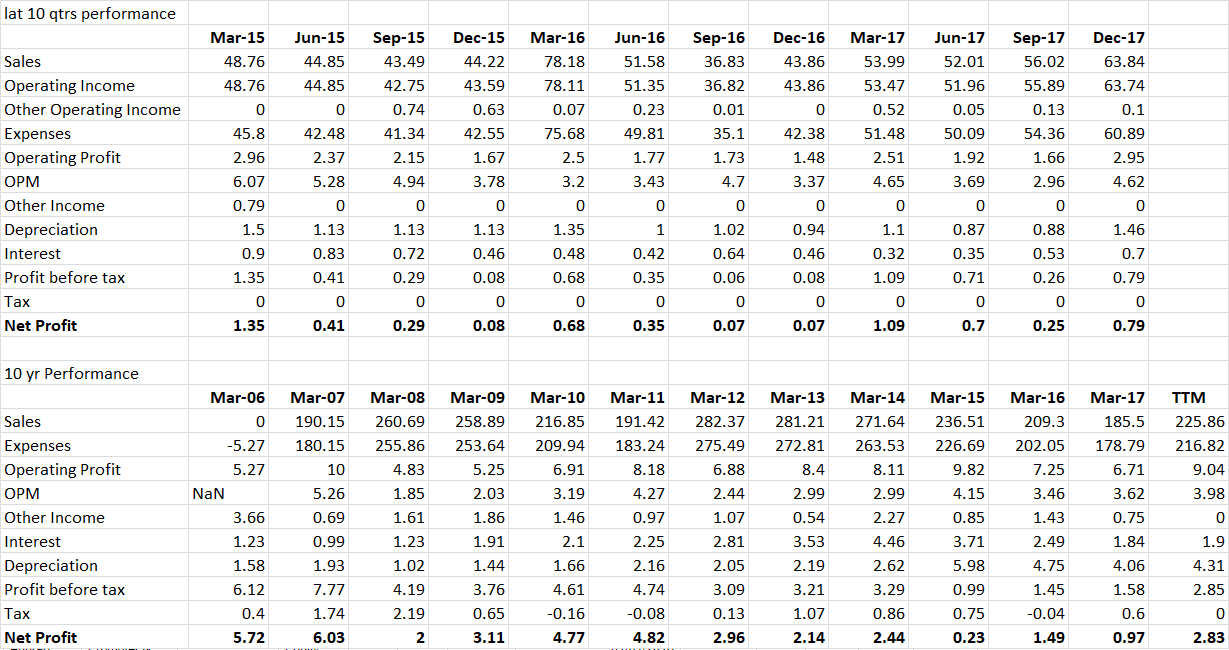 TTM Pat growth is 141%. in Dec 2017 qtr Pat has gone up from 7 lacs to 79 lacs.
As on March 2017, they don't have any term loan only working capital requirements they have.
They have 3.47cr cash and cash equivalents.
I also noticed in annual report 2017, that they also use scrap or sponge iron as raw material.
Recently promoter started buying from open market and they have picked up 1.56%. Current holding is around 60%. which is decent to me.
here is the snapshot from BSE.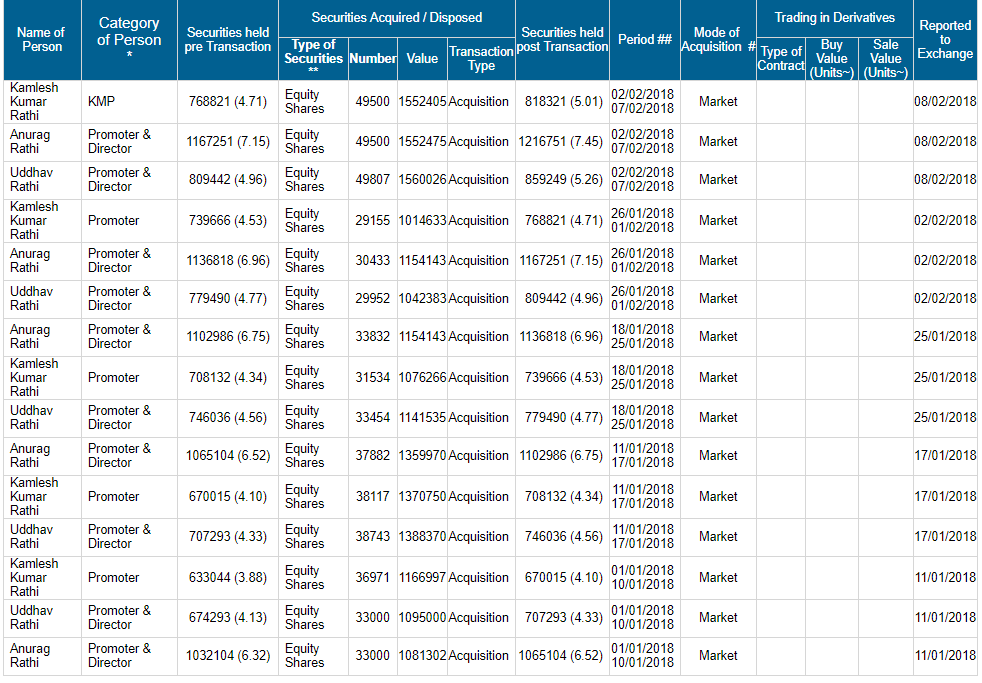 From Crisil report on Rathi bars :
Strengths
Promoter's extensive industry experience and established relationships with suppliers and customers: Benefits from the key promoter, Mr KK Rathi's extensive experience of more than 40 years in the steel products business'he manages operations with sons, Mr Anupam Rathi and Mr Anurag Rathi'and his keen insights into industry dynamics, and healthy relationships with customers and suppliers and around 800 dealers, distributors and stockists should continue to support business risk profile.

Above-average financial risk profile: Financial risk profile is expected to remain comfortable, backed primarily by healthy networth (Rs 75.12 crore as on March 31, 2016) and steady accretion to reserve. Total outside liabilities to tangible networth ratio was below 1 time in the 6 years through March 2016. Also, moderate dependence on bank lines has led to improvement in interest coverage to 3.49 times in fiscal 2016 from 2.88 times the previous fiscal.
Weaknesses
Stagnant revenue and susceptibility to volatile steel prices: Revenue should remain stagnant due to decline in prices of steel products. Also, low product differentiation and limited value addition in the steel products industry, and inability to pass on increases in price, will continue to expose profitability to volatility in raw material prices.

Vulnerability to cyclicality in the highly fragmented steel industry, and slowdown in offtake by the end-user industry: The demand for RBL's products, such as thermo-mechanically treated (TMT) bars, is linked to the capex programmes of end-users, such as real estate, civil construction and engineering industries, which are cyclical. Slowdown in capex programmes in these industries, driven by the economic downturn and the expected gradual recovery, should continue to constrain revenue for RBL
Outlook: Stable
CRISIL believes RBL will continue to benefit over the medium term from the promoter's extensive experience and healthy relations with customers and suppliers. The outlook may be revised to 'Positive' if substantial growth in revenue and profitability and efficient management of working capital cycle strengthens key credit metrics. Conversely, the outlook may be revised to 'Negative' if decline in revenue and profitability or any sizeable, debt-funded capex constrains financial risk profile, especially capital structure.
I tried contacting promoter. Here are the few points from that conversation.
As per them they are leaders in top and mid market TMT bars in northern India. They mainly sell in retail through strong dealer network and dealer margins. They keep their ad spends low and spend that money on dealers and masons.
They produce themselves and are currently running at a utilization level of 50%. Expects it to go up to 60-65 % by this FY end and 70-75% by FY19.
They source scrap iron mainly from adjacent maruti plant as the scrap is of less value for Maruti dont see any margin pressure coming from increased iron ore price. Also sounded confident about passing the cost increase to end users.
TMT bar prices have gone up from 23k to 40k per ton this year and hence see dramatic improvement in margins. Guiding for 200-300 bps improvement in margins with topline growth to the tune of 20% in FY 18 and 19 consecutively.
On steel cycle he said, he is there in business for last 30 years and have seen a few cycles. Generally cycles tend to last for 4-5 years.
To me he sounded very very bullish and I don't agree with the first point above that they are leaders.
Being conservative I am not considering 2-3% margin expansion, but we can expect around 1% which itself will give a nice boost to the bottomline.
Valuation : I believe it's cheap as its available below book value which is 47 and cmp is 31. In fact to other steel players market is giving valuation of 1.5 times of sales. It has got cash in book and strong balance sheet.
When all other players were struggling with debt and spoiling their balance sheet in down cycle, they sustained. I believe their is enough room for upside. But volatility can be expected.
Its a microcap and we should take a special care while investing. low Liquidity is a big problem in such stocks.
Being from non-finance background, I not that good in checking balance sheets. If anyone see any red-flags in past few years, Please share.
discl - Invested.
Regards
Vinay