Rapicut Carbide Ltd is located in Ankleshwar, Gujarat for manufacturing of Tugstan carbide tips, Inserts & other Carbide products from ore stage. It is a play on the pick up in the mining sector & the economy in general. With the Govt. lifting curbs on mining operations & granting several fresh leases, the mining activities in the country are bound to pick up leading to greater demand for the Co.'s products. The Govt. ordinance factories too have been directed to purchase 30 to 40 % of their requirements locally & this again bodes well for the Co.
After a prolonged sluggish period, Q4 of 15-16 saw the beginnings of a pick up in demand. The growth momentum is slowly gaining traction in the first half of the current year & the Co. should end the current year 16-17 with a top line of about 45 Crs with doubling of its net profit in the current year. It has received an order from Neyveli Lignite for 7.5 Crs which has to be executed fully in the current year. A boost to the earnings could come from a new project to be commissioned towards the latter part of the current year for manufacture of Indexable Inserts / Cutting Tools, which are higher margin products. The new project has largely been funded by internal accruals. The investment thesis is based on the improving mining scenario coupled with the higher margin products to be launched shortly.
The Co. with a total market cap of about 32 Crs. has an EV of about 35 Crs as the debt is negligible. It should do Sales, EBIT & PAT of about 45Crs, 4.5 Crs & 2.8 Crs in 16-17. This would result in the RoCE to be in the range of about 20%. Next year 17-18, with the new plant up & running, could see decent growth, resulting in a further improvement in the return ratios.
The risks to the investment thesis could come in the form of a slower than expected pick up in mining, but the last three qtrs as shown in the table given below, show that the pick up is for real. Delay in the launch of Indexable Inserts n Cutting Tools could be another risk, though the mgt in the latest Annual Report has indicated that the machinery n equipment should be installed n commissioned by October 2016 & commercial production is expected to start by Jan 2017.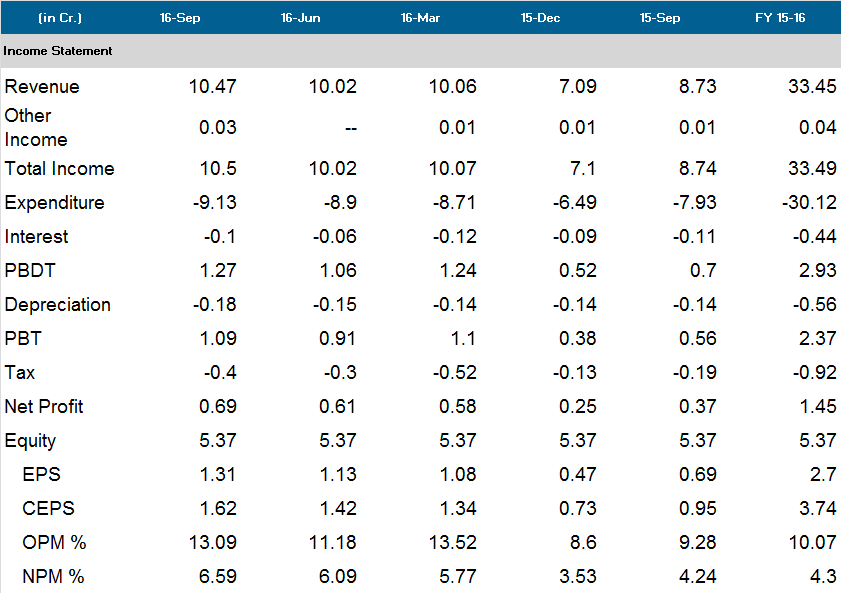 Disc: I hold the stock & am looking to add as the story unfolds.
Company Website: http://www.rapicutcarbides.com/
Annual Report for 16-17: http://www.bseindia.com/bseplus/AnnualReport/500360/5003600316.pdf