Hello Valuepikr's,
First of all thank you to this amazing community, more importantly those honest human beings who are helping newbie's like me.
I am an mechanical engineer by profession and always interested in financial markets. I made small money in market in last 4-5 years mainly because my bets are always small. I got scared during Covid fall and sold out my entire portfolio. I am on the sidelines for entire 2021 and watching multiple stocks becoming 2X, 5X and some even 10X. This is the biggest lesson of my life. I have leant my lesson now and planning to hold for long term (~10 years) and exit only when there is steady Y-o-Y/Q-o-Q sales/profits decline. For cyclical companies Y-o-Y may be good yard stick where as for others Q-o-Q may be able to tell the story. I am also planning to add as and when I have some surplus money that too on declines.
Coming to present scenario, I started buying seriously since start of Ukraine conflict. By July mid I am left with only 10% cash. Here is my portfolio as on 26th August 2022.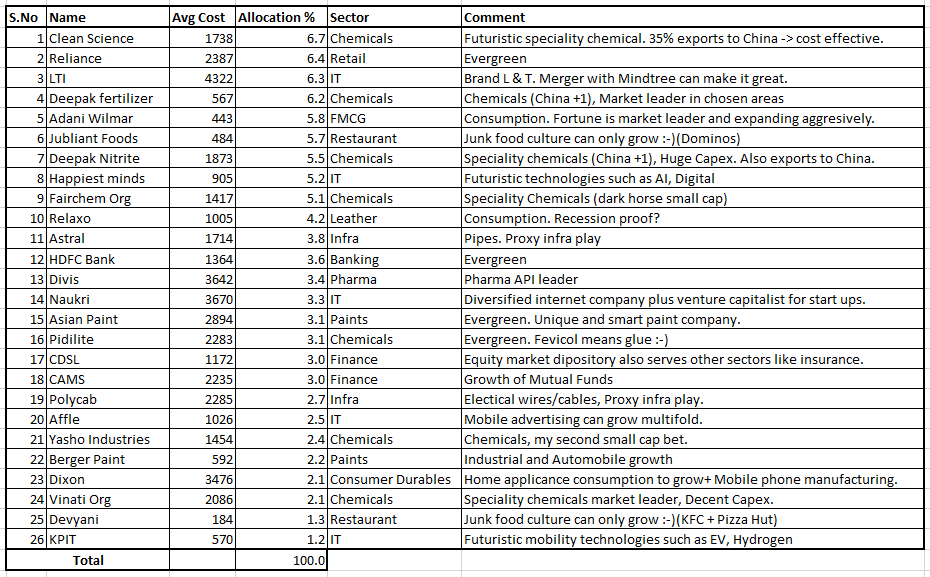 I had added quick comments for the stocks and very shortly I shall share my thoughts on why I bought these stocks. Today my Portfolio is with ~15% profit, as usual only top 10 stocks are contributing the most. Below are some details of my portfolio
I have a total of 26 companies as of now.
Chemicals have over weightage of ~30%, followed by IT ~20% and Financials ~10%.
Top 10 holdings had weightage of 57% of total invested value and remaining 16 holdings form the remaining 43%.
Clean science, Fairchem and Yasho are my dark horse bets. I might have taken huge risk here, but have conviction for now to hold on to them
I am an poor orator and excuse if I have any typos. Here are some details about my risky three bets, I shall share my rationale in coming days.
Fairchem Organics
Manufacturer of Oleo chemicals (98%) and Nutraceuticals (2%).
Catering to diversified industries Paints, inks, Soaps, FMCG, Animal feed, Cosmetics, Pharma etc.
Few marquee customers Asian Paints, Huber, Arkema, Cargill, ADM etc.
Continuously expanding capacity hence expected to see jump in revenue & profit.
ROC & ROE are quite healthy 37 & 33.
Healthy OPM of 15-20%.
Debt to Equity is 0.27.
Equity Holding: Promotors 59%, FII 6%, DII 6% and Public 39%
This is one of my dark horse bet, let's hope this plays out
Clean Science & Technology
A fine and specialty chemical manufacturer. Performance chemicals (70%), Pharma & Agro intermediaries (17%), FMCG chemicals (12%).
Revenue split: China (35%), India (30%), EU (15%), EU (14%) and RoW (6%).
ROC & ROE are quite healthy 46 & 35.
Debt free company.
Equity Holding: Promotors 78.5%, FII 4.5%, DII 4.5% and Public 12.5%
High PE of 77 is biggest negative point but it's uniqueness compelled me to take my largest bet of my portfolio.
Huge R&D spending and technical edge along with >40% OPM makes it special.
Yasho Industries
A fine and specialty chemical manufacturer.
Aroma (14%), Food (13%), Rubber chemicals (35%), Lubricants (14%), Speciality (25%).
Few marquee customers Dabur, Continental, CEAT, Apollo, MRF, Michelin, HP, Indian Oil, Balmer Lawrie, Adani Wilmar, Colgate etc.
Revenue split: India (36%), EU (22%), USA (27%) and RoW (15%).
ROC & ROE are quite healthy 29 & 42.
OPM is 15%
Debt to equity is 1.02, which is on higher side and highest in my entire portfolio.
Promotors 71.5%, FII 0.1%, DII 0% and Public 28.4%.
Debt is the only negative for this stock rest all looks positive. This is my 2% portfolio value bet.
Once again I would like to thank this platform and would try my best to keep this thread up to date.