Dear all,
I've been investing in equities for the past 7 years and read threads on here very often. I mostly look for companies that are trading under book value, or turn up on multiple screens I have set on screener.in. These screens include parameters like ROE, ROA, ROIC, Dividend yield and Piotroski scores. Any feedback on the scrips would be most welcome. My portfolio does not include many of the favorites among the valupickr community. I'm 30 at the moment and have a 10 year outlook.
This portfolio forms about 30% of my net worth. The rest is handled by 4 mutual funds (one small-cap, one large-cap, one debt-oriented and one ELSS)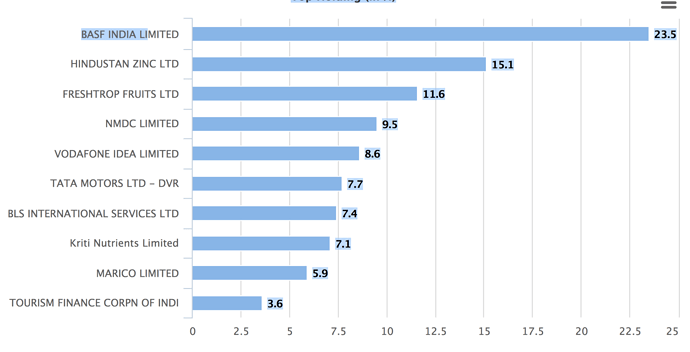 I've got 10 companies.
BASF India: Bought at 1150
BASF is the biggest chemical company in the world. I've had the opportunity to visit their Germany plants and see their R&D first hand. Nothing comes close to their R&D expertise in general. In India, they have many verticals. It seems to me the agribusiness vertical will be the most rewarding in the future. Other products include products for automotive, construction, pharmaceuticals, solar cells, paints, personal hygiene, etc. Hence "the chemical company". Chemicals for all sorts of things come from them.
I think, in the long run (Say 5-7 years) this would be the best way to play the agrichemicals business theme in India. The management is very professional. It forms the largest part of my portfolio as I understand the chemicals industry best. The recent plant at Dahej seems to have stabilized. Many research reports out there value it at a market price of around 2200, so the opportunity is sizable.
Hindustan Zinc: Bought at 275
Some books I read said one must have some metal companies in a portfolio to cover for downturns in the market. Guess that was a fallacy. Rationale was that it had an excellent cash flow and dividends, It is the second biggest Zinc supplier to the world and everything from Galvanized steel to your face cream needs Zinc/Zinc Oxide. The company also turned up on my screens on the wonderful screener.in. I still have high hopes from this one.

Freshtrop fruits: Bought at 91
A value play. The wonderful screener.in suggested this based on my screens. Along with the basic screens of ROE, ROA, PE, Dividend yield and net cash flows, I gave a lot of weightage to Piotroski Scores. Given my lack of understanding of financials of a company, I rely on this score to be safe. This was among the few companies that turned up with a perfect score of 9 and excellent scores on other parameters. It has grown to become the third largest part of my portfolio. There was an excellent thread on valupickr that was of great help three years ago when I decided to invest in this company. One more important thing to me was that this was an exporting company. That means a lower rupee would help its profits.

NMDC limited: Bought at 135.
Again a cyclical metals company with good dividends. Not much thought went into buying this so I guess I am paying the price. Never turned up on any of my screens. Yet was drawn to it. Will probably sell after holding for a year. I'm looking for safety in metals given my other picks. Is this a good idea?

Vodafone Idea Ltd: Bought at 33.00
Started nibbling at the bear market. For the largest mobile phone company in India, the valuation seemed pretty good right now. I own a Vodafone SIM. It seems to me that they will ride the Jio wave. Though no turnaround has happened yet. A very recent purchase but makes up a healthy 8.6% of my portfolio.

Tata Motors DVR: Bought at 114.0
Bought last week. Again riding the bear market. TATA MOTORS is trading at 0.6 times it book value. I visit the UK often and find that JAGUAR and JLR are ubiquitous auto brands. A bit like i10s and Bullet bikes these days. Don't think that brand appeal is going away anytime soon. In the US too the cars seemed to be doing well until recently. They have excellent R&D for electric vehicles and the iPACE model has had rave reviews. I won't be surprised if they become a very important player in the Indian electric vehicle space in the coming years. Given how Petrol prices are shooting up and the upcoming listing of AramCo, the process of shifting to EVs might be catalysed. Plus, I got some confidence from the continuous increase in mutual fund investments into the scrip. This has since gone down further and I might deploy more cash into it.

BLS International services: Bought at 190.0
Showed up on multiple screens on screener.in after it fell from peaks of 250 odd. As the second largest visa processing company in the world, it seemed a fair valuation to me. Since then there seem to have been management issues. This is still an industry I would like to be in. The BLS thread on valupickr was a fantastic goldmine of information.

Kriti Nutrients: Bought at 23
I have mostly booked profits on this scrip. It turned up on my screen some 2 years ago and I gained a lot of info from the thread on valupickr. This seems to be a great company doing okay in the recent bear run. Is it worth re-investing?

MARICO : Bought at 239
One scrip I really wanted to be in since I see their products in all the houses but seemed overvalued for the longest time. Bought it the day demonetization was announced. I have since exited it and booked profits.

Tourism Finance Corporation of India: Bought at 48
Got very lucky here. Saw the market undervaluing quite a promising company and invested a small chunk. The thread on valupickr had just started back then. Must point out that the undervaluation was picked up by someone on the TFCI forum here. From there onwards, I did a lot of digging. A big hat tip to you sir. Booked profits but continue to hold a small amount.