Hi All,
Looking for some help understanding UTI Nifty Fund
Following is the Fact Sheet of the Funds at UTI
UTI Nifty Fund is on Page 22 :
https://docs.utimf.com/v1/AUTH_5b9dd00b-8132-4a21-a800-711111810cee/UTIContainer/UTI%20Fund%20Watch%20May%20201920190510-213006.pdf
Queries:
The inception of the fund was on 6th March 2000. Over the period of roughly 18 years, there was 1 dividend issued on 20 November 2017 (Page 55). The Nifty companies should have given dividends over the past 18 years. Any idea on where the dividends are distributed? I understand that the fund provides 3 options a. growth b. dividend - reinvestment c. dividend - payout.
So, where might be the history of dividends over last 18 years?
Other funds of UTI in the same above linked documents have a very clear and defined history of dividends from similar time frames. Why does this specific fund not release any dividends?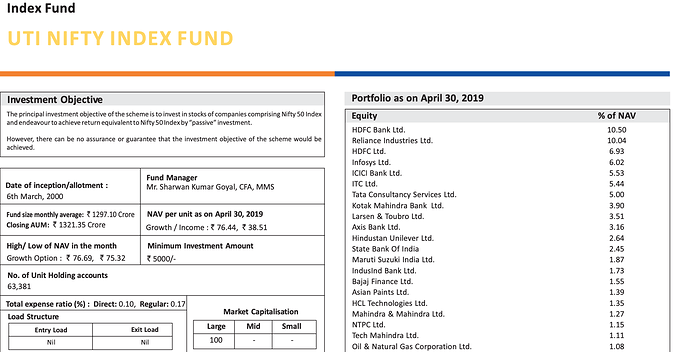 2. Nifty Index Fund
As per the same suggests, the goal of the fund is to match the Nifty companies. Looking at the performance over the last 16 years as shown in the diagram below (Page 24), the value of same funds invested in March 2002, would be much lower (76,462 in UTI vs Nifty 50). If this index fund was expected to track Nifty 50, then why is the performance so drastically different?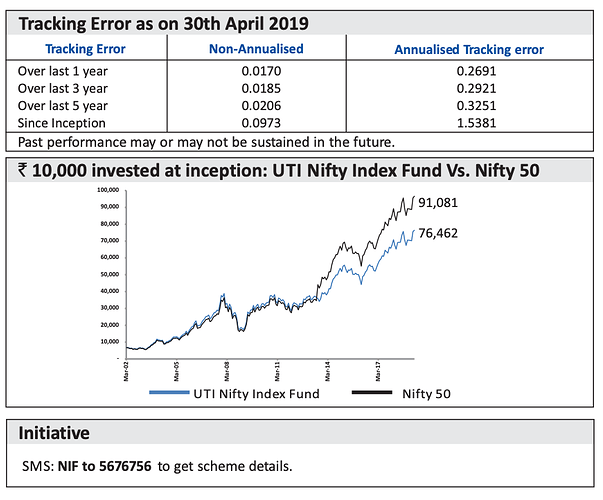 **I can understand a difference of a few basis points, but why is there a difference of 17% between the two performances? **
What am I missing here ?
---
Upon asking the query to UTI customer service, following is the response that I got.
At the outset, we would like to thank you for your e-mail to UTI Customer Care dated 2nd Aug'19.

As per your email, we appreciate your valuable feedback. As Mutual fund investments are subject to market risk, its depend on market status. Our fund manager always seeks better returns for our investors in a manner to get good growth out of his manage scheme.

Further we request you to mail on service@uti.co.in for your query.

We apologize for the inconvenience.

We appreciate your time and patience.

If you have any further query, please do not hesitate to write us back.

Assuring you the best of our services.

Thanking You,
Nagraju Lakharaju (UTI Care)

Please click on the following link and download our UTI Mutual Funds mobile application for a whole new investing experience:- https://bit.ly/UTI_Apps

You may speak with us on our 24/7 Toll free number: 1800 266 1230

Alternately you may also visit www.utimf.com or SMS us "SERVICE" on 5676756