When the restriction of lot removed, any idea anyone , eagerly waiting for this
More observations
Receivables have jumped 4.5x vs sales of just 2x between fiscal 17 vs fiscal 21
Payables have jumped 3x in the same duration
Inventory too by 3x
Cash have jumped 8x, which puts a question mark on efficient capital allocation and utilization.
There is a mismatch in the loan amount between the closing balance of 16-17 & opening balance of 17-18
There is a dilly dallying of remuneration for the promoters. Why the company has decremented the salary in 17-18 & 18-19 when sales as well as profit has grown?
Related party transaction makes 20% of the the turnover for the previous fiscal
There is component like other expense unit 1 in 17-18 which accounts for almost 10% of that years profit
There are 3 BS and PL statement for 15-16 one at page 20, another at page 23 & one at page 32 and all with different numbers. Same with fiscal 16-17.
Somehow i couldn't tally up the P&L numbers with the BS numbers. Hence for the time being i have put my buy decision on hold. Will observe for couple of quarters and then might take the call
It seems they have received export excellence award by Federation of Indian Exporters Organization. I believe every such government organization/body have access to detailed export data and verifies the export data submitted by any company participating in the award before giving out award. Though I haven't checked the exact process of FIEO for selecting awardee.
Please check slide No. 15 of latest investor presentation.
I have listened to their 2 conf calls and did little bit of scuttlebutt on this. My sense is that to win doctor's, they will need to do lot more marketing than currently being done. This is becoz you are competing against MNCs who have deep pocket. So I agree with comments on this thread that it will take time and will have to see how they walk the talk.
Hi Rudresh,
I was trying to find out related party transactions for previous fiscal as mentioned by you.
But according to AR of 20-21, related party transactions are sales 146000/- and purchase 12,26,900/- with NV International. For approx. turnover of 28Cr this does not even amount to 1% of revenue. Am I missing something? Or do I need to check at other regulatory filings? Please let me know.
Or is it that you are considering the maximum limit granted by board for related party transactions for the year into consideration. that is 3CR each for 2 firms owned by mgmt.?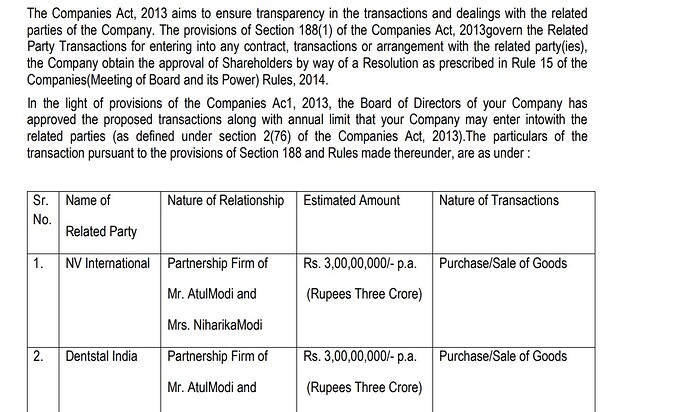 That was a miss from my side. Thanks for correcting me!!
Agreed.
The management's repeated use of positive adjectives to describe their business seems boastful. Further, FDA approval doesn't translate to sales. They haven't got the domestic market captured yet so, a lot needs to happen for them to deliver on their targets. The management is betting that being a low-cost competitor will translate to sales. Nothing happens by itself. This is a big execution play.
Disclosure - Tracking closely. I will invest only when I see market share improve domestically and the management delivers on its export promises (primarily US and EMEA)
The way I understood from the management commentary that, they are actually betting on exports with various approvals and certifications in both regulated & un-regulated markets and not aiming much on the domestic side due to intense MNC competition ?