Hi All,
Below I present my current portfolio breakup of my stocks I hold. This is my first post here and requesting your feedback.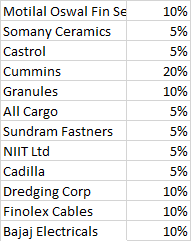 Most of these stocks are discussed in detail in VP and my rationale for investing in these are betting on its growth and potential in the upcoming years. I am looking at 30% annualized return in 3-4 years period.
Please advise if i am right on my selection of these stocks? Any tweaks required in terms of allocation?
I plan to add more on these in dips.