Background:
On 9th January 2019, Prabhat Dairy announced its plans of entering the animal nutrition
business and partnership with DLG, the Denmark based world leader in high-quality vitamin-mineral feeds.
On 21st January 2019, company announced that it has "entered into definitive
agreements with Tirumaia Milk Products Private Limited, a wholly owned subsidiary of French
dairy multinational Groupe Lactalis,for the sale of its dairy business for a consideration of INR
1.700 crore. The transaction involves sale of the dairy business undertaking of Prabhat Dairy by way of
slump sale on a going concern basis, along with the sale of 100% shareholding in Suntresn
Agro Industries Private Limited (a step—down subsidiary of Prabhat Dairy Limited) via a share
purchase agreement."
"The Company intends to share a substantial portion of the proceeds from the sale With
shareholders after meeting its tax and transaction cost obligations. After Closing of the
Transaction. Prabhat Dairy Limited intends to further develop its cattle feed business in various
parts of the country, as well as expand into allied businesses such as animal nutrition and
animal genetics."
===============================================================================
Next day the market rejoiced with upper circuit for brief period but investors wary of recent experience with Leel Electricals etc. dumped the share 15% down. It did not help that twitter and media "experts" predicted that minority investors would be short-changed. Only one long term institutional shareholder (ALQUITY SICAV - ALQUITY INDIAN SUBCONTINENT FUND) bailed out on 22nd January. No other major institutional shareholders seemed to have reduced/exited their holding. At least no disclosures in this regard were notified to the exchanges.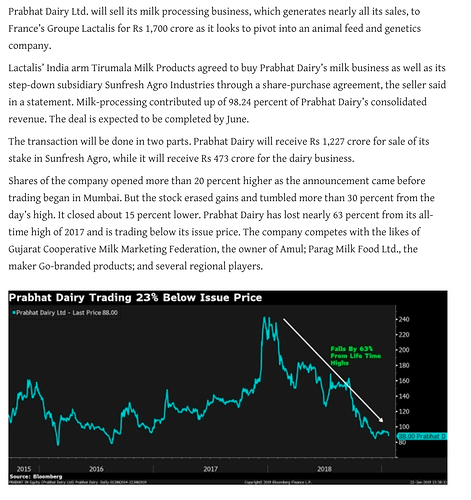 Company came up with a clarification same day at night rebutting the "speculative" news flow around the deal and reiterated that (1) substantial portion of the proceeds would be shared after meeting tax and transaction costs (2) in most optimal manner (3) proceeds means all proceeds including from subsidiaries.
Stock went on lower circuit loop for few more days till 5th February when the company announced that it was considering to merge Cheese Land Agro with itself. Stock went up after that. EGM for the approval of the slump sale of the dairy business to Tirumala Milk Products was planned for 26th March. On 25th March company came out with a update, that the board has decided that an Escrow account shall be set up into which the net proceeds of the Transactions, after meeting tax obligations, indemnity obligations and transaction costs will be deposited. Also a "Transaction Committee" consisting of at least three independent directors and not
than two other directors, who will oversee, supervise and manage the utilization of the
proceeds from the Transactions in the Escrow account held in trust for the shareholders. And no part of the proceeds from the Transactions will be deployed towards residual business of the Company i.e. the animal nutrition and cattle feed business.
Proceeding of the EGM, state that approximately INR 1000 cr -1200 cr
might be available for distribution to the shareholders. The EGM resolution was passed.
Current MCAP of the company is around 720 cr. I have not worked out the actual payout if they go for special dividend (taking into account the dividend distribution tax ~18%) or if they go for a buyback. Payout could be greater than the cmp and we could also end up with the future animal feed, nutrition business. Yes it all ends up how honest the promoters are and if they stick to their words. Company could have come up with the clarifications earlier and could have prevent all this drama. With the volume of trading done, looks like some insiders/operators would have surely benefited from the movement the past few weeks. IPO of the company was in August 2015 but the promoters have good background in the dairy sector for decades, so maybe they might be able to grow this animal feed, nutrition business.
Please let me know your thoughts on this.
disc - invested