Dear All
I have been a minor contributor to this wonderful forum since last 2 years. Had started investing in equities since early 2014 (Got my first job in mid-2013).
Since then have been very cautious while investing and had never let equity investments cross 50% of Net Worth until 2020. Missing the 2014-17 rally was a big regret in hindsight, however not suffering a drawdown in 2020 coronavirus crash balances it out.
Have used the recent crash to build sizeable positions in shares so that equity investments now form~ 80% of Net Worth. Sharing my portfolio below for review - would love criticisms and suggestions.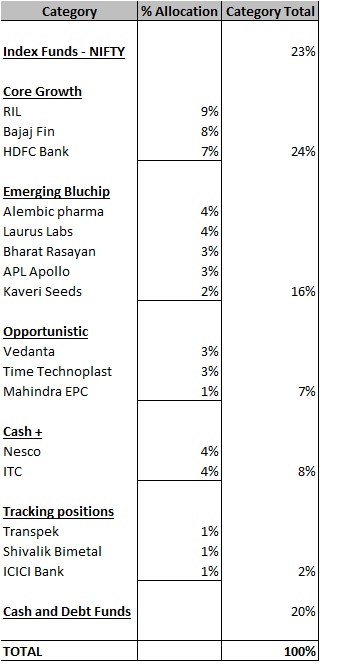 About self - I am a Chartered Accountant having being in Audit profession since 2010 when my articleship started in a Big 4 audit firm. I am well versed with accounting and tax laws and currently self employed in the same profession. Investment journey is inspired by reading the usual books - Rich dad poor dad, Ben Graham, Warren Buffet, Phil Fisher, Howard Marks and in Indian context - Basant Maheswari.
I would call myself a growth investor - I feel sustainable growth in earnings is the most important attribute in the valuation of a Company
Learning curve increased dramatically after joining Valuepickr and since then I am continuing to learn every day about investing.
Portfolio Objective: Long term compounding of portfolio with objective of achieving inflation + 5-10% returns
Portfolio Rationale
Portfolio construct is inspired by VP. Will be forever in debt to Donald, Hitesh and other seniors for sharing their learnings and thought processes.
Core Growth: These are Companies in which I have maximum conviction having followed their story for long and personally used products / services. But more than anything - Have maximum comfort and liking for the owners and managements to continually invest and realize growth for the company. Even if one category in which these companies operate face stagnation / headwinds - they have the ability to find growth through other avenues.
For eg - Reliance from textiles to petrochemicals to complete backward and forward integration in Oil & Gas and polymers to Consumer facing businesses and Jio.
or For eg: Bajaj Finance from Auto Finance to Unsecured short term consumer credit to innovative products like No Cost EMI to currently persued avenues like housing finance / broking etc.
I would like to hold these businesses for many years and would ideally not rush to sell in case there is a temporary headwind facing the company / company's industry.
Emerging bluechip
These are smaller companies which have a very good chance of becoming bigger and bigger through super-normal growth. Opportunity for alpha creation is the maximum in such kind of companies who can be the stars of tomorrow. Few important characteristics I track are:
Industry beating growth performance (taking away market share) - by ticking most boxes as outlined by Fisher - For eg: Strong marketing function, Low cost advantage over peers, better product quality over peers.

Visibility of near term growth - Capex visibility, Sustenance of competitive advantage, large and growing market opportunity for company's product / services, sector tailwinds,

Competent and Ethical Management - Past performance record, walking the talk, corporate governance and attitude towards shareholders.

Valuation is favourable - I would refrain from buying companies like Dmart, Tasty bites etc although they would qualify for investment in this category since the current share price factors a lot of the future growth. Would prefer companies which are fairly valued / less than fairly valued so that there is a possibility of valuation re-rating in case the story plays out well.
As far as sizing and allocation to these Companies - I like to take a small position initially and then add as and when the investment thesis plays out.
Opportunistic
These are short term plays hoping for capturing likely upside in price in short term or turning of economic and market cycles.
Cash +
High visibility and predictability of cash flows which limits downside. However suppressed valuations mean there could be a possibility of valuation catch up in near term.
Recent exits include -
HDFC Life (Primarily due to expectation of downward treading of interest rates and expectation of shift of customer demand for investment linked insurance products),
Transpek - Used to be 5% of Portfolio in Emerging Bluechip category but sold aggressively after recent announcement of postponement of capex - growth visibility was impacted. Would re-enter once positive developments become visible.
Would prefer not to have detailed discussions on companies since we can have them on the companies threads where I am most willing to participate.
Views and comments on portfolio construct and sizing are most welcome!