@rupeshtatiya
Absolutely. The purpose of this thread - restructuring Portfolio on a continuous basis - not to bask in glory. The friend is sharing for a "ulterior" purpose

There are areas in this portfolio where froth is developing - and there is high allocation - case in point - Avanti Feeds (approaching 25x trailing). One could make a case for booking some profits there, and shift capital to where there is GAP between Price - Value. Not an easy Task! But that's the nature of the game - one has to remain eternally vigilant!, and work hard at establishing Value :). One could make the same case of booking some profits in Shilpa Medicare, and Canfin Homes too.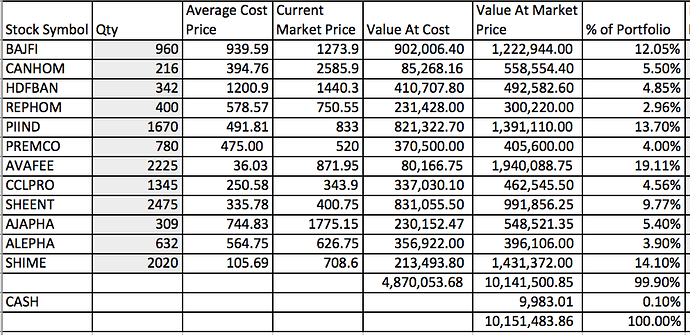 You make a good point - how would returns look for someone who started in 2014 and 2015 - modelling largely on VP-style investing? Obviously the timeframes involved are too short to make generalisations - but the exercise would nevertheless be instructive!
Let me try and motivate some friends to share 2 such Portfolios and Trade Book, so authenticity can be established, and learning from buy/sell dissection is more meaningful.