Hi Friends,
Have tracked this company for few months and liked the past performance of the company. I feel the co has good business model with a steady growth. At current valuations of less than 5 PE and good div yield, it looks to be a safe steady compounder to me. More of a defensive pick in the portfolio. Here is a small post done recently:
Poddar Pigments (BSE:524570)
Poddar is one of the largest company in themasterbatchindustry. Masterbatches are additives used to impart color or additional properties to polymers.
If one looks into the track record of the company, it has been delivering a consistent growth and has developed a good balance sheet.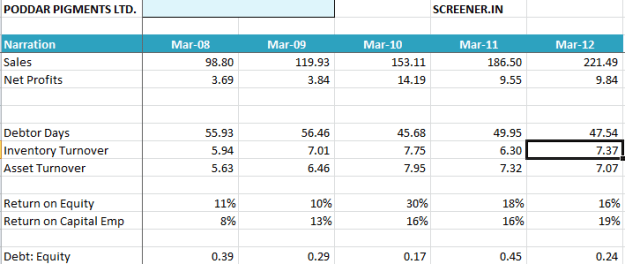 It seems to be a safe value pick at these levels of Rs 52, due to attractive valuations:
1). The company has been delivering a consistent growth of 20% in topline and much betterbottom-linegrowth.
2). The stock istrading at just 5 PE.
3). The stock is offering adividend yield of 3.90%.
4). The stock is trading at 0.80 times FY12 book value of 63.
The possible negative is that the company is operating close to full capacity and hence there may not be much growth for sometime.
Views Invited
Regards,
Ayush