Petronet LNG Limited (https://www.petronetlng.com/Company.php)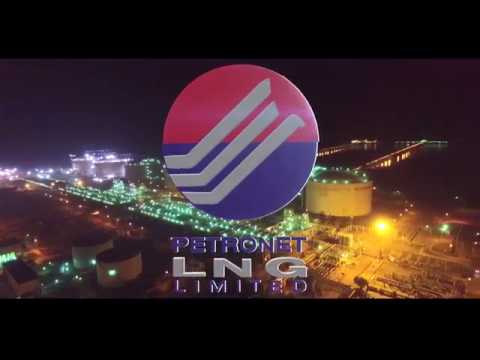 Company Overview
Petronet LNG (PLNG) is the market leader in the LNG receiving and regasification business in India. The company has set up the country's first LNG receiving and regasification terminal at Dahej, Gujarat, and another terminal at Kochi, Kerala. While the Dahej terminal has a nominal capacity of 15 MMTPA, the Kochi terminal has a capacity of 5 MMTPA. The company is in the process to build a third terminal at Gangavaram, Andhra Pradesh. A couple of other important plants are also in the plans.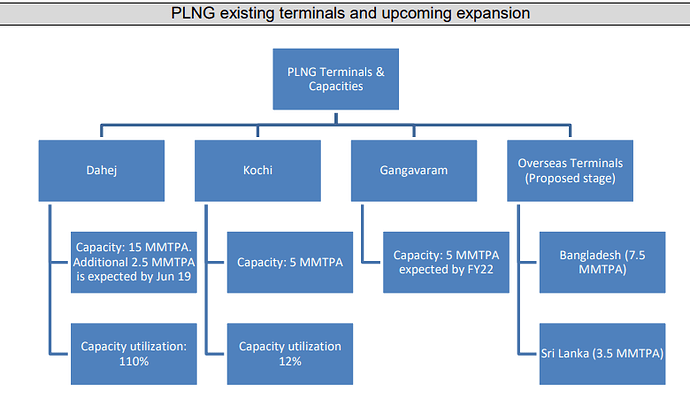 Formed as a Joint Venture by the Government of India to import LNG and set up LNG terminals in the country, it involves India's leading oil and natural gas industry players. Their promoters are GAIL (India) Limited (GAIL), Oil & Natural Gas Corporation Limited (ONGC), Indian Oil Corporation Limited (IOCL) and Bharat Petroleum Corporation Limited (BPCL).
Business Overview
To put it shortly, PLNG's business follows the below cycle:
Sign long term, fixed price contracts with gas suppliers from overseas. Currently, they have signed such contracts with Gaz de France and Ras Laffan LNG Company.
Process the purchased gas in liquefaction plants
Store them in LNG storage tanks.
Sell them to Oil & Gas clients, after which the gas will be vaporized and transported via gas pipelines. The buyers are largely IOCL, BPCL, GAIL and ONGC as of now.
Industry Overview
The quest for alternative fuel has been a common denominator in most parts of the world. Closer in Asia, India and China have been spear-heading the change.
Even if India were to simply move towards the global average power mix, it would still mean a massive shift towards gas: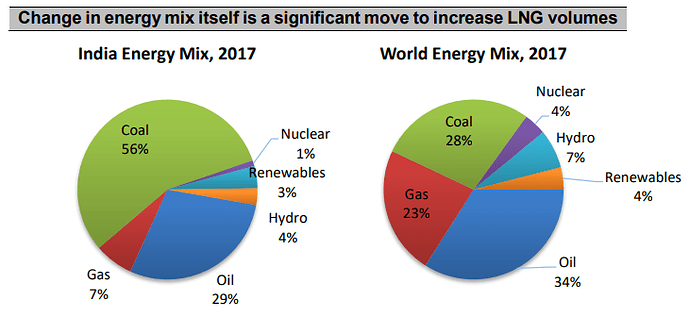 PLNG's direct competitor, Shell, came out with a statement expressing their enthusiasm about the LNG market prospects in India:
Other news articles also follow through:
https://www.lngworldshipping.com/news/view,lng-in-india-in-with-the-new_54423.htm
But in fact, the overarching story is that the Supply-Demand situation for gas in India is highly skewed. Supply is only a fraction of the projected demand: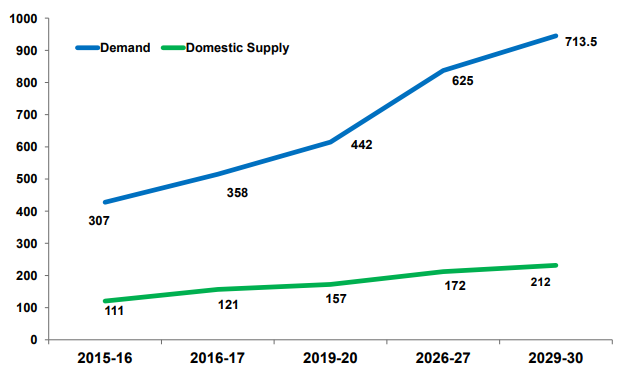 Considering how the domestic gas supply isn't up to the mark, LNG imports will have to be boosted to fill in the gap.
Business Analysis - SWOT
Strengths
PLNG has the highest market share in this space and can play a huge part in bridging the demand-supply gap in LNG imports and regasification.

PLNG already has large plants at low capacity utilization levels. If the demand for imported gas indeed picks up, the operating leverage can kick in to aid profitable growth.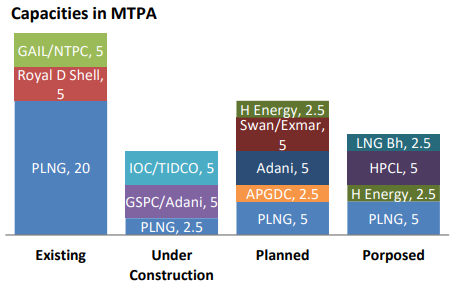 PLNG is also largley the face of India's LNG import talks with foreign nations. So if there's a list of companies that can successfully discuss profitable LNG import deals for the country, PLNG would probably figure at the top of the list.
Weaknesses
When all is said and done, the regasification business is a commodity business and therefore, reliant on supply and demand of raw material (Here, gas). Any high-demand situation in gas abroad can dent PLNG's margins quite easily. However, currently, the prices seem to have stabilized.
Since the firm largely supplies to the Oil & Gas giants of India, bargaining power with customers is non-existent. On the other hand, the firm imports gas based on long term fixed-price contracts. So once again, bargaining power with suppliers is also quite less.
Opportunities
As already discussed, the upcoming push towards green energy and a lack of local gas production offers a lot of value to the company on a golden plate. It's only a matter of how large a piece of the pie the company can claim for itself.
The company has also been applying (Although highly unsuccessfully) for City Gas Distribution License (Source 1, Source 2). If PLNG could somehow win a license, it will mark a foray into a new, prosperous, challenging segment with its own set of opportunities.
In the past few years, the company has been negotiating gas import contracts with more suppliers (Exxon in Australia, Henry Hub in USA to name a few). Done successfully, this will spark a price war and hopefully, PLNG can get their raw materials at a cheaper price. The diversification of raw material sources also comes as an advantage.
If and that's a big if, PLNG can negotiate shorter term contracts instead of long term contracts, raw material prices can come down significantly. My memory slips where I read this exactly, but the difference could be as much as 50% lower.
Threats
A great profit opportunity attracts several competitors and the regasification business is no exception. PLNG's capacity to supply far exceeds the competition. But it is always good to look out for dark horses.
Financials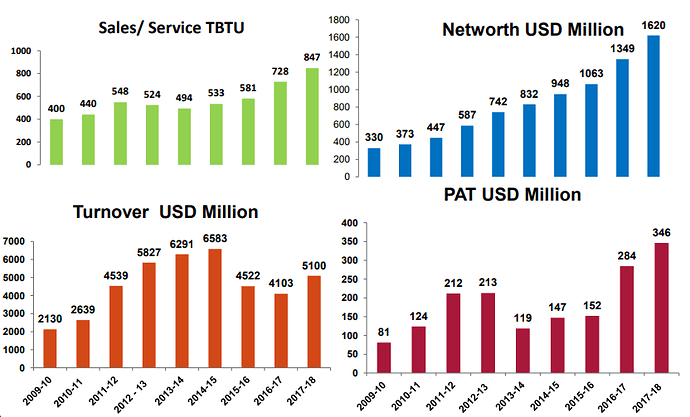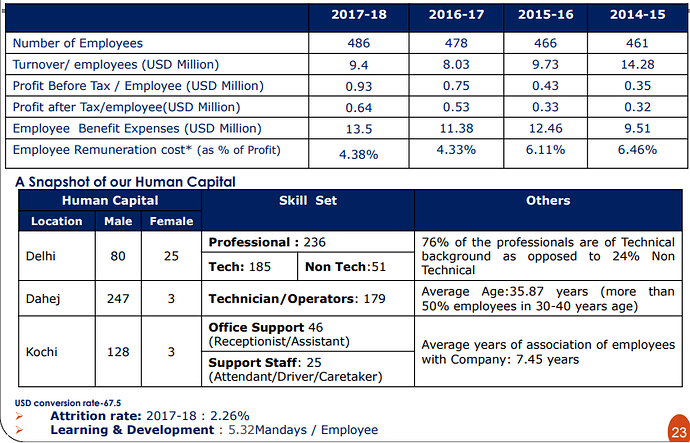 Mandatory linking to Screener. But I sincerely suggest that you check out the report by Ventura. They have done an excellent dissection of the numbers related to the business.
Valuation
In my opinion, depsite the run-up in the stock's price, it looks to offer some value.

However, please note that the above valuation is done at a Cost of Capital of ~12.5% and a Margin of Safety of 30%, both of which I think are not enough. Considering the commodity nature of the business, these should be a tad higher. So a valuation tainted by my personal risk-reward opinion would look like this:

TLDR is, PLNG is not my cup of tea. But it could be yours, depending on your own risk-reward tendency.
Red Flags / Risks
PLNG is a state-owned entity. So, there is no question of Corporate Mis-governance here. But of course, the same fact also appears as a red-flag. We know the fate of several state-owned entities being the playthings of politicians. It is not too farfetched to assume that PLNG could join the pack during the upcoming flood of LNG demand.
50% PLNG is owned by 4 Indian Oil & Gas giants. Not only do they own 50% of the company, but they also sit on the board of the company (Talk about independence of the board). The cherry on the cake, these four entities are also the sole customers of the company (Well, almost). You can probably do the rest of the math.
Disclosure
I do not hold any position in Petronet LNG.
Important References
PLNG's Annual Reports
Ventura Research on PLNG (A MUST READ research report on PLNG)
PLNG's Corporate Presentation
Petronet LNG - Wikipedia
List of LNG Terminals in India