Pennar Industries Limited is a Hyderabad-based company that is engaged in
providing engineered products and services.
Products manufactured by Pennar Industries Limited include:
Cold-rolled steel strips
Precision tubes
Railway coaches and wagons
Pre-engineered building systems
Sheet metal components
Solar module mounting structures
The company's products have a presence in several sectors, such as Infrastructure,
Railways, Automobiles, Power, General Engineering, Building and Construction, and Solar.
Source: http://www.pennarindia.com/company.html
Market Capitalization: Rs. 801 Crores
Current Price per share: Rs. 66.55
Price-to-Book Value Ratio: 1.47
Price-to-Earnings Ratio (TTM): 16.17
Debt-to-Equity Ratio: 0.54
Source: https://www.screener.in/company/PENIND
The company has four business units:
Systems and Projects (railways and solar mounting module structure components)
Industrial Components (general engineering and automotive components)
Precision Tubes (electro resistance welded and cold drawn welded tubes)
Steel Products (cold-rolled steel strips and formed sections)
The company has three subsidiaries:
Pennar Engineered Building Systems Limited (custom designed building systems and
solar module mounting structure systems)
Pennar Enviro Limited (process engineering plants and specialty additives)
Pennar Renewables Private Limited (solar power plant assets [28MW])
Source: FY2016-17 Annual report, http://www.pennarindia.com/annual-report.html
The company has recently entered into an agreement to sell its stake in the third subsidiary listed above, and as a result it plans to reduce debt by Rs. 101 Crores, see https://nseindia.com/corporate/LettertoSE-11082017_11082017152405_399.zip
Investment Rationale: The company appears to be in a transition phase;
it is focusing less on low-margin products such as cold-rolled steel products
and focusing more on high-margin products such as pre-engineered building systems,
railway coaches, and solar module mounting structures. The management expects
significant growth from its railway and solar vertical. The management has projected
double-digit growth for its Precision Tubes business unit over the next few years.
The management also projects significant growth for its subsidiaries over the next
few years. See below for supporting evidence.
Pages 8-11 of the FY2016-17 annual report, http://www.pennarindia.com/annual-report.html
Received orders worth Rs. 252 Crores:

Investor Presentation for Q1 FY2017-18:
https://nseindia.com/corporate/PennarIndustriesQ1FY18InvestorPresentation_17082017093100_057.zip
Negatives:
Low promoter holding (36.36%).
Company has not been paying out dividends for the last three years.
Below are the Profit-and-Loss statement, Balance Sheet, and
the Cash Flow statement. Source: https://www.screener.in/company/PENIND/consolidated/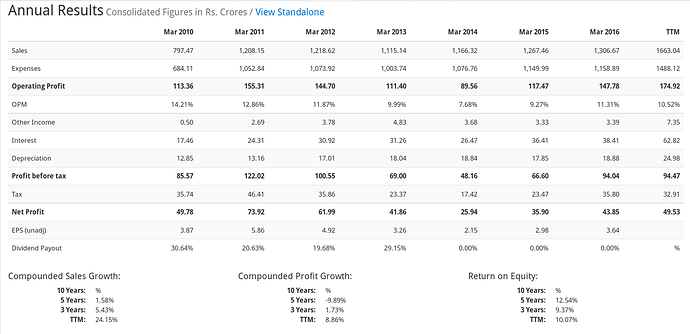 Disclosure: Pennar Industries constitutes 19% of my portfolio;
purchased in October 2016, with average purchase price Rs. 52.
I'm a novice, and I am hoping that the experts here will dig deeper
than I have, in order to determine if this is a worthy investment
opportunity.