There has been some discussion around playing the paper cycle (a contra bet), lumber prices soaring, etc. But is there a more peaceful way to play the paper trade?
Summary + Hypothesis:
Paper Felts and fabrics are an incredibly important component in the process of paper manufacturing. Manufacturing literally cannot take place without it. It's a business that has high stickiness because of the customized nature of the orders for felts combined with other allied factors (machine manufacturer, assembler, etc.).
The industry brings together two components – subscription + Goldminer phenomenon.
It is a business whose fortunes are decoupled from that of its customers – paper manufacturers have cyclical issues, raw material issues, etc. Also given the consumable nature of the product, repeat orders at frequent intervals are required. Combined with the stickiness, this brings in an element of subscription.
They are linked directly with the capacity of the industry. Unless there is a major change in the way paper is made, there is no threat to the product. As the business and margins are steady coupled with the fact that the cost of raw materials is also low, (based on how the company's affairs are managed) it is a highly profitable business. Given all this, it is a low volatility way of compounding over long periods. (Definitely no 10 baggers here. But a See's Candies type is possible).
What Are Paper Felts And Fabrics?
Since paper felts and fabrics are products that we're not used to seeing often, it's not very intuitive to understand what exactly the product is and does. It's better to break it down into smaller questions.
Q1. What are these felts/fabrics?
Felts and fabric layers are primarily used in the paper industry. They perform 2 roles main – absorb water and act as conveyors. There are certain specific functions that they perform based on where they are used (we'll get to that in the next question). It is a consumable in the process of production of paper. Paper manufacturing cannot take place without it.
Q2. Where is it used in the process of paper manufacturing?
Papermaking can broadly be broken down into 3 stages – pulping, paper making, and finishing.
Pulping (where the pulp is made)

Debark logs
Chipping
Chemical pulping (breaking down lignin – an organic polymer)
Final pulp (a thicker, less refined version of paper)

Paper Making (where the paper is made (no points there))

Sheet formation (the fibers spread out and take the form of a think sheet)

Press section (fed into press section at 90 KMPH to squeeze out 50% of water).

Dryer (the paper is run over cast iron cylinders heated up to 100 degrees Celsius with the felt in-between)

Finishing (finishing is not made but created on the paper surface)
It's in the second stage where felts play a critical role. They essentially absorb the water in different stages and act as conveyors.
Based on the above, you can link the different types of fabrics to their respective sections:
Forming Fabric – for the forming section
Press Fabric – wet paper application in the Press section
Dryer Fabric – for the dryer sections (no points for guessing)
Roll Covers, QualiFlex sleeves for shoe press, and Doctor Blades – Stage 2/3 application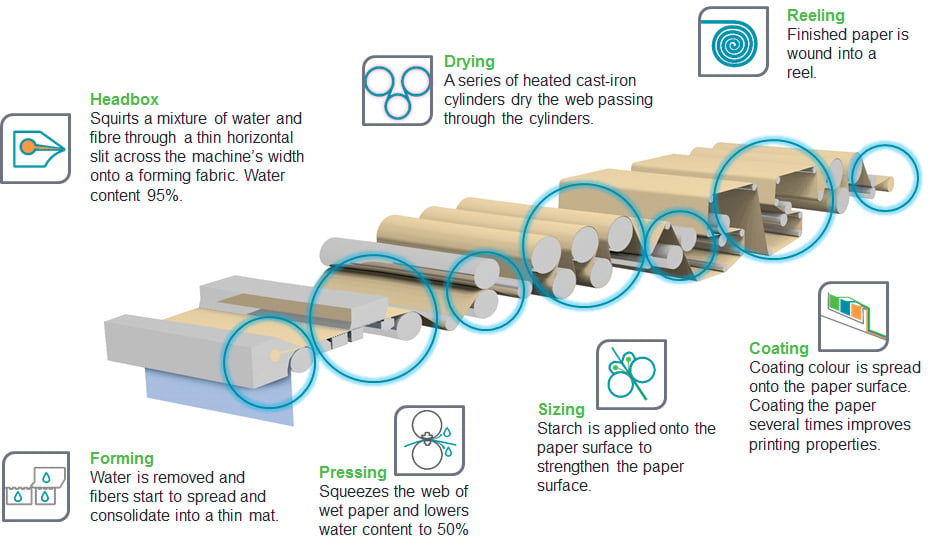 Source:
Valmet
Source:
Multicopy
Images to be read left to right
If you're like me and are looking into all this for the first time, it helps to be able to see all this. Here is a video that could help you visualize this: Papermaking process
(More resources are available at the end)
Q3. What are felts and fabrics made of?
In the old days, metallic screens were used to drain out water. With the advent of mechanized paper manufacturing, there was a transition towards wool/yarn/cotton while also using metallic screens/wires. With the rise of synthetic materials, felts are largely made of polyester or nylon fabrics with some addition or wool or yarn in certain segments. These materials help provide – better efficiency (in draining water – we're talking of managing 100,000 liters of pulp per minute), higher life (they are used in an extreme pressure situation where machines are working under extreme heat (150oC-500oC), speed (2-2.5km per minute) and force) and better and more consistent sheet quality.
Q4. How frequently are they replaced?
Given that they are used in extreme stress environments, based on which section they are used in, they last between a few days to a year and a half.
Source: Albany International Investor Presentation
Felts are highly machine and use specific. Thus, they are customized to a very large extent. If an issue is found or some level of wear and tear beyond acceptance is noticed, the fabric must be replaced immediately otherwise it impacts the quality of the paper.
Large companies pour resources into R&D focusing on improving the life of the product. However, there are limits to how much it can be extended and this isn't a very big/major risk (the above figures have barely crept up in the past 2 decades).
Q5. How much do felts cost?
"A paper machine costs several hundred million dollars to build which makes the cost of downtime very high. Therefore, efficient operation of the machine is extremely important which demands high quality fabrics with long life at high speeds and harsh environmental conditions such as high temperature, tension and humidity. Depending on the size of the paper machine, the cost of one complete set of clothing on a sizable machine can be approximately a million dollars."
Paper Machine Clothing by Sabit Adanur
Before we move onto the next section, let's take stock of the main takeaways:
Highly critical component (manufacturing literally cannot take place without it)
Consumable used under extreme stress environments (cannot be recycled or reused. New line need to be put) in 3 sub-stages - Forming, Pressing, and Drying.
Made of synthetic material (monofilament polymers)
Made to order based on customer requirement (machine, type of paper being manufactured, process, etc.)
Costs negligible compared to the output.
Now that we've understood what the product is and how it's used, let's move onto the next section of understand the macro view of the product.
The Macro View
The Global paper felt/fabric industry is estimated to be around $2 Billion based on data points from 10K filings of Albany International Corp 1. AIC has a 30% market share globally followed by the next two players having a market share of 15% each. One of them is VOITH (the global parent for our India entity).
In the Indian context, the entire market is incredibly small. My estimates range between Rs. 350-600 crores2 (based on the method, the figures differ (each has its weakness). But the main takeaway is that the market is tiny).
The growth of the market is driven by 3 factors:
Production capacity increase/decrease
Capacity utilization
Price increases
The relationship between these factors is pretty straightforward. With new production coming online, the demand for felts and fabrics increases (relatively permanently). As capacity utilization increases or decreases, this impacts the wear and tear of the felts. The life of a felt is reported to be between 45-60 days (some have claimed 60+ days as well. Depending on the section, the lifespan ranges between 40 days to 18 months). Price increase is another factor that drives the market size.
The growth of the felt industry in aggregate (not a specific player), cannot be greater than that of the paper industry over long periods (then the cost percentages increase beyond what they are right now).
With smaller mills, owners are relatively less sensitive to brand/anything. It completely depends on the vendor/person who assembled the machine in which the felt is used. With the larger and organized players, felt quality is a major component of their decision making and they are sensitive to brands.
In a cyclical cost-sensitive industry such as paper, felts that can bring about cost savings by way of efficiency for the user are recognized by the larger customers.
In India, there are 3 listed companies:
Voith Paper Fabrics India Ltd.
Shri Dinesh Mills
Wires & Fabriks S A Ltd
Most people who have used a screener with cash as a % of market cap or any such variant would have comes Voith in the list. Most 90s kids would remember the Dinesh Suitings ads on TV and in theaters. Shri Dinesh Mills owns the brand (at least they used to. It was shut down recently).
Wires & Fabriks S A Ltd has a chemicals business as well. They have a huge debt problem among other issues. Since it is not an investment opportunity for me, I am keeping it aside.
From 2016-2020, Voith has managed to grow its sales from Rs. 75 crores to Rs. 117 crores while Shri Dinesh Mills (SDM) (felt only) has held stead from Rs. 48 crores to Rs. 46 crores in the same period.
Voith and SDM couldn't be more different in their approach and growth trajectories. These are two very different stories. More detailed analysis on these two to follow in individual/combined posts.
The Edge
Small investors have a huge advantage in this space:
The companies are either too small or their free float is also too small for any institutions to enter.
Most of the people who you are transacting with have no idea what the product is or the nature of some of these companies. The companies are often confused with the parent or a fellow subsidiary. (Happens very often in the case of Voith).
Examples:
Here's a Morningstar report that lists JK Paper as a competitor (it should ideally be a customer). Firstcall Research Report lists Sutlej Textiles, Bannari Amman Spinning Mills and Garware Wall ropes as peers. None of them have touched upon listed peers who have been around for ages. (The point isn't to call out their mistakes, but rather to highlight the fact that even people with far more resources than an individual investor find this sector more trouble (pain to find any info) than it's worth (limited opportunities)).
3. Illiquidity! The counters are very illiquid. Tiny changes in quantity are enough to drives prices in either direction. This keeps a lot of people at bay. A double edged sword!
Risks
The biggest risk to the industry is if there is a fundamental change in the way paper is made. It's been over 2000 years that the macro approach to papermaking has largely been the same. The risk from this is very low.
Not many people knowing about this industry also leads to difficulty in accessing information and the latest developments in the industry. Companies in the industry have moved from being very open to revealing as little information as possible. This could lead to investors being caught unaware of certain developments.
The free cash generated from the business tempts one to look at other avenues that may or may not work out, in effect leading to the felt business subsidizing other business lines.
China Factor – the China factor is always there everywhere. But the effect is less pronounced in this industry and certain pockets given the customized nature of the final product.
Illiquidity can be a problem with large positions while exiting.
Notes:
1 – Total Market Size = Albany Revenue*(100/Global Market share)
2 – The various approaches are:
Method 1 : Cost of felt as % of Revenue*Paper Market size
Method 2 : Global Felt Market Size*India's Share of Global Paper Production Market Share (Production)
Method 3 : Sum of 3 public Players turn over * factor
Resources:
Mechanical view of papermaking 1and 2 (these are videos by Voith based on the work they've done)
Convergence Training by Vector Solutions has some really useful training videos on paper manufacturing, Tissue making, pulp mill, and box plants. One specific video that is useful to understand how felts work. There are videos on the technicality of felts as well.
SWICOFIL has a good overview while also covering aspects on materials used       .
Albany International's materials – Investor Presentation, Con call, 10K, etc. are really useful. Albany is also an interesting story – how they've used this cash to pivot into another segment.
Paper Machine Clothing by Sabit Adanur is the most comprehensive one-stop resource on this entire industry and process! It was amazing reading this book.
Disclosure: I have positions in Voith and SDM (from lower levels). I am not a SEBI registered adviser. All the information provided by me is for educational/informational purposes only. Please do your own research before investing (especially in these crazy markets).