Hi Gurus,
This forum means a lot to me, although my lack of knowledge in understanding the numbers prevent me from actively participating in discussions.
I would like your comments on my portfolio.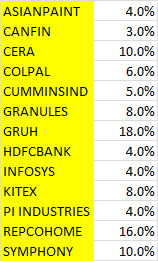 I have positions in Page Industries and Kaveri seeds futures which I keep rolling every month. The position size is 200% of my portfolio value.
I also have 40% of my portfolio value in cash (to accommodate swings in futures position).
18% of the portfolio is primarily designed to be the bedrock of the portfolio (HDFCBANK, INFOSYS, COLPAL and ASIANPAINTS) - Low growth, high stability without much price movements - some dividends.
47% is chasing Tier 2, 3 cites housing dream(REPCOHOME, GRUH, CERA and CANFIN).
The rest 35% is between SYMPHONY, KITEX, GRANULES and PI INDUSTRIES.
Please note - I am not a trader - The only thing that I do like a trader is to rollover my positions in PAGE and Kaveri everymonth.
Please give me your honest feedback.
-OldMonk