Focussing on integration of Aquaculture process from Hatchery to Retail with complete traceability.
The material here is majority taken from the company's AR, this company is small shrimp
compared to others, I could not find much info elsewhere. From reading up on Avanti Feeds and Waterbase, I found the information credible and of OK quality. Rest I trust VPers to add

NOTE:
Screener threw up this company, when searching for a fast growing, low price bet.
Both Avanti and Waterbase are launching seed business though it will take them roughly a year or two atleast to approach the current scale of about a billion seeds of Oceanaa.
Traceability is the non-tarrif barrier imposed by US regulators, from seed to harvest, is the key.

Avanti CEO in concalls, keeps emphasizing on 'providing good quality seed' to farmer. Apparently disease can affect shrimp stocks and have severe consequences, seed quality is a factor here.

OBIL (oceanaa biotek india ltd) is also now going to make feed. My rough guess is that feed making involves buying the feed components and mixing them. No wonder, so many new feed making plans are getting launched recently.
Oceanaa Biotek joins hands with Thailand co - The Hindu BusinessLine
a) Company's Overview [latest AR page 5]
India is fast emerging as a major aquaculture destination. Aquaculture in India got more than its fair share of opportunities, especially after 2009, to credit, shrimp producers in India immediately lobbied with the central government to allow import of white leg or Pacific white shrimp (Litopenaeus Vannamei) from the US for cultivation.
Company started with food testing laboratory aims to achieve complete safety by sampling and testing of each day's production and to make sure that the seafood process adheres to the highest industry standards and meticulous product specification.
On gaining grip over the Shrimp Cultivation and with the help of Promoter's expertise & aptitude in Hatchery business, the Company purchased a Hatchery business with a capacity of 400 million seed per annum (the survival has taken into 40%) during August, 2014 located at keelaiyur village, sirkali talk, nagapattinam District, Tamil Nadu. For a sale value of Rs. 3.9 Crores allotting 7,81,850 shares with a premium under consideration of cash. As a favorable outcome of Hatchery business Company has recorded revenue of Rs. 46.47 crore in 2015 compared to Rs. 6.70 crore in the year 2014. Resulting in increased profit of Rs. 80 lakhs in 2015 compared to Rs. 34.79 lakhs in 2014. In the year 2016 Company recorded profit of Rs. 2.17 crore reflected radiant progress in business.
Without the maturation facility the company had struggled in producing the good quality seed at right time. To cope up with the magnified evolution of the Hatchery Industry and eternal support received from the stakeholder, the Company invested in acquisition of another Hatchery which possess capacity of 250 million seed production and a big maturation facility which can hold 1600 pairs of brood stock at a time from a partnership firm, a Chennai based firm engaged in rearing of prawn seeds and trading of prawn seeds. To give effect to the purchase Company allotted 33,65,275 shares with Premium to the partners for consideration other than cash amounting sale value of Rs. 20.19
crore.
To bring lot of prawn farmers to purchase our seed, the company is giving the testing service as discount to the farmers for which the value for one test is very minimal when we compared to their purchase volume and value. That is why we were able to sell huge quantity of our own manufacturing seed and rather than trading in the year 2017.
The company has recorded a revenue of Rs. 36.70 crore and profit margin Rs. 2.70 crore in the year 2017.
Going forward, the favorable monsoon is expected to result in the significant trading opportunities. Company is planned to introducing new and innovative technologies to cope up with global advancement.
b) Company's Business
BROOD STOCK MANAGEMENT [95% of Turnover]
Method Involves manipulating environmental factors surrounding the brood stock to ensure maximum survival and increase fecundity. Matured, full grown SPECIFIC PATHOGEN FREE (SPF) Broods measuring 36 to 40 gms were imported from United States for reproduction, under goes a detailed examination by Aquatic Quarantine Facility, Chennai, to facilitate a regulated mode of introduction of non-native L. vannamei[ White leg Shrimp] into India.
Testing Services Offered [5% of Turnover]
Food Microbiology: Microbiological analysis is important to determine the safety and quality of food.
Molecular Biology - Molecular biology explores cells, their characteristics, parts, and chemical processes, and pays special attention to how molecules control a cell's activities and growth.
Food Analytical Chemistry - Analytical Chemistry can determine the presence of a known chemical in a food. The nutritional value of food is determined by chemical analysis for components such as protein, fat and carbohydrates. Even the calorie content is calculated from chemical analysis. Our trained staff use state-of-the-art equipment in this practice.
c) MANAGEMENT DISCUSSION AND ANALYSIS REPORT [latest AR page 59]
Industry Structure and Developments:
On the basis of increasing demand of shrimp and fish in global markets, the export of Indian sea food has risen by over 23 per cent to USD 5.78 billion in 2016-17 Shrimp farming has changed from traditional, small-scale businesses into a global industry. Technological advances have led to growing shrimp at ever higher densities, and brood stock is shipped worldwide. Farming implies some form of intervention in the rearing process to enhance production, such as regular stocking, feeding, protection from predators, etc.
Indian aquaculture shrimp production is set to grow at 4.9 per cent annually during 2014-18. The projected growth rate is second highest among the major shrimp-producing regions.
This provides opportunities for Indian firms to expand further, Companies that supply quality seed and feed, and share the right aquaculture practice with farmers, stand to gain in the market.
As per an estimate, currently, India's aqua feed consumption is around 1 million tons and assuming on an average 1.5 feed conversation ratio (industry standards), the demand for aqua feed comes to around 7 million tons by 2017-18, the report said.
State of affairs/Segment-wise or product-wise performance:
During the year under review, the Company has majorly focused on production and sale of shrimp seeds and testing of their quality before sale to farmers or end customers. Our major customers are spread across Tamil Nadu, Andhra Pradesh, Maharashtra, Gujarat and west Bengal.
In seafood cultivation, the most stringent bio-security measures are adhered to, to produce 100% antibiotic-free seafood that meets international food safety standards.
During previous year, the Company received permit from the Coastal Aquaculture Authority, Ministry of Agriculture and Farmers Welfare, Government of India to import 4400 numbers of SPF L. Vannamei brood stock (shrimp) per annum for rearing to adult brood stock for seed production at the Hatchery located at Keelaiyur Village, Poombuhar, Sirkali Taluk, Nagapattinam District, Tamil Nadu.
The permission to import is valid from April 01, 2016 to March 31, 2020.
We are nurturing our indigenous L.Vannamei (Vannamei shrimp – Litopenaeus Vannamei, formerly PenaeusVannamei) seeds and selling to farmers across India.
The specific pathogen free (SPF) LitopenaeusVannamei has the capacity to produce quality seeds with faster growth and higher survival rates.
Even though shrimp farming has taken a downfall this year as compared to last year, our reputation in the market has contributed to our increased sales. Also, our group companies have a good reputation in the market. We are scaling on this factor to expand our business further.
In order to expand the business, the Company acquired existing operative Maturation and Hatchery facilities from a Partnership firm, having office at Chennai at a cost of Rs.20,19,16,500/-. The Company issued equity shares for consideration other than cash under preferential issue in the joint names of Partners jointly designated by the said
Partnership Firm against the assets to be taken over by the Company. To meet this requirement Company increased its Authorised Capital from Rs. 10.2 crore to Rs. 15 Crore.
The objects of the preferential issue is to accelerate growth and earning power by acquisition of an existing operative Maturation and Hatchery as stated above. The Company allotted 33,65,275 equity shares at Rs.60/- per Equity Share (inclusive of Rs.50/- per Share as Premium)
Company Outlook:
We have been operating all our business operations from India and are planning to broaden operations through exports.
India's aquaculture industry continues to strive and the Company is positive that it will continue to factor on this to establish its credibility in the market.
Strength and weakness:
The Company has been in the field of aqua culture industry engaged in manufacturing high quality Shrimp seeds. The Company has well trained technical team in production and marketing of shrimps. The Company also provides technical support to the farmers and assisting farmers with information and knowledge of shrimp farming and also updating developments in culture methods and processes. Presence of strong dealership network, farmer base and committed work force stands in good stead in sustained growth of company's business.
Time gap is longer in adoption of technological advancement used across the world.
Opportunities and Threats:
We are striving continually to adopt the best aquaculture methods, ensuring regular incomes for farmers, while encouraging environmentally sound and sustainable practices. By distributing the best seeds as well as continuously monitoring and testing for quality, and providing a buy-back guarantee, we ensure that only the best products bear our stamp.
- Risks:
 Due to unfavorable monsoon predictions, our business would be affected and would result in increased
costs of feed and other raw materials required for production of seeds. Volume featured with
temperature, salinity, pH, rain fall and other climate parameters affect the rearing of seeds.
 Our performance also depends upon the prices in the International Shrimp markets.
 General business and economic conditions and change in government regulations could affect business.
WEBSITE: http://www.oceanaabiotek.com/
2016-17 AR:http://www.oceanaabiotek.com/pdf/AnnualReport/2016-17/Annual%20Report%202016-17.pdf [quoted here]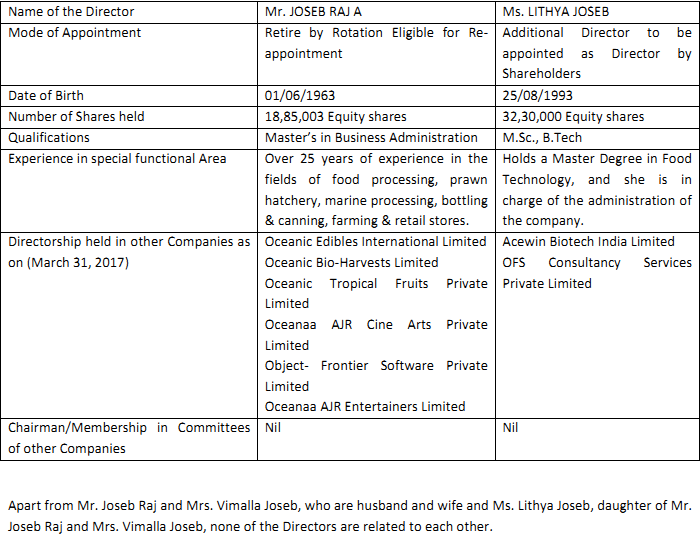 Discl: 4% of PF.