Mint-green nail polish was an upcoming trend in 2016. All Pinterest boards, bloggers, YouTube channels were getting more and more swarmed by this specific trend.
They had ventured to their own private label for the first time, and used Nail Polishes to do so. The company was processing roughly 10,000- 15,000 orders per day during this time.
This is a major feat by Nykaa that they achieve and stay on top of even today. Being on the right side of the trend and supplying the Indian customers with what's new and upcoming is a major contribution to their success.
In the last 5 years, fashion didn't change. Trends were rather seen in the beauty and personal products space. This space created huge trends in the makeup and skincare space, from more makeup being launched internationally with collaborations with different artists and celebrities, from Korean skincare becoming the new way of life in skincare, to affordable companies coming up with active-ingredient based products focusing on the science of it all. This would've largely bypassed the Indian consumer if Nykaa hadn't actively participated in it. During the makeup trends, it tied up with huge makeup companies like Huda Beauty, MAC and NYX, when tides changed to skincare and plenty of companies like Neutrogena and Clinique, and again when tides changed to Korean beauty companies like Innisfree.
The Supply of the Beauty and Personal Products category is very scattered. No brand has more than 1-2% market share in categories as consumer loyalty is very fickle and susceptible to new launches and trends. This gives the retailer an advantage over the brand.
HOW DID NYKAA GET ITS START?
The problem of counterfeit makeup was a much larger problem back then. Women thought they were paying for authentic product. You'd get swarmed by hawkers selling the Maybelline Colossal Kajal counterfeit and even if you used the original product all these years, you couldn't recognise any difference in its packaging. This was the same problem in buying things online. Amazon and Flipkart had dodgy sellers for makeup with inconsistent pricing.
Falguni Nayar, the Founder & CEO spotted this problem and started the company in 2012 and invested a couple of million dollars of her own money.
Nykaa would buy in bulk from the makeup companies, warehouse it and when the item was sold, do the shipping and fulfilment for the order.
In 2012 the company was having 10 orders per day to a 100 orders per day in October 2013. The company in 2014 raised $3.5 Million in Series A, $9.5 Million in Series B in 2015, Rs 100 crores from Harsh Mariwala in 2016 for Series C. Valuation of Nykaa for Series C was 775 Crores. The company had expanded to physical stores by then for increasing brand visibility. By 2017 the company was processing 10-15,000 orders per day. The company now has 18 warehouses and 73 retail stores.
Nykaa pre-IPO has raised $341 Million dollars through 13 rounds.
BUSINESS:
The company's business is largely divided into two: Beauty and Personal Care (BCP) products (84%); and Fashion (16%).
The BPC is an inventory-based model. Fashion is a marketplace model similar to other e-retailers. The company also earns some revenue from advertising on its platform.
In FY2021, the total GMV was ₹40,459.8 million, which grew by 50.7% over the FY2020.

Revenue from operations in FY2021 was ₹24,408.96 million, which grew 38.10% from FY2020.

Restated profit for the year in FY2021 was ₹619.45 million, as compared to a restated loss of ₹163.40 million in FY2020.

EBITDA of ₹1,614.26 million and an EBITDA margin of 6.61%

The current number of unique annual transacting customers is 5.6m.
Beauty and Personal Care:
Colour cosmetics which comprise of makeup is the largest sold category in the BPC, followed by Skincare, Haircare, Personal care, Fragrances, Devices and others.
This is the category the company started with.
The company has 2 segments that provide different margins:
Private Label: Which is Nykaa's own brand. The company outsources manufacturing and takes on the marketing and distribution under its own name. Here the brands can be 100% Nykaa owned or in a JV structure. The company envisions this category becoming 20% of the GMV as this gives the company the most margin.

Inventory: This is the way the rest of the 3rd party inventory is sold.
The consumer-spend per year for BPC on Nykaa's platform is Rs 4,500 for FY21, a growth of 29% YoY, on account of Covid (larger order sizes). In FY20, the annual customer-spend was largely flat YoY. 17.1 million Orders were placed for beauty and personal care products with a total GMV of ₹33,804.1 million, a 35.3% increase over FY2020.
Fashion:
In this segment, the company has six own brands like 20Dresses which it acquired in 2019, and several other sellers selling all things fashion.
Apparel is the largest category, then bags & footwear, jewellery & accessories as well as lingerie, and electronics.
The company plans to do the same for fashion as it did for BPC. It will now venture into physical stores which is something the company hasn't done yet for Fashion. The average value of Orders on Nykaa Fashion mobile application and website was ₹4,034 for the Financial Year
The company in its IPO documents has said it will use 35 crores from the proceeds to set up Nykaa Fashion stores which will be on lease basis.
MARKET:
The market size for the BPC industry is Rs 1267bn for FY20. However, categories that account for large part of Nykaa's BPC sales such as make up, skin care and hair care would be only a part of the Rs1267bn number, and within that, Nykaa's share is quite respectable given the e-commerce penetration in India. Nykaa commands 2.2% market share in the overall BPC industry and 27.2% in the online channel as of FY21.
Similar to the overall retail space, India BPC is heavily dominated by the unorganized channel, which primarily includes local grocery shops and departmental stores. With Indian consumers becoming more evolved in their BPC shopping habits, share of unorganized BPC market had reduced to 71% in 2019 from 77% in 2016.
The online BPC sector further grew at 30% from 2019 to 2020 to reach ₹91 billion and penetrate 8% of the overall BPC market, which Nykaa is leading in.
The size of Fashion Market in India was ₹4,186 billion in 2016, constituting more than 9% of the retail market. Apparel accounted for approximately 80% of this market and footwear and accessories combined covered the remaining 20%. The Fashion Market grew at a 12% CAGR over the next three years to reach ₹5,838 billion in 2019.
The Fashion Market in India is projected to recover strongly and grow at 18% CAGR over the next five years to reach ₹8,702 billion by 2025. Apparel is projected to continue driving approximately 73% of the market in 2025.
The Fashion Market in India is currently dominated by the unorganized channel, majorly comprising of local apparel, footwear and accessories stores. Hence, the current market is underserved as most traditional retailers try to serve broad demographic and are slow in reacting to changing trends. The organized segment has grown at a much faster pace as its share jumped from 29% in 2016 to 38% in 2019.
The online fashion retail sector size was ₹439 billion in 2019 (based on checkout GMV), growing at 33% CAGR over the past 3 years. This led to online penetration growing 2x in 3 years to 8% in 2019, with relatively higher penetration in the footwear and accessories categories compared to apparel.
PROMOTER:
Total promoter and promoter group holding was 54.25% pre-IPO and will be 51% post. Falguni Nayar along with her children Adwaita and Anchit all work for Nykaa.
Promoter and Founder Falguni Nayar is well known in the business community for being an ex-Investment Banker in Kotak who helped in taking companies public.
IPO offer:
The company wants to use the 525 crores of IPO proceeds for 200crs in Marketing spends, debt repayment, General corporate expense, new retail stores and warehouses. The company has Rs 346 crores of total debt on books out of which roughly 130 crs will be retired.
The initial public offer comprises a fresh issue of equity shares aggregating up to Rs. 5,250 million, and an offer for sale of up to 43,111,670 equity shares being offered by the selling shareholders.
RISKS:
Regulations on e-commerce companies being able to sell their own brands on their platforms is under draft. This going sideways will have an impact on its business.
Competitors like Sephora, Tata, Myntra, and other startups like Purplle are looking aggressively in the BPC segment.
The new focus on the Fashion segment is yet to attain success and things are yet to unfold.
FINANCIALS
Screener: FSN E-Commerce Ventures Ltd financial results and price chart - Screener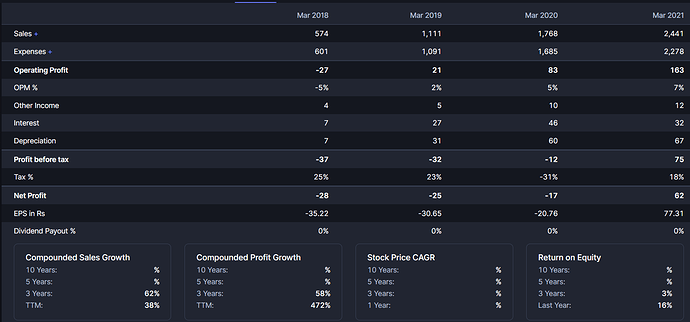 DISCLOSURE: No financial interest in the company, only academic interest.