Brief introduction of the company
Nelcast Ltd, incorporated in 1982, manufactures Iron Castings. The Co. has manufacturing plants at Gudur and Pedapariya in Andhra Pradesh and Ponneri in Tamil Nadu. It manufactures grey and ductile castings for the M&HCV and tractor industry segments.
Why is this space now?
An interesting report from Edelweiss suggests that Nifty Auto has made a double bottom and is ready for an Outperformance.
Why focus on CV upcycle? Since the CV space has been sluggish for the past few years and fleet owners would want to upgrade their trucks to serve the growing transportation demands from Realty, Infra, and E-commerce (which I believe has grown quite a bit post covid). I believe that we are at the start of a CV upcycle. (and so does the management of Nelcast)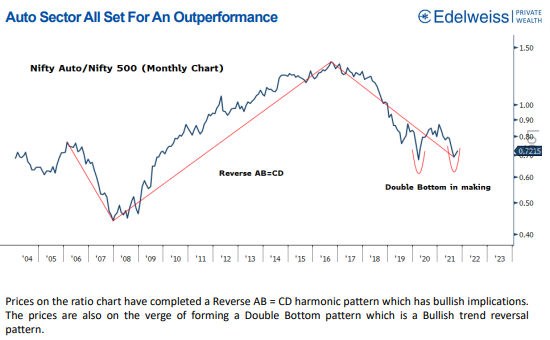 Details the company and the opportuunity
Nelcast makes iron castings for Commercial Vehicles, Tractors, Off-Highway equipment, Railways and Passenger Vehicles(the company has recently broken into the forklift space overseas). Below is a snapshot of the products they manufacture.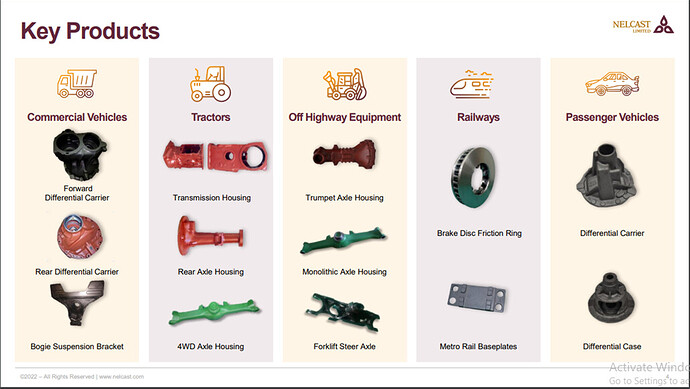 Nelcast has top OEM Customers and can manufacture Grey Iron, Ductile Iron, and Austempered Ductile iron castings ranging from 0.5Kg to 400Kg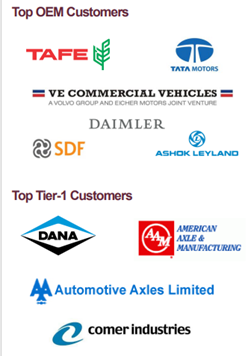 This segment mix was noted down from Q2FY22 concall
Segment Mix – Tractors – 39%, 26.5% from MHCV, 26.5% from exports, 4% railways, off-highway 3%.
The company believes the M&HCV space to grow at a CAGR of 22% between 2020-2025.
This claim can be backed by the CAPEX that they have done during the downcycle to set up a new plant and modernize an existing plant, that the company is ready to meet the growing demand to come. From my notes of the Q2FY22 concall the MD, Mr. P Deepak said they have been training staff to work and manage 3 shifts so that they are well-positioned to handle demand by early next year.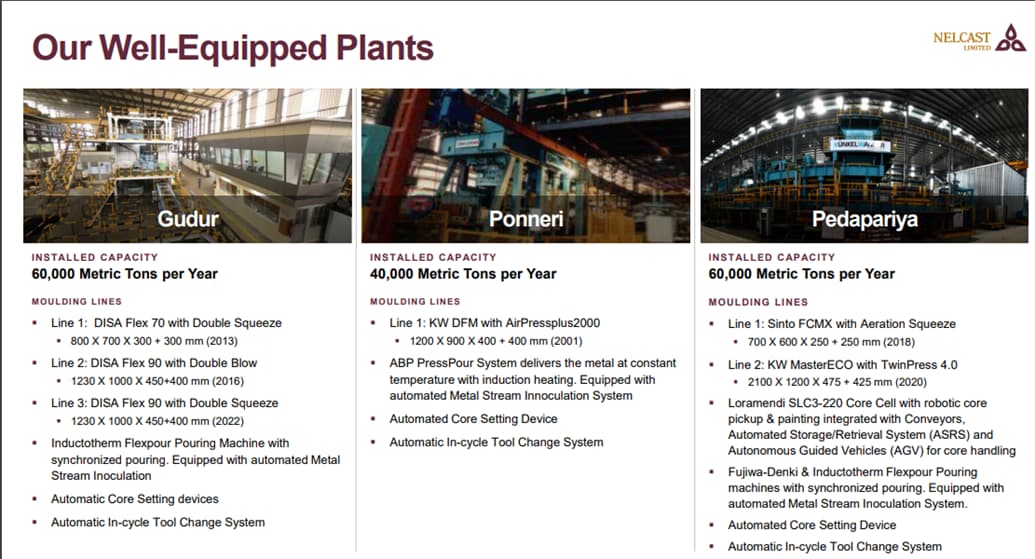 Plants and their utilization levels
Ponerri plant (more tractor mix) running at 80% utilisation
Gudur (more CV mix) 50-60% (due to plant modernization, which is planned for completion in this financial year)
New plant is in Pedapariya running at 15% capacity (new product development is going on)
Some important takeaways from the Q2FY22 and Q3FY22 concalls
-How do they pass on RM cost increases to the customers?
Here is what P Deepak said, "We have a quarterly adjustment mechanism. We take the average of the previous quarter and then that becomes the price for the next quarter. Margin erosion happens when we are in a commodity upcycle, but similarly, when there is a commodity downcycle, that is something that helps us. We are even trying to negotiate for an interim increase due to the steep rise in commodity prices. Absorptions of fixed costs will be better when capacity utilization increases. The new facility operates at 15% utilization, FY23 utilization should be 50%."
(Capacity of 60,000 Tons, usually operates at 80% in peak capacity, so 50% of that, roughly 25,000 Tons)
-What is the runway for growth in the next 2 years?
P Deepak – 1st area for growth - Exports sales, businesses that have already been allotted to us and are under product development, we believe exports will grow significantly in the second half of FY23 will have fairly good growth from the orders we already have from the North American region (Truck industry and Light vehicle industry where we are launching a new product next year).
2nd area of growth – CV upcycle, we see signs of demand. Axels – 4W drive tractors and CVs, the axle is being imported from China, we see that as our product development cycle completes, we can grab that part as well.
3rd – Off-highway segment, we are planning to expand into forklifts.
We expect 50% of our new business to commence at the start or end of 2022.
-When will we improve EBITDA margin expansion and how? EBITDA guidance? Opportunity from exports?
P Deepak –
Pass thorough is happening of RM increases. Improving productivity and production output will help us improve fixed costs. We are doing quite a lot of new product development and most of these will get into production in 6-9 months. New plant capacity utilization will also increase going forward.
Historically we have been at 10Rs/kg (approx.), with new plant and improved product mix, we should be able to improve to 12Rs/Kg, we are working towards improving it to 15Rs/Kg in medium to long term (can't put a date to it).
Looking into other products of existing customers and expanding product range. New projects have been awarded but not yet in production in North America. Potential to grow export business substantially.
Risks
Global events such as the escalation of war, another COVID outbreak could result in delayed or slumped CV upcycle.

Commodity prices continuing to go upwards during the peak demand, resulting in lower than estimated earnings and hence spoiling the bottomline
Conclusion
Nelcast gives me a lot of comfort to stay invested at these prices as the bottom line should improve as and when the capacity utilization rises and I expect the growth to come in from H2FY23 mainly due to the export business.
Below are some calculations for their FY23 topline and the room for upside
Peak capacity for existing two plants (100k installed – so conservative 70% is 70k tons) and management has guided for 50% utilization for the new plant that is (installed = 60k tons, actual – 70% of 60k = 24k tons.). So in peak, they should be producing 94k tons (70+24). After the new plant is operational, they should be able to get Rs. 12/kg. So FY23 EBITDA can be 11.28Cr.
Tonnage in Q3 = 17,510. Sales in Q3 = 233Cr.
233,00,00,000/17,510 = 1.33L per ton
Sales at 94k ton = 12,50,20,00,000. (1250Cr) topline for FY23 considering they work in peak capacity throughout (which they expect to).
In my estimates (and I am very new to this) Nelcast is available at 8x FY23 earnings and during the previous upcycle the P/E was 25. So I feel we have a lot of room for upside.
This is my very first post on this forum, please correct me if I have made any mistakes.
Thank you for reading! Feel free to participate if you feel this is an opportunity worth studying
Disclosure - Invested