I got interested in this company when I read about the background of the entrepreneur - started off in a sari shop and has become a Rs.40 crore brand online! Started off small and definitely looks like he has the hunger for growth. Got to know that their products are good quality ( ordered a few to get actual feedback) and at reasonable price so the addressable market is quite big and they are one of the better vendors selling traditional women's products on Myntra and other e-commerce channels. Sales have grown quite reasonably in spite of COVID.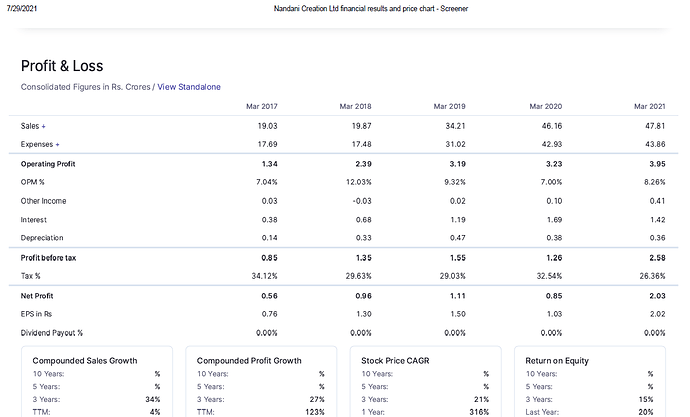 They will be opening brick and mortar stores as well going forward to scale up their brand and business. I think the timing is fortuitous as they are starting them now probably at low rentals
Interestingly the promoter had some loans given to the company which he has chosen to convert to equity. Currently the stock is listed in the NSE SME (minimum lot size is 5000 shares) but will be migrating to the main board soon.
Sales - Approx 45 Cr, Market Cap - ~1 x Sales , PAT - 2 Cr
The trigger for re-rating will come if sales increase to 60 crore+ in FY 22 (highly probable because demand will pick up with reopening + people prefer digital channels + 2 new brick and mortar stores that are planned + new categories they plan to cross-sell) , the stock can trade at 2x to 3x from these levels easily by next year.
Interesting play in the online space where most deals happen between 2 to 4 times sales.
Risks : 1. Slow growth due to 3rd wave which leads to a delay in reopening of offices, restaurants and schools. Without growth, the company will not get a sales multiple or be an acquisition target
2. The company chasing growth at the cost of profits .
3. I'm not against the idea of experimenting with physical stores - as experiments is what a startup should do at a small scale - but the profitability of the stores has to be tracked as they can burn a lot of cash if they
Counterviews invited
Disc : Invested