Nahar Industrial Enterprise is looking like a good value buy after recent change in market condition. Its revenue is Rs 1775.71 Cr but PE is just 6.6 after March, 2016 Qtr result.
Sector: Yarn, Fabric and Sugar.
Debt is on higher side. Debt/Equity:1.68.
Interest coverage ratio is 1.7 which was just 1.2 prior to Mar, 2016 result. I took Screener.in data. At many places Debt/Equity is not that high but Interest coverage is lower.
Past four quarters profit:
June 2015: 3.91,
Sept 2015: 1.09,
Dec 2016: 13.92,
Mar 2016: 23.97.
So, you can see how fast it is improving. Lower profit in June and Sept 2015 result should help in base effect. Sugar price realization should be good. Earlier it was making loss and now it will add to profit. From loss to profit will add good amount to bottom-line.
22 Cr was the loss due to sugar in 2015 against profit of 4 cr previous year.
Yearly Result: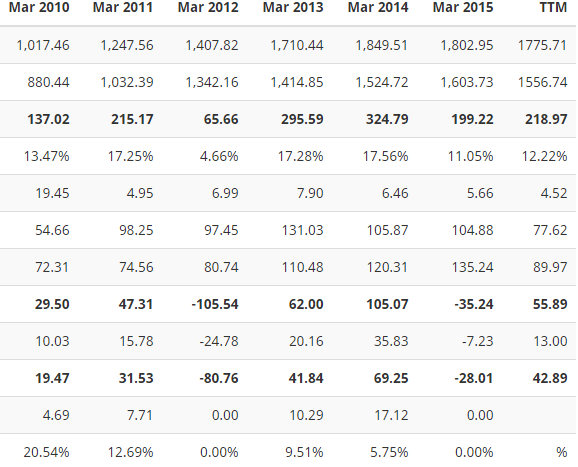 Quarterly Result: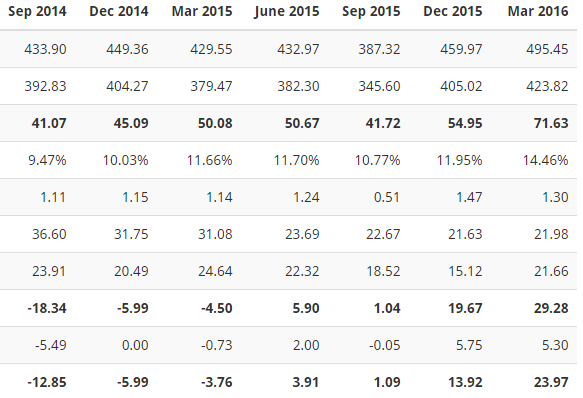 Revenue has increased at steady pace but profit has not. Generating profit is a problem for the company. I see few reasons for this:
Sugar division: Sugar is highly regulated commodity in India. It has its own cycle. Govt has taken few good steps in previous year and Sugar's good time has come.

Debt was increasing with the revenue. Recently debt has been reduced. With the lower interest rate regime, I see Interest and depreciation burden has reduced which is leaving money for counting in profit. We see Operating profit is not a problem for the company in-spite of being in Sugar sector. Margin is pretty much maintained.
Textile: 93% of revenue.
Recently many insider trading has happened here before result. Though the amount involved in that was small.
It has installed capacity of 2500 tones of cane crushed per day ("TCD") at Fatehgarh Sahib, Punjab. Sugar plant is small.
Co-generation power plant of :
Lalru (Pb) - 29 MW.
Amloh (Pb) 16 MW.
It is Punjab based company. Check its products here.
Credit Rating: [ICRA]A- (Stable) for Short term,
[ICRA]A2+ for long term.
Good credit rating gives us security with low interest coverage. Improving profit at rapid pace is giving us prospect for future growth.
Clients:
Many domestic and international clients.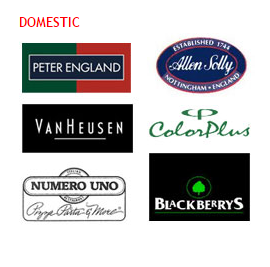 Subsidiary: Cotton County Retail Ltd.
Brand: Cotton County and Monte Carlo.
Distillery plant is not working as on Mar, 2015 due to farmers has filed an appeal in National Green Tribunal. Company has setup a plant and everything is ready.
@What has happened to distillery plant now?
Could not find it.

ASHISH DHAWAN is also invested here. He has invested Rs 18 Cr in Nahar Industrial Enterprise.
Revenue of Rs 1775.71 cr and PE is just 6. Revenue is not projected it is already there. So, with good profit, I am pretty sure of it getting good valuation in future.
I want to know from experts here if there is any management concern or something which is not visible on Balance Sheet!
Share-holding:
Promoters: 68.38%
Corporate: 1.21%
DII: 1.25%
FII: 0
Change in promoter holding 3Years: 1.41%
Current ratio: 5.13,
Quick ratio: 1.71.
Finished products:
Yarn: 50%
Fabric: 39%
Sugar: 5%
Others: 2%
Raw material:
Fibers: 82%,
Sugar cane: 11%
Yarn: 3%
Volume is a concern here. So, may not be a good investment for very short term. But time-to-time, I see volume increase here which is enough for me.
MoneyControl gives 16k and 14k as 10days and 30days volume average.
Risks:
I could not find any positive comments from management about the change is company structures or products portfolio which assures me of better future.

I am relying on Sugar profit from loss in the past to good profit in coming quarters.

I am hoping for Bangladesh's increased import of yarn and fabric to continue or China won't lower the import bill of Indian textile. Overall market has become better in 2015 compared to 2014 as mentioned in Annual Report 2015. Recently I read Vietnam has increased export to China which has affected Indian export but Bangladesh has increased import of Indian yarn. Bangladesh is 2nd largest importer of Indian yarn after China.

As Bangladesh is the 2nd largest importer of Indian yarn, any change in custom etc can affect the export of Indian yarn. Increasing export of yarn to Bangladesh has affected local Bangladeshi manufacturer and the concern has been raised by local body.
But I am not much concerned by the negative risk of export etc as everything negative is priced-in now. Previous year most yarn manufacturer has not shown growth.
Update: June 04, 2016
Particulars of Holding , Subsidiary and associate companies:
Cotton County Retail Ltd - Associate - 49.99%
J.L. Growth Fund Limited - Associate - 41.10%
Vardhman Investments Limited - Associate - 47.17%
Atam Vallabh Financiers Limited - Associate - 36.85%
Two key people in management:
Jawahar Oswal: Hold positions in many group companies.
Dinesh Gogna: Hold positions in many group companies.
Jawahar Lal Oswal bags lifetime - Sept 2013. Chief Minister Parkash Singh Badal on Tuesday gave away awards during the annual award function of the Ludhiana Management Association (LMA).
Disclosure: I am invested here.