I was always curious how to invest in US markets from India. Here are the steps I did to make it happen and I made my first set of investments yesterday.
It is very easy to open account for US trading sitting in India using interactivebrokers.co.in
Process is fully simple and online. Once we submit the forms (there is an online photo session) as well, it takes 2-3 days to open the account
Funds have to be transferred via Wire to Interactive Brokers in USD to trade in US stocks
Interactive Brokers for the first 3 months does not charge any fee. However post 3 months, they will charge USD 20 as activity charge if your balance is less than USD 500. The activity charge is waived off in case we have a liquidable account balance of USD 1,00,000 or more
Indians can invest up-to USD 250,000 a year as per our IT laws. I plan to invest USD 250,000 annually into this account in tranches
I started with a USD 100,000 investment. Plan is to pick a mix of Tech Leaders + High Growth Tech Stocks + Disruptive Bets + Pharma companies + Traditional firms and invest somewhat equal amounts in them. Here is my first tranche of investments (Will add few companies very rarely to this list and will top up)
High Growth Tech:
Google, Amazon, Adobe, Apple, Atlassian, Netflix, Nvidia
Disruption:
ARKG, ARKN, Nutanix
Pharma:
Catalent, ThermoFisher Scientific
Traditional Leaders:
3M, Honeywell, Caterpillar, Texas Instruments
I expect at-least 3 to 4 of above to be 3-4X in 5 years making up for any laggards in portfolio.
Here is how it looks on Day 1!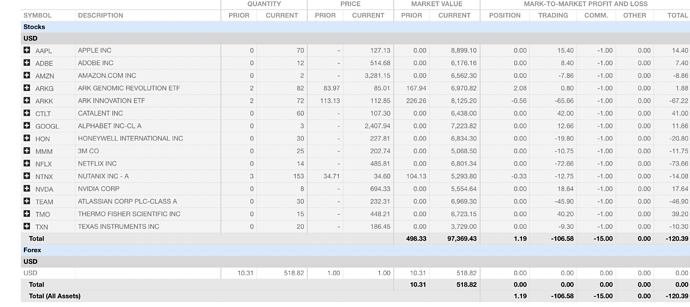 The objective of this thread is to discuss good US stock opportunities that are like buy and forget stocks