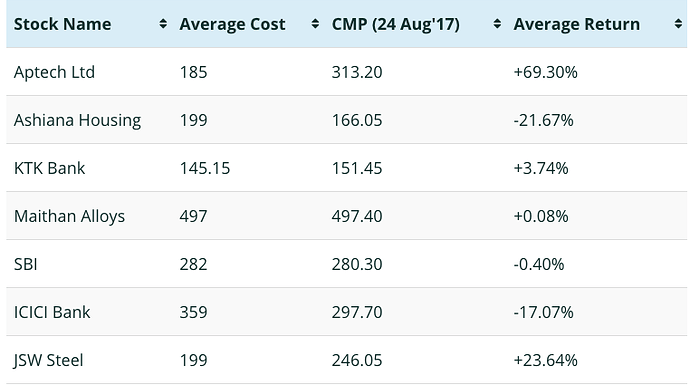 Aptech Ltd - It is an IT/Edu company. It has currently no debt and dividend yield is also decent. I got to enter at a good price.
Ashiana Housing - It is expected to grow as for the new housing reforms it is expected to give good results next quarter. The company has low ROE but in the long run, say 2-3 years I'm expecting 15-20% CAGR.
KTK Bank - It has liabilities of around 7k Cr. Its book value is still higher than the CMP.
Maithan Alloys - I found this stock very attractive. I believe that I've got to know about this stock very late, but still, the company is expected to give good returns next quarter as it has been giving since past few quarters. It's because of the current global spike in manganese ore prices and increased demand in China. (I bought this stock just two days ago.)
SBI - I bought SBI without any research. It was my first stock. I bought it three years ago. Still holding with regret.
ICICI Bank - same case as SBI.
JSW Steel - Entered for short term period on just technical analysis. Will book profits in a week or so.
RBL - I'm holding RBL as well. It isn't in the above image. I entered this stock at Rs 371/- because of good fundamentals. Looking for long term returns.
I'm into MFs as well.
Franklin India Smaller Companies Fund Growth
ICICI Prudential Focused Bluechip
I'm new to VP. I'd love to get your views and suggestions to improve and diversify my portfolio. I'm still learning stock market. I'm no expert. Still a newbie.