Hi All,
I am very new to ValuePickr Forum but have found this one to be very interesting and knowledge enhancing platform in the insane (for me) world of Stocks/Finance/Investment. However I felt great to be allowed to become a member of this forum and read so many interesting ideas and views of all experts. I am absolutely a duffer when it comes to investment and trying to learn from last 7 years
. Mostly I have only read MMB which seems to have become a battleground of conflicting interests and paid agents of brokerage houses or individual selling their ideas or services.
Well to cut the story short, I have patiently invested in below stocks in the last 7 years and now realize that I need this to be overhauled. Please take a look and give me some ideas. I am le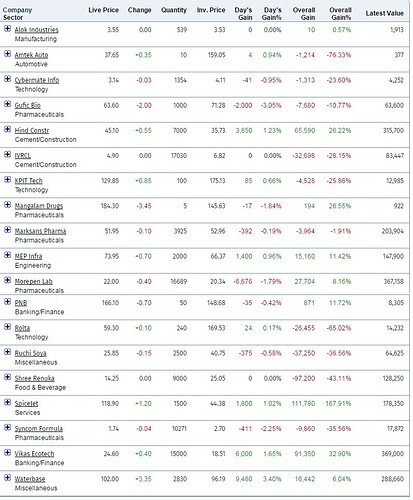 arning every day from this forum but need help.
Thanks
Pradeep