Munjal Auto seems to have formed a double bottom and has broken out.
Before posting the chart, a brief write up on Munjal Auto.
Munjal Auto is an Auto ancillarycompany and is the worlds largest manufacturer of exhaust systems.They also manufacture steel rim ,spoke rim and fuel tank
Hero group company and promoter holding is 74.81%
More than 90 % of sales is from exhaust system /mufflers
PE of 12 and Debt to Equity of 0.4 and ROE of 28
They have set up a plant recently and this plant is expected to bring in sales of 250 cr
Hero Moto is the largest client.Other clients include Tata , Piagio, GM, Suzlon etc
Technical partner is Samsung
Future triggers
low commodity prices will protect the margins
lowering interest rates will revive the auto sector in general
increase in demand for exhaust systems and focus on pollution with augur well for the company
Now on to the double bottom breakout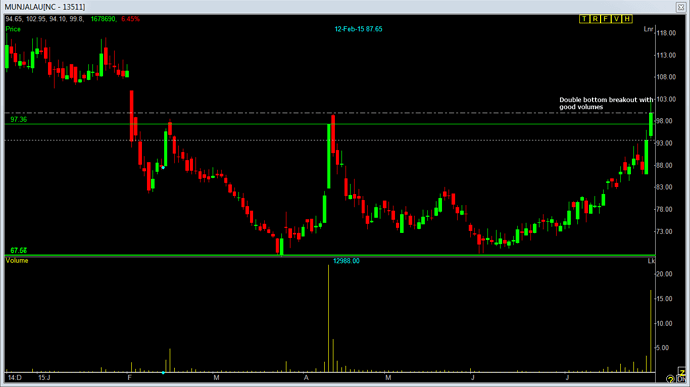 Disc : Invested and my views might be biased.