Company Background: Incorporated in 1964 as Metal Scrap Trade Corporation Ltd., Kolkata based MSTC is a leading PSU engaged in providing e-commerce related services across the metals & mining segments offering e-auction/e-sale, e-procurement services and development of customized software/solutions. MSTC has emerged as a pioneer in the e-auction segment catering to the Government sector, partnering with different Government agencies and ministries in conducting e-Auctions. MSTC is one of the key players offering comprehensive range of services in e-procurement segment. Further, MSTC provides waste disposal services and offers assembling, breaking up, sorting and wholesale distribution of scrap and waste materials including coils, billets, wire rods, coke, coking coal and naphtha.
Growth Opportunities
Scrappage Policy: If the policy gets the approval (A scrappage policy is a government-funded programme to promote the replacement of old vehicles with modern ones), then the total scrap expected to come into the market is around Rs.1,20,000 crore and can potentially generate Rs. 40,000 crore worth of scrap every year. Based on the MSTC market share and 2.5% commission on the scrap trading, this can be a big game changer for MSTC. Once the policy is announced, Cero, its 50:50 joint venture with M&M, can setup more centers across the country and that scrap will also be traded on the MSTC e-commerce platform
Private Sector: Till now, only PSUs contribute majority to the e-comm business, but, now MSTC is casting more focus on the untapped e-Commerce business from the private sector and in this stride MSTC has signed big ticket agreement with Reliance Industry, Indus Tower, Tata Power, Vedanta etc. Private sector scrap volume is much bigger than PSUs and MSTC is currently in discussion with many such private players.
Government Auctions: MSTC is a nominated agency for allocation of coal blocks and all major mineral blocks in the country through its very customized e-Commerce portal. The minor mineral blocks allocation is also executed through MSTC's e-Commerce portal in the various states of the country. The selection of Mine Developer-cum-Operator in many states is mostly done through e-Procurement portal of MSTC. In addition, all the major minerals including coal are being sold through e-Auction portal of MSTC.
E-procurement: MSTC is aggressively pursuing the e-procurement business. It has developed e-Procurement services providing end-to-end solution to National Thermal Power corporation (NTPC) for their purchases of coal. In addition, MSTC has developed and implemented e-Reverse auction portal for imported Thermal Coal, which has made import of coal transparent, hassle free and economical.
E-Retail: MSTC has carved niche for itself by developing an unique exim portal for Oil marketing companies. It has also developed the required expertise for providing e-Retail Software solutions to the Government and private organizations particularly the micro, small & medium enterprises (MSME), which hold a great opportunity and potential for MSTC in future
E-Rakam: E-rakam enables farmers to sell their produce directly to customer from any place. It started with the Jaivik Kheti portal, selling organic products with Indian Post as the logistics partner. Now more than 60,000 farmers and 2500 farmer groups are registered with the portal.
Bank NPA Auctions: MSTC has collaborated with the PSU Banks association under which all PSU banks will use the MSTC platform for their NPA auctions. MSTC has been conducting regular auctions for movable and immovable assets as NPAs of the Government as well as private companies. MSTC has developed an e-auction portal to function as an integral part of the Indian Banks' Association's (IBA's) e-BKray website for the sale of mortgaged properties of different banks under the SARFAESI Act. The portal is being used by all PSU banks to sell their NPAs under the SARFAESI Act. The portal went operational in December 2019 and 15 Public Sector Banks have already auctioned 6895 properties.
PSU Divestment and government auctions: Telecom spectrum auctions, Oil blocks under the New Exploration Licensing Policy (NELP), Coal blocks for commercial mining, allotment of petrol pumps etc. are executed through the MSTC platform.
MSTC has signed a Service provider agreement on 27 November 2020 with JSW Steel for facilitating the sale of Iron ore and other products. MSTC is a Mini Ratna Category-I PSU under the administrative control of the Ministry of Steel, Government of India.
After exiting the trading business, MSTC is single-mindedly focused on growing the e-commerce business, which will be reflected in its FY22 numbers. Cero under which it had set up two C&D (Collection and Dismantling) centers with two more in the pipeline and one Shredding plant in the coastal belt of Gujarat. While its business may be valued around Rs.300-400 crore, MSTC's market cap is Rs. 1171 crore with Rs.200 crore cash on the books in FY22.
MSTC posted Rs.200 crore from e-comm in FY20. At this run-rate, it may post a PAT of Rs.75 crore since the majority of its business is repeat business and any increase in its top-line (sales) will directly flow to its bottom-line.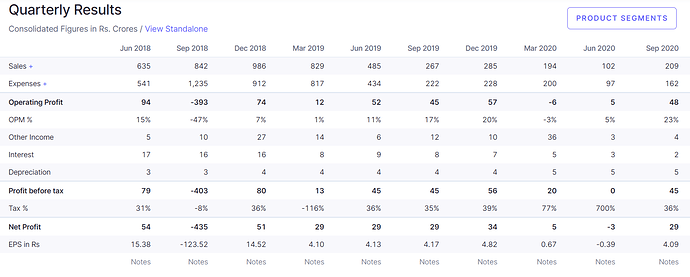 During Q2FY21, MSTC's PAT stood at Rs.29 crore on sales of Rs.209 crore. For FY20, MSTC's PAT stood at Rs.99 crore on sales of Rs.1231 crore with an EPS of Rs.13.78. The company has an equity base of Rs.70 crore and reserves of Rs.403
crore. The promoters hold 64.75% while the investing public holds 35.25% stake in the company.
Ferro Scrap Nigam Ltd. (FSNL), a subsidiary of MSTC generated Rs. 46 crore EBIT in FY20 and is in the divestment process as per DIPAM. At 8x, it is valued at Rs.370 crore.