Couldn't find a thread here on Monte Carlo Fashions Ltd (MCFL).
Company: MCFL
Price: 415/share
P/E: 15.53
Dividend: 2.40%
D/E ratio: 0.31
Why is MCFL worth looking at?
MCFL is a trusted known brand in North India for woolen wear. As someone who has lived in North India for a majority of his life, I can attest they make good products and there is significant demand in the winter season for their sweaters, cardigans and other knitted wear. The company is also into cottonwear for which it is not very well known, but the MC brand helps leverage some growth there too. As of now, both woolen wear and cotton segments are growing well. The business model of the company is captured in the below screenshot: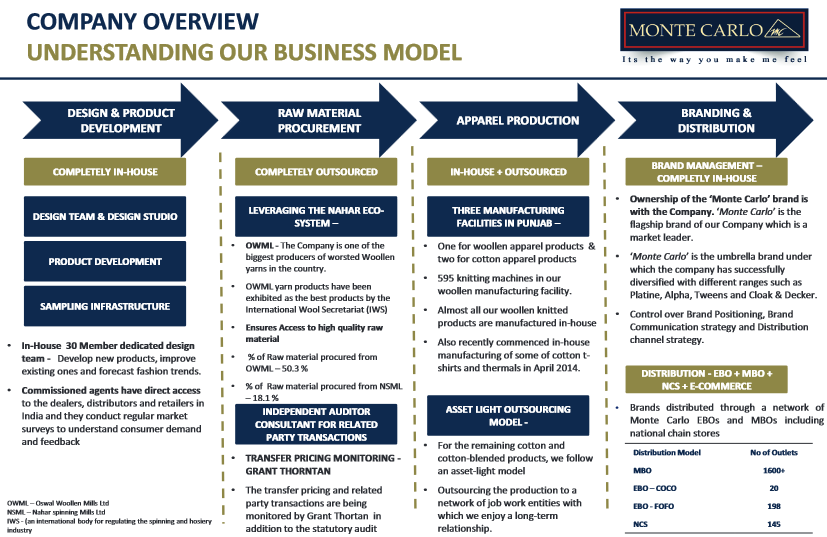 Product Revenue Distribution History
The segment analysis of revenue distribution is as below, taken from investor presentation: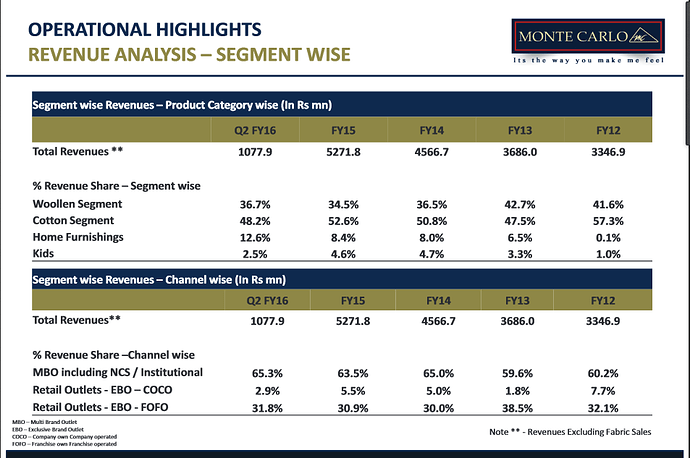 Geographic Revenue Distribution
The geographical distribution of revenue distribution is as below, taken from investor presentation:
Growth Triggers
MCFL sells primarily in North and East India but is now expanding to the south and central India. Obviously these are regions where woolen wear is not a big draw. So the focus will be on cotton wear. MCFL is not known for its cottonwear, so growth will depend on leveraging its brand name [more info on expansion to other regions in the link to investor presentation below]
Market share in south and central India is growing, albeit slowly.
Since the IPO, the company has added 22 retail outlets - 220 currently, up from 198.
No major capex planned for next two years - operating leverage to play out.
Key Risks
MCFL is owned and run by the Nahar Group. They have several listed entities, Nahar Spinning Mills being the second largest one. Nahar Spinning Mills makes cottonwear for MCFL on job work basis - related party transaction
Nahar group entities have eroded shareholder wealth over the past years.
High seasonality - most sales in winter only. Year round revenue would depend on growth in cotton wear segment.
High competition in branded cottonwear segment. While MCFL has a niche spot in woolen wear, cottonwear is another animal altogether.
Is it a good entry point?
At a PE of 15.53, MCFL trades below other branded apparel stocks in the market. One that comes to mind is Indian Terrain Fashions Ltd, which trades around 18-19 PE and may trade higher eventually. I am not advocating a short term trade here, I just think this is a good entry point for a long term compounding machine.
Misc
The above is a short summary of my views on the stock. Invite views on why this stock is trading at a lower valuation vis-a-vis the rest of the industry. Is promoter quality a concern considering other Nahar entities have not built shareholder wealth over the years? Any leads on promoter quality would be great.
Attached Q2 2015 investor presentation for more detailed info - Investor Presentation Q2 2015
No holding currently, thinking of adding.
This is my first thread here. Please bring any oversights of the posting guidelines to my notice, I will rectify as soon as possible.