Modi Naturals(Mkt Cap 30Crs) is a natural oil processing company based in India. It is one of India's largest oil processing companies. It has marked its entry in the fast-moving consumer goods industry, which is one of the growing industry. Modi Naturals is only listed on BSE.
History
Modi Naturals was founded in 1974 by D. D. Modi of the Modi Group. It was previously known as Anil Modi Oil Industries Limited which was later rechristened as Modi Naturals when his son Akshay Modi joined the realms.
Products
Modi Naturals have gained steady and firm ground in the fast-moving consumer goods industry with its popular brands 'Oleev' and 'Tarai'.
Modi Naturals is an ISO 9001:2008 certified Company and has obtained AGMARK & HACCP certifications.
Olive Oil - Oleev Extra Virgin Olive Oil, Oleev Extra Light Olive Oil, Oleev Pomace Oil
Health Oil - Oleev Active
Tarai Shudh - Cooking Mustard Oil.
Pipo - popcorn with several different flavours (Cheese Burst, Peri Peri, Desi Cocktail and tomato)
Having said briefly about the company, I would like to highlight why you should avoid this company altogether first.
** BIG NEGATIVES
**
None of the financial indicators looks even decent. I repeat again. All the financial indicators look very Ugly.


Promoters/Management did not pay any dividend in the last 10 years. Couldn't verify before that.
The industry this company operating is fully dominated by big players like Marico, Wilmar Adani, Ruchi Soya etc.
So let me stop adding more negatives and classify this as Warren Buffet's examples of Business Model which is GRUESOME.
Now you may be wondering why I am even bothered to add this topic in a great forum like ValuePickr.
Below are the reasons why I am starting this thread in this forum.
The first and foremost is one of the Intangible assets which is the BRAND.
Intangible assets are those assets that you can't touch or see. A company can have intangible assets, like brands, patents, or regulatory licenses that allow it to sell products or services at a bigger margin that can't be matched by the competitors. - Pat Dorsey
Here the company introduced various Brands under Olive Oil. The most popular one is Oleev Active which is available in almost all modern supermarkets, online e-commerce sites and some traditional retail outlets. And, the ratings were not bad.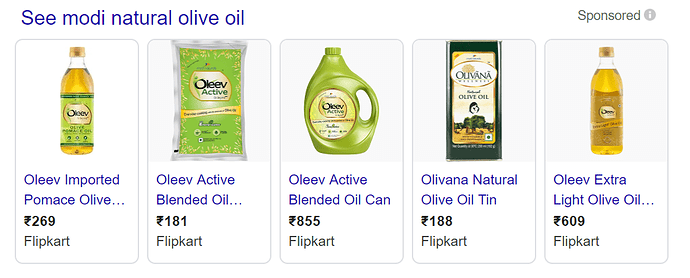 The other mass-market brand is
Tarai Shudh
. Below is the snapshot from IndiaMart listing.
Next question we should ask about the Brand is, whether this can be converted as an enduring intangible asset forever for the company. Right now I am not sure about this.
With that, I will open this thread to the investors out there. Please post your opinions/comments about the company.
Regards,
Ramesh
Disc: I do not own this stock. Not planning to own in the near future as well. But will watch the story how it plays out.