What they do
MMP Industries Limited is engaged in manufacturing of aluminium products at locations at and close to Nagpur in the state of Maharashtra. It is basically a converter & processor of aluminium towards value added products.
The aluminium product range includes pyro and flake aluminium powders, atomised aluminium powders (AAP), aluminium pastes, aluminium conductors (all aluminium, alloy aluminium and aluminium steel reinforced).
The company has recently moved out from the SME platform and is now listed on the NSE
Product Uses
Aluminium powders (pyro, flake and atomised) are used in many industrial sectors like construction (AAC Blocks) and mining (aluminised slurry explosives), agriculture (pesticides), defence (ammunition), fire crackers, railways (thermit portions) etc. aluminium pastes are used in automotive, decorative and industrial paints. Aluminium Conductors are consumed by the power sector for laying of overhead transmission lines.
The principal user segment in India for aluminium continues to be the electrical and electronics sector followed by the automotive and transportation, building, construction, packaging, consumer durables, industrial and other applications including defence.
Aluminium powder made by the Company is also used as fumigant in warehouses where grains are stored. With all government warehousing overflowing with grains, demand for this product is expected to double in 2-3 years specially with the favourable monsoon in the current year
Associate Companies / Joint Venture Companies .
The Company has a joint venture with Toyo Aluminium K.K. of Japan for the manufacturing of special grades of aluminium paste in a new company - Toyal MMP India Private Limited (TMI) (company holds 26% equity). Star Circlips & Engineering Limited is an associate Company engaged in the manufacture of circlips, retaining rings, washers, shims and formed components mainly used in auto and auto component industries (company holds 26.06% equity).
Export
MMP primarily exports its products to three main regions in the world. These are Europe, Africa and the Middle East. The Company's products are now expected to be sold in Japan through it's newly formed JV company, TMI.
Opportunities
Demand for aluminium is expected to pick up as the scenario improves for user industries like power, infrastructure, coal mining and transportation. The Company will also have access to various global Toyo marketing channels, which will help both the Aluminium powder and paste business. Since the Company produces certain powders not in the range of it's JV partner Toyo Aluminium KK, this is an opportunity to open business potential in Japan through TMI.
Negotiations are also currently on for sale of powders in Europe but remunerative pricing is still an unresolved issue. However, once aluminium price volatility stabilizes the Company expects business to materialize. With the installation of special machinery and process development assistance from the JV partner, the Company will produce special fractions of powders for bulk usage in space applications and specialized defence applications. With the curtailment of supplies from China and ASEAN the Company is bullish in the development and growth of aluminium foil domestic and export markets. There is a big movement for hygienic food packing and enhanced production of API and bulk drugs which will be in line with 'Aatma Nirbhar Bharat'. Aluminium foil market is expected to be strong with the additional benefits of reduced imports.
Clients
Siporex, HIL, Ultratech (for AAC Blocks), UPL & Excel industries (for aluminium phosphides), Solar industries & gulf oil (for explosives), Coal India to name a few. They claim to have rarely ever lost clients and thus have very old relationships with all.
What I like
RM prices are passed on almost immediately, i.e. 10-15 days.
26% JV with Toyal (Japan) - commenced in Feb 2018. It is the only tie-up that Toyal has worldwide. This capacity is in excess of its capacity in china, japan & usa put together. This JV might also help MMP market its own products through Toyals worldwide distribution
It is the market leader in its niche categories = 60% in explosives, 70% in AAC Blocks, 70% in pesticides
There is evident value migration from traditional bricks to AAC Blocks
Barrier to entry = As per the company itself - Entry barrier is our industry is underestimated - People put up capacities but realize they don't get customers. Our strength is that we work very closely with ours clients to customize, provide variety, quality and service, hence providing a very specific and cost effective overall solution. Competition is primarily from unorganized players
Financials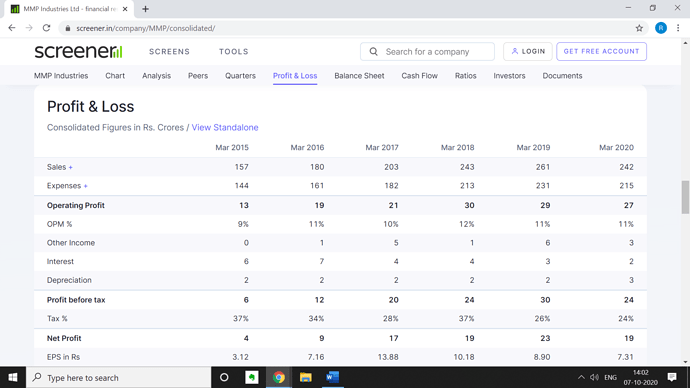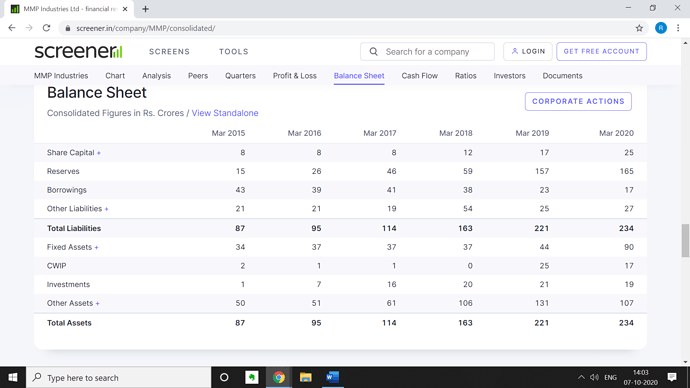 Future Plans / Prospects: 2020 Annual Report
(A) Atomized And Pyro & Flake Powders = After the start of operations in end of April 2020. Unit I (Bhandara) reached full capacity utilization during the month of May 2020 and is expected to operate at full capacity for the rest of the year. Commercial operations of the Umred powder plant facility began in October'2019. Due to prevailing COVID-19 situation Unit II (Umred) was temporarily shut down in March 2020. Looking at the present market condition and positive signs of demand pickup, Company estimates that the Unit II may restart its operation by the beginning of August, 2020 (subject to COV1D issue not further deteriorating). We expect that this capacity will also be fully utilized by Q-4 of FY 2020-21.
(B) Aluminium Foils = The Aluminium Foil project is at an advance stage of implementation inspite of the difficulties of the current adverse situation. Your Company expects to begin production of both bare foil and converted foil during Q-4 FY 2020-21 or earlier. In view of many audits and approvals before bulk supplies can begin, your Company will utilize a small % of capacity during FY 2020-21 and 50-60% during FY 2021-22. This can be scaled-up faster, subject to pharma customers speeding up approvals keeping in view the very buoyant market conditions prevailing today (Chinese and ASEAN region imports are reducing).
(C) Aluminium Conductors = As reported last year, Aerial Bunched Cables (ABC) project is nearing completion. The Company envisages a moderate continuing growth in the Aluminium conductor and cable sector. Trial production is expected to commence during August-September 2020. This will enable improved capacity utilization, enhance value addition and diversify the product portfolio.
Risks
Company is bit of an unknown entity. We don't have a track record of its past performance across business cycles
It's subsidiary, Star Circlips (26% holding) makes auto fasteners, the performance of which is impacted due to the auto slowdown, and which may continue to not perform for a while
Normal risks associated with a company of this size
Other
Promoter holding is at 73.5%.
Son & daughter in law are both into the business.
Old bridge's Kenneth Andrade has a decent stake in the company
The company is debt free
IPO money has been used to put up capacity which should come on stream very soon.
Valuations
Current Market Cap = 200cr.
Profits last year were at 23cr and new capacity will be coming in very soon
Average 5 Year ROE's = 19%
Average 5 Year ROCE = 22% +
IPO Interview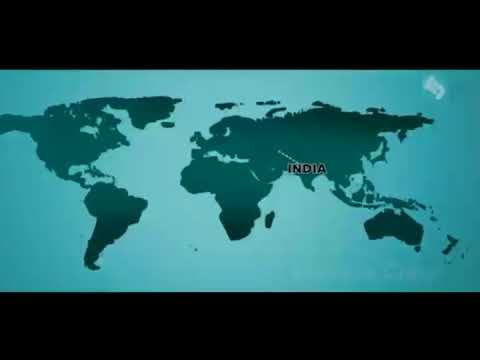 View Invited
Disclosure: Invested