Mindteck, a global technology company established in 1991, provides Product Engineering solutions and Information Technology services to top-tier Fortune 100 companies, start-ups, leading universities and government entities worldwide. It has served medical device manufacturers, top-tier semiconductor companies, analytical/scientific powerhouses, equipment OEMs, public sector entities, and service companies in the Global 2000 for over 22 years. Presently, the company employs over 1,000 individuals throughout offices in the US and UK, Singapore, Malaysia, Bahrain and India. It also has four development centers (US, Singapore and India (Kolkata, Bangalore)). The company is listed on the Bombay Stock Exchange (BSE 517344), an ISO 9001:2008, ISO 27001:2013 certified company and ISO 13485:2003 certified to serve the medical electronics industry; assessed at CMMI Development Version 1.3 - Level 5.
Interesting part of the company is its recent foray into IoT (Internet of things), Cloud Computing and Big Data where the scope of opportunity is really big.
According to Gartner : http://www.gartner.com/newsroom/id/3165317
Gartner, Inc. forecasts that 6.4 billion connected things will be in use worldwide in 2016, up 30 percent from 2015, and will reach 20.8 billion by 2020. In 2016, 5.5 million new things will get connected every day.
Gartner estimates that the Internet of Things (IoT) will support total services spending of $235 billion in 2016, up 22 percent from 2015. Services are dominated by the professional category (in which businesses contract with external providers in order to design, install and operate IoT systems), however connectivity services (through communications service providers) and consumer services will grow at a faster pace.
Areas of demand in IOT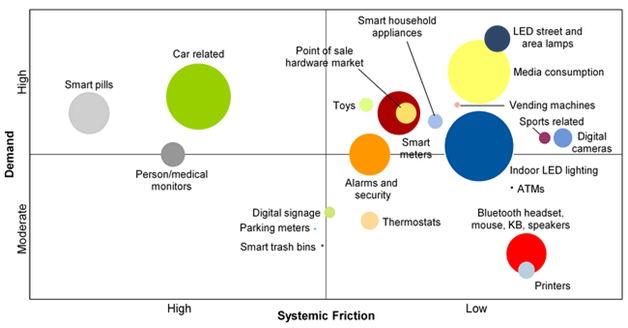 Source: http://blogs.gartner.com/richard-gordon/2014/02/24/in-the-modern-world-of-it-all-things-are-connected/
Mindteck has IPs in
1. Wireless Stack: MindWisp ZBP (ZigBee Pro), MindWisp ZIP (ZigBee IP) and MindWisp SEP2.0 (Smart Energy Profile 2.0)
2. IoT : Ignite-ILS(Intelligent Lighting System) and Ignite-EMS (Energy Management system).
3. Enterprise Software: Mind-CSTS (Mindteck Customer Support Ticketing System), OmniCatch (Attendance Analytics and Fraud Management solution) and Prod-XL (Automated workstation analytics system)
4. Process: MindMARQ (detailed requirements management process well-tailored for services and product companies) and MindAssure (comprehensive Product Testing Framework for product engineering customers)
5. Cloud and Big Data: Mind-CDMI (helps in building right cloud storage strategy for business solution) and MegaMind (Automated Car License Plate Info Extraction)
6. Healthcare: Mind-CTMS (linical investigation and study management)
7. Semiconductor: GenSim (rapid modeling and simulation) and Mind-FA (diagnostic UI as well as scriptable interface and a test harness)
Financial data (Source: http://www.screener.in/company/517344/consolidated/) :
Market Cap.: Rs.248.33 Cr.
Current Price: Rs. 98.65
52 Week High/Low: Rs. 194.00 / Rs. 54.00
Stock P/E: 9.16
Dividend Yield: 1.01%
Price to book value: 1.33
Debt: Rs. 0.00 Cr.
Return on equity: 12.42%
PEG Ratio: 0.22
Promoter holding: 64.50%
Annual Results (Source: http://www.screener.in/company/517344/consolidated/ ):


Annual report: http://www.mindteck.com/pdf/Financial/annualReport/Annual_Report%202014-15.pdf
Last quarter presentation: http://www.mindteck.com/pdf/presentations/InvestorPPT-Q3-FY16-021916REL.pdf
Management interview - Yusuf Lanewala, Chairman and MD of Mindteck, interviewed Live by ETNOW - December 07, 2015 - https://www.youtube.com/watch?v=Smm-PQ_K7Ds
Positives:
Debt free.
Huge market opportunity.
Recent wins in the IoT space including including Smart grid project for Bangalore electricity and supply company (BESCOM).
Early adopter of ZigBee standard. ZigBee is used in IoT devices than WiFi. More on Zigbee vs Wifi in https://www.youtube.com/watch?v=buV11ZPJ7MQ
Got IPs in the IoT & embedded space
Part of IoT alliances

Risks:
Mindteck's OPM is very low for an IT company. With increased billing rate pressure as other big companies get into this space, this will be a big negative. But in the interview, MD says he is expecting double digit margin from the projects. So we have to wait and watch.
Given the company history of 20 years so far, company seems to be conservative in its growth and seems to lack growth engines. So will its new initiatives pay off now?
Not enough information about promoters (Vanguard Group (US) - Investment Management company)
There is no mention of their past or existing clients in their website. So this is unknown to me, so I have added this as a risk.
Mindteck has not shared the revenue that their IPs/Products produce.
Mindteck has not shared split up of revenue between different areas. From the interview, we can make out that 74% of business comes from US.
I'm not able to get the data on how much of revenue does the Indian IT companies generate on pure IoT services in order to compare it with Mindteck.
Disclosure: Was tracking more than an year. Invested recently after a huge fall from peak. Belongs to the high risk category in my portfolio. This is not an investment recommendation. Please do your own research before investing.
Moderators, This is my first topic. Please delete this thread, in case if it doesn't abide by any forum rules.