Company
Metro Brands Limited is one of the largest Indian footwear speciality retailers in India. The company opened its first store under the Metro brand in Mumbai in 1955, and have since evolved into a one-stop shop for all footwear needs. The company retails a wide range of branded products for the entire family including men, women, unisex and kids, and for every occasion including casual and formal events. As of December 31st, 2021, the Company operated 629 Stores across 140 cities spread across 30 states and union territories in India.
Metro is one of the few retailers among the footwear players to source all its products through outsourcing arrangements, thus having an asset light model with no manufacturing / production facility. In FY21, the company had 250 vendors for procurement of all their products including key brands such as Metro, Mochi & Walkaway. It is the fourth largest footwear player in terms of revenues with an operating income of Rs. 800 crores in Fiscal 2021. In FY21, it enjoyed the highest operating margins and second highest net margin of 22.1% and 8.1% respectively among peers. It also had the highest gross and net margins from Fiscal 2015 to Fiscal 2020 among the footwear sector.
The company retails footwear under its own brands of Metro, Mochi, Walkway, Da Vinchi and J. Fontini, as well as certain third-party brands such as Crocs, Skechers, Clarks, Florsheim, and Fitflop. The company also offers accessories such as belts, bags, socks, masks and wallets etc. It also retails footcare and shoe-care products through a joint venture, M.V. Shoe Care Private Limited, thus becoming a 'one-stop-shop' for all footwear and related accessories to our customers.
As of September 30, 2021, the company retailed products of over 25 brands. Given below is the list of some key brands including the typical price range:
Almost 30% of their revenue comes from sale of third-party brands.
Industry Overview
The Indian footwear industry has witnessed increased activity over the last few years, with the changing consumer attitude towards footwear. Shoes, initially positioned as a value purchase, are now transcending into a lifestyle purchase. Like the apparel segment, the footwear segment is characterised by fashion designs and trends, high margins and presence of private labels. CRISIL Research expects growth momentum to pick up growing at a CAGR of approximately 21% between Fiscal 2021 and 2025.
Globally, India is ranked second among footwear-producing countries in terms of unit pairs, China being first. China, India, USA, Indonesia, Brazil, Japan, Pakistan, Germany, France, UK and Italy are some of the major footwear-producing nations worldwide. China has largest production capacity and accounts for more than half of the world's footwear production. According to industry associations, global footwear production is estimated at 24.3 billion pairs as of 2019. Global average per capita annual consumption is approximately 3.2 pairs as of 2019. India's per capita annual consumption is very low, compared to its peers, at approximately 1.9 pairs.
The Indian footwear industry remains largely unorganised, with approximately 69.4% share of the total footwear industry as of Fiscal 2020. CRISIL Research estimates the share of organised players at approximately 30.6% as of Fiscal 2020, translating to a market size of Rs. 294 billion. The organised players' share has grown at CAGR of approximately 15% in past 5 years, largely on account of rise in urbanisation levels and increasing acceptance of brands and modern retail formats by the Indian consumer.
Region-wise break-up of footwear market in India (as of fiscal 2020) is shown below: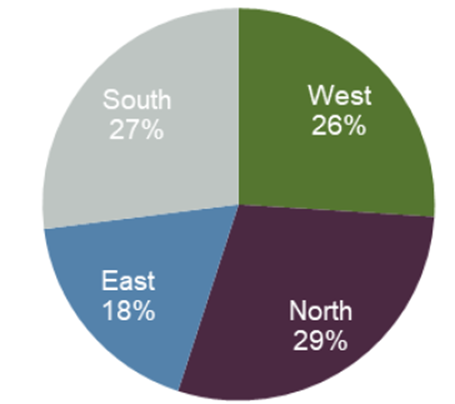 The primary growth drivers for the footwear industry in the country include the rise of footwear as fashion wear, health & fitness awareness, rise of women in the workforce, rise in disposable incomes leading to consumers moving up the higher price points or more footwear pairs, rise in urbanisation and the movement from unorganised to organised sector.
Metro Brands - Operations
As of 31st December 2021, the company operated 629 stores across 140 cities.
Zone-wise, tier-wise and location-wise distribution of its stores are given below:
Brand-wise distribution of stores for some of the key brands along with their price points realizations is given below:
In January 2022, the company has also announced an exclusive tie up with Fitflop for marketing their products. Based out of the United Kingdom, Fitflop is known for its premium super comfortable flip-flops and other footwear. With this agreement, Metro gets exclusive rights for sale and distribution of Fitflop products across all formats including EBO, MBO, airport outlets, online marketplaces etc.
Besides the physical stores, company also sells through tie-ups with online retailers and marketplaces. As on 31st December 2021, 9.2% of the revenues came from online channels. Between FY19 & FY21, online sales have increased at a CAGR of 73%.
The company operated two warehouses, both located at Bhiwandi in Maharashtra, on a leave-and-license basis.
As of September 30, 2021, the company had 2,622 permanent employees.
The company has one subsidiary, being Metmill Footwear Private Limited (51% shareholding) and one Joint Venture, being M.V. Shoe Care Private Limited (49% shareholding). Metmill operates shop-in-shops (SIS) in major departmental stores in the country and distributes Metro & other major international brands. M.V.Shoe Care retails foot care and shoe care products under the brand "PRO".
Competition
Some of the prominent players in the Indian footwear market includes Bata, Khadim, Liberty, Metro, Paragon, Relaxo and Mirza International.
Product presence of competition is given below:
Metro operates at the premium end of the market with higher average selling prices compared to its peers:
Growth of online channels poses a significant threat to the established players, including Metro who have invested in building a significant offline presence.
Promoter
The company was promoted by Mr. Rafique A. Malik, who now has over 50 years of experience in the footwear retail business. He is presently the Chairman of the company and provides strategic insights and overall direction to the business. Besides Mr. Rafique, other members of the family such as daughters Ms. Farah Malik Bhanji and Ms. Alisha Rafique Malik are also closely involved in running the business.
Presently, Nissan Joseph is the CEO of the company since 1st July 2021. He holds an MBA from Sydney and has worked with various companies in the footwear & retail industries in India and abroad.
Big Bull Rakesh Jhunjhunwala has been one of the early investors (not a promoter) in the company, having invested in it since 2007. Utpal Sheth, a close associate of Mr. Jhunjhunwala is a Nominee Director on the Metro Board. Other directors include Mr. Vikas Khemani of Carnelian and Srikanth Velamakanni of Fractal Analytics.
Financials
Brief financials of the company before its listing are given below:
IPO & thereafter
The company came out with an IPO of 2.735 crore equity shares at the rate of Rs.500 each raising Rs.1367 crores, which included an Offer for Sale by existing shareholders of 2.145 crore shares and a fresh issue of 59 lac equity shares aggregating to Rs.295 crores.
The issue proceeds will be primarily used to increase the offline presence of the company, as per the details given below:
The stock was listed on the stock exchange on 22nd December 2021 at Rs.437 per share and closed at Rs.605 per share on 31st Jan 2021. Post-IPO, the promoters now hold 74.27% of the share capital of the company. Rakesh Jhunjhunwala continues to hold more than 14% (not a promoter) of the post-issue capital.
For Q3 FY22, the company declared strong results with revenue up 59% YoY, EBIDTA up 70% YoY and PAT up 53% YoY. Company said this was the first major quarter after a long time when there were no covid related restrictions. 39 new stores were opened – the highest even in a quarter.
Useful Links:
Company Website
Red Herring Prospectus
Investor Presentation (Q3 FY22)
Analyst Concall (Q3 FY22)
(Disclosure: No exposure at present)