So now the merger is not going to happen. What next? How is the money going to be recovered?
Good result by MCX. Even if we ignore exception loss of Q1,FY19, on a YoY basis numbers look decent. However, after last few quarters, we can see some stagnancy coming in ADT numbers. This was expected going through monthly numbers disclosed on site. Metals which was driver for last few quarters is cooling off now. Still, expected operating leverage kicking in and visible in results and overall margins
Very Good set of numbers from MCX
https://www.bseindia.com/xml-data/corpfiling/AttachLive/ca8ec9ea-35dc-4edd-9cff-b6f79239f2c8.pdf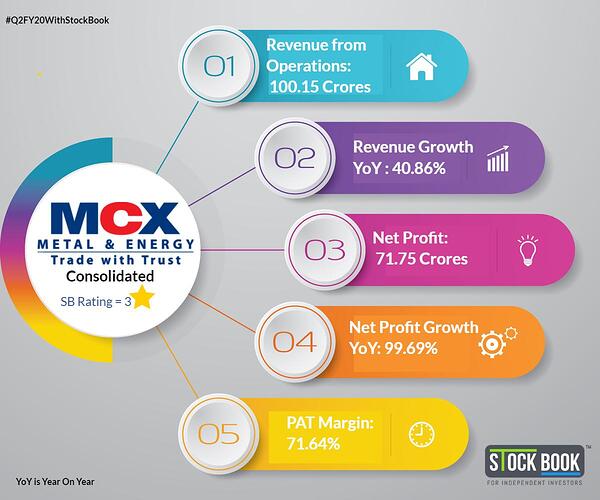 MCX Q2FY20 ConCall Highlights:
Participants:
Banyan Tree Advisors
IIFL
Edelweiss
Turtle Capital
SBICAP Securities Ltd
Value Quest
HDFC Securities
Securities Investment Management
Invesco
Aksa Capital
Business Overview:
Operating revenue at Rs 100 crore vs Rs 71 crore YoY
ADT a Rs 34,526 crore vs Rs 24,655 crore YoY
PAT at Rs 72 crore vs Rs 36 crore YoY
This is best quarter in terms of performance for the company since levy of CTT
The half yearly ADT surpassed Rs 30,000 crore mark since FY14
Exchange turnover crossed Rs 50,000 crore mark on 12th September; hits 6 year high
Gold contracts witnessed a record delivery of 5.2 MT (valued at Rs. 1,821 crore) in August 2019 delivery contracts, surpassing previous record of 5.05 MT in October 2009
Open interest also recorded 6 year high of 34.57 MT on 26th July 2019
Turnover in Crude Oil futures contracts made a lifetime high of Rs. 26,622 crore on September 17, 2019
Cotton contract (flagship agri contract) successfully concluded record delivery of 3.98 lakh bales compared to 1.82 lakh bales in the previous cotton season
ConCall highlights:
This growth has been achieved despite discounts offered by other exchanges
Mr. Sanjay Wadhwa, CFO of the company has tendered his resignation
Cotton contracts is likely to do well in the current cotton season
MCX is working on to launch index future and will apply for approval to SEBI soon
MCX is focusing more on reducing operational cost
Other income increased (mostly on treasury book) due to favorable movement of yield; gain was also significant on tax free bond portfolio
MCX stops paying fees to LME as metal contracts have become deliverable and MCX no longer using LME prices for settlement deliver rate
MCX will continue to pay fees to CME for crude and natural gas contract
MCX's marketing teams approaching major jewelers and they are taking position through MCX platform
Major charges of software cost is variable in nature
MCX is approaching different industry player for hedging their position through MCX rather than hedging through any foreign exchange
Index future will be key product as it is cash settled and many of the institutional participants are more comfortable with cash settled contract
New tax rate will be applicable to the company post the existing MAT credit gets exhausted; tax rate will continue to be in the range of 20-22%
Q2FY20 deliver details (in MT): Aluminum- 11,669; Copper- 2,308; Lead- 730; Nickel- 525; Zinc- 6,506
MCX has recommended SEBI to designate producer's warehouse as deliver centre which will reduce cost and encourage them to participate in the platform
Below is analysis of Oct to Dec 19 based on MCX market data:
Based on Total Value:
Total value has grown at 18% led by crude, gold and silver. Share of crude, gold and silver from Oct-Dec'18 to Oct-Dec'19 went from 27%,12% and 7% (total 46%) to 35%, 17% and 10% respectively (total 62%).

The same can be inferred by even looking at ADT data for month over month compare:
Oct was bit low with 6% growth in ADT where as Nov and Dec stood at 27% and 19% respectively with a mean ADT growth rate for quarter over quarter at 17% which is kind of in sync with value based 18% growth rate

So, in total with a 18% growth even with bit of hit on per lot margin, should do a 15% topline minimum and keeping one time effects aside with some level of operating leverage, hoping to give better than top line core profit performance.
Disc: Invested last year around 700 and holding
Q3 fy 20 results are published and numbers look good yoy.No increase in expenses in percentage terms. Sales and earnings are less than sep fy 20.
MCX
Key takeaways
 MCX is developing a delivery-based mechanism ecosystem for all commodities (in-
line with global standards) which is difficult to replicate.
 Due to MCX's structural initiatives, the category of market participants is
broadening (lesser speculator) leading to better price discovery.
 Operating performance remains robust with ADTV in excess of INR355bn till date in
Q4FY20 (highest ever, 16%/33% QoQ/YoY) supported by gold and crude oil.
 There is good traction with respect to new customers (UCC) and it contributed to
25% of ADTV in Q3FY20. Similar trend is expected to continue given the combined
efforts of the company and member brokers.
 MCX is focusing on building its brand by creating awareness among
investors/market participants. Moreover, addition of custodians should aid
institutional participants.
 For base metals: There is some dip in volume (~30%) due to compulsory physical
settlement (aluminum, zinc, lead are not doing good). It is targeting 1,000 plus
corporates who deal in metals to attract them to the company's platform.
 For gold: Currently, LBMA approved players can deliver gold on the exchange. The
company is planning to add domestic refiners to the list of approved refiners
without compromising product quality. This will not require regulatory approval.
Moreover, RBI guidelines on off-shore hedging are proving beneficial for the
company.
 For cotton: Volumes were subdued due to extended monsoon leading to quality
issues. However, there has been an uptick in January with 0.15mn bales in
warehouses and 0.2mn OI being created.
 For index futures: Has filed with SEBI in last month and reply is expected anytime.
Also, extensive marketing is being done for creating awareness for both
institutional as well as retail clients. There is good potential and mock trading is
being done.
Extremely unique situation arising out of crude's downfall into negative territory and reduced market hours till 5pm IST. However, appears like no financial damage to MCXCCL as they have access to broker deposits.
Correct if wrong but losses for MCX can arise in the below scenarios:
Brokers default, and MCX has to liquidate and take delivery of oil
Margins/liquidation is more than insurance or reserves to deal with such contingencies
Brokers have started discouraging their clients from taking fresh positions in crude oil future contracts on the Multi Commodity Exchange (MCX). they are only allowing clients to square off their existing positions. In cases where clients are initiating trades, brokers are seeking 200-400 percent margin.
Impact of the move on MCX
Over 95 percent of all trades in crude oil futures in India pass through the MCX platform. This is the second largest traded contract on MCX after gold in terms of value and highest in terms of volume.
these brokers constitute more than half the volumes in crude oil contracts on the MCX.
(Regulation), has asked the exchange to allow its software to accept negative prices, so that anybody wanting to enter a negative quote can input the same into the system, which is not possible as of now.
MCX may be unable to tweak its software to handle a negative price settlement in less than two months as they need to first receive it from their software vendor – 63 moons technologies and then conduct at least three-to-four mock trading sessions with brokers.
Good Insight on capital allocation!!
Like IEX in which actual delivery of energy happens, How much actual delivery of commodities happens through MCX ?
Do steel companies buy Iron ore from MCX ?
Do Mining companies (NMDC,NALCO etc) sell directly through MCX ?
Or do these Steel companies directly buys from companies like NMDC based on the price decided on LME ?
If that is the case (which is the case) what purpose MCX is solving for the society ?
If i take away MCX will india be just fine ? I am sure about its hard to take away NSE & IEX just one fine day without causing any harm to real economy.
we know every country has some version of IEX and NSE but do they have MCX ? If yes what's the mCap, why we only know about LME others are quiet insignificant in comparison ? if no, then why they don't need local commodity exchange ?
Does any price discovery happens at all in MCX ? like various DAM, TAM , RTM electricity prices gets discovered in IEX every day, or stock prices gets discovered in NSE.
Is commodity price is decided based on LME globally ? if yes , why we need local exchange apart from speculators to trade and one minor market of hedging in INR terms by real commodity traders.
I found this snippet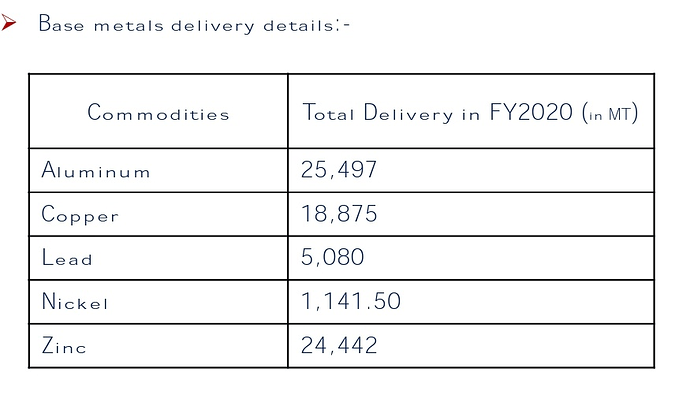 This number is 0.68% of total aluminum production of India (I have not yet included import), why is it this bad in terms of its contribution to real economy and why will it ever change at all.
It more looks like a casino company to me (As it derives most of its revenue via speculators) than an important company solving any problem for the real economy, I may be wrong views are invited.
Thanks you,
Amit.
Even on LME delivery percentage is 1% only…
Refer to page no 4:
LME contracts can be settled using physical stock
stored in LME-approved warehouses. But because most
participants use the LME to hedge or gain exposure to
the price curve, less than 1% result in actual delivery of
metal. The vast majority of LME contracts are "closed out"
before settlement.
One thing is for sure commodity prices are settled globally ( GOLD price in India,US, UK etc linked to LME not MCX).
The users and producers all over the world hedge on LME for this very reason ( A liquidity is best there in LME Vs MCX ) and B - commodities are produced all over the world no one care about their brand, origin of country etc ( As by definition they commodities ).
Thank You for interesting document - ( Do we have similar data shared by MCX )
Who trades in LME ?
Most of it comes from Producers, Merchant , processors and users ( real eco players - 40%), 33 % Money managers (financial eco traders) and rest from traders, brokers etc ( financial economy).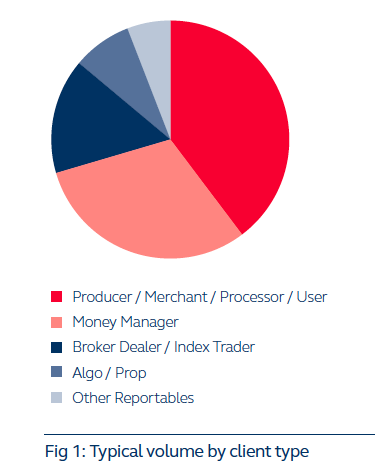 Why real economy guys comes to LME ?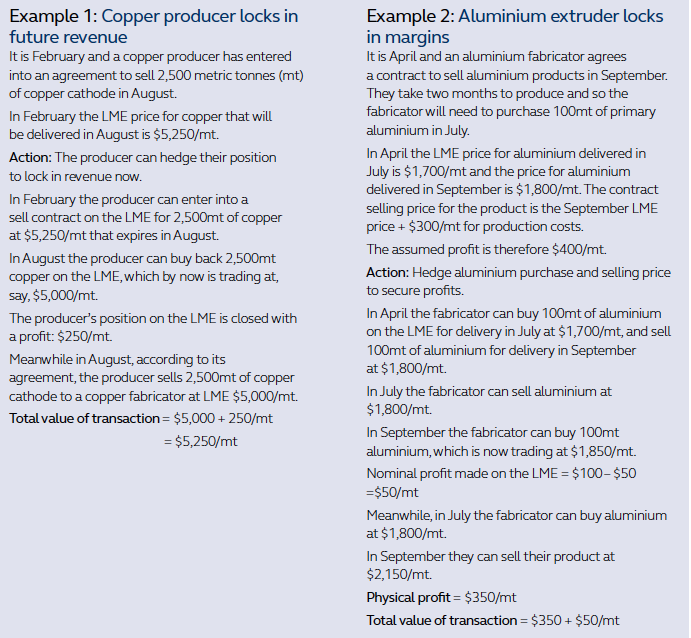 The physical delivery & settlement happens outside of LME but LME is used as benchmark and hedge.
Do we see such trades in MCX ? By indian Miners and Consumers.
I want to understand who brings in the big volume in MCX, in order to map out if those customers going to grow overtime or not ? Are these sticky customers or not.
One company that came to my mind iis TITAN…there latest quarterly update…
Refer to page no. 3:
"As on 30th June 2020, the company is in a net cash surplus
status thanks largely to sale of excess inventory in the form of gold to the commodity exchange
and certain vendors."
The Division sold gold in the bullion
market worth INR 610 cr. at market rates to optimize the inventory levels.
There is something called "hedging" and "risk mitigation". Industrial commodities are mostly used as inputs for carrying out further activities. e.g. a large auto company can buy steel, aluminium or copper or just hedge for any large movement since they can not go and change prices of cars everyday. Secondly, producers use it to lock prices since their costs are largely fixed. Traders in the middle try to speculate and make some gains/losses or just keep themselves occupied out of boredom. Commodity trading is an older profession than stocks trading and will survive much longer. By your logic day traders and stock derivatives should be banned and only seller of stocks like promoters and buy and old buyers should be allowed in the stock market. India will emerge as a significant consumer of commodities over the next decade and MCX is rightly placed to milk that opportunity and it is not just a gold play for me.
Disc: Invested
@ORION Adding to your point, the company was earning from contango getting arose due to foreign exchange and quality & unit variation when they used to hedge at LME. After the RBI's restriction on hedging at overseas exchange, the volume shifted to MCX.
@AmitContrarian Now you need to consider various factors like maturity of the Indian commodity market, role of unorganized agencies like APMCs (in case of agri commodities), awareness about hedging, availability of talent for hedging purpose to corporates, range of products (which ultimately helps in driving volumes, for instance - CME have dairy futures with products like milk, butter, cheese, etc. making them more competitive). etc.
Coming to your point on casino-like business, i had seen several people arguing the business of exchanges ( casino like business), cigarette business (anti-societal) , but the best thing to judge the business to ask their participant how their life will be if these businesses stop to exist.