In Jan' 2015, almost a year back diversified firm Max India spin off plan were announced management indicated it is splitting listed entity into three companies with the existing firm becoming India's first listed company with insurance as the sole business.
The Max India Group is a multi-business corporate, the listed entity has following primary business
Life Insurance – As a 74: 26Joint venture with Mitsui Sumitomo of Japan

Max healthcare – Operating as equal JV with Life group of South Africa

Health Insurance - As a 74: 26 Joint venture with BUPA of UK

Antara – 100% owned retirement living real estate venture

Max speciality Films
Last year the conglomerate began a demerger exercise which will result in listed company being spilt into three listed companies as per below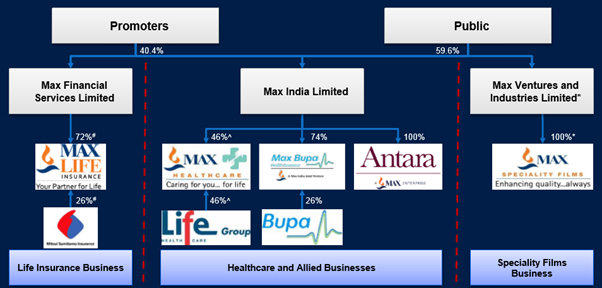 Source – Investor presentation, Nov 2015
In this brief post we try and examine if the sum of parts would be greater or lesser than the current M-cap, Let's go to the drawing board.
Max Financial services – The largest piece of the spun
off entity is a well-established life insurance provider in India. Life
Insurance is a crowded place in India were on one hand we have behemoth LIC,
while on other hand you have well-funded strong private players like ICICI
prudential, HDFC Life and SBI. Apart from them there are more than dozen
challengers all gunning for the growing middle class population in the country
where life insurance is abysmally low even compared to developing countries.
It's a highly competitive market with lot of pricing pressure on incumbents
specially from new challengers. However the size of pie will ensure all players
will have decent opportunity to grow.
Max Life insurance is currently 4th largest private life insurer, it claims to have Industry best margins and RoEV
an industry term which expands to Return on Embedded Value (in life insurance).
RoEV shows the after tax profit as a percentage of the equity on an embedded
value basis (ie valuing all existing contracts at present day values).
Insurance is a very difficult business to value and Buffett also touches on what makes valuing an insurance company difficult. An investor has to trust that the firm's actuaries are making sound
and reasonable assumptions that balance the premiums they take in with the future
claims they will have to pay out as insurance payments. Few errors can ruin a
firm, and risks can run many years out, or decades in the case of life
insurance.
However we have some pointers,
A) In August 2012 the life insurance piece was valued at INR 10,500 Crore
Japan's Mitsui Sumitomo Insurance Co. Ltd said it will purchase a 26% stake in Max New York Life
Insurance Co., a joint venture between Max India Ltd and US-based New York Life
Insurance Co., for Rs2,731 crore in an all-cash transaction.
The transaction values Max New York Life at more than Rs10,500 crore and is the second largest foreign
direct investment (FDI) in the Indian life insurance industry.
Max Life bought Axis Bank's 1% stake in the same year at INR 103.5 crore valuing the full business at INR 10,350 Crore with a put option to acquire remaining 3% stake in Oct'14 , 15 and 16.
However come 2015, There is change in heart

The details of this deal are not out but what made a partner to make a reverse turn ? But overall this a positive move
Also post 2012, the business has gone from strength to strength increasing revenue by almost 40% from FY12 to FY15 and its competitive position improved


if Mitsui Sumitomo's price paid follows the trajectory of revenue than this piece could be worth
around ~INR 14700 Crores
B) There is another way to look at lifeinsurance business, Insurance operations are often acquired at multiples of
embedded value (EV) , Embedded value is the value of in-force business plus the
value of the free capital. The management has indicated that recent deals in
insurance industry has happened at 3X EV.
Source - http://economictimes.indiatimes.com/wealth/news/max-life-insurance-pegs-its-embedded-value-at-rs-5232-crore-on-strong-financial-performance/articleshow/47450331.cms
as per November 2015 analyst presentation
EV of life insurance business is INR 5363 Crore and to complicate matters Max
India has moved to market consistency method in last fiscal. The Market
consistency method overstates EV. So we have to work with EV based on
traditional method.

In above tables items in yellow are estimated EV based on traditional method, therefore EV is INR ~ 4754 crores.
Based on above market value of life insurance business could be around ~INR 14,260 Crores using Traditional Method and ~INR 16089 using the market consistency method
With above two data points and make no mistake, I am no insurance industry expert so take everything I am writing with a pinch of salt.
The value of Life insurance business would be between ~INR 14250 crore to ~ INR 16000 crore. Max India's share with 72% ownership would be around ~INR 11000 Crore
Max healthcare business – This is the second largest piece of this spin-off, This entity will have three business under its umbrella
Health Insurance – In 74:26 JV with Bupa, In November 2015- Bupa announced that it is paying INR 191 Crores for 23% stake in health insurance business, This announcement pegs the value of health insurance
business at ~ INR 830 Crore. With a 74% share, Max India's share would be ~INR 615
Crores
Health care (Hospital) business – This business is in recovery mode, They are very much north india focussed business. Looking atFY16 profit and assigning a PE ratio would be inappropriate to put a value on
this business. leading brokerage use EBITDA multiple. For H1 FY16 EBITDA was
~97 INR Crore, with a full year estimate of EBITDA of ~INR 200 Crore and using
a multiple of 12, the value of health care business could be around ~INR 2800
Crore. At corporate level the company is almost debt free so no debt is
deducted for this calculation. Max India owns half of this business so their
share would be ~ INR 1400 Crore
We have used 14x exercising some conservatism
ICICI Direct has used 16x for Apollo in
August 2015, However Apollo is market leader with better ROCE than Max India


Antara – A 100% owned retirement living real estate venture. This business
is in development mode the management has commented below in FY15 annual report
Senior Living as a business represents a tremendous opportunity in a nascent market and Antara
Senior Living is extremely well positioned to execute the Dehradun project
successfully and review opportunities for building its next community in the
NCR region.
FY 15 it lost 50% of its net worth,
Although Management is optimistic about its future, I can't a put a number to this component so we value this piece as 'Nil'
So overall Max India's Max Health care share could be roughly valued at ~INR 2000 Crore
Max speciality Films – This will be the smallest spun off entity with FY16 estimated annual turnover of ~INR 800 Crore and EBITDA of ~INR 100 crore. Another blogger has
done some great work on this piece of spin off – read here
At average industry multiple the value of
this piece should be around ~INR 500 Crore, However if we go by what promoters
are saying this piece of business is valued at ~INR 168 Crore. In Jan'15 – this
is what promoters have said, http://www.indiainfoline.com/article/news-top-story/analjit-singh-makes-open-offer-to-increase-shareholding-for-max-speciality-films-115012700264_1.html
The promoter of Max India, Analjit Singh,today announced his intention to make a voluntary open offer for buying upto an additional 34.5% stake in Max Ventures and Industries Limited (MVIL), which
will be listed post the demerger of Max India, as announced earlier today, and
which will hold the investment in Max Speciality Films Limited (MSF Ltd)…. listing
of MVIL at an approximate valuation of Rs. 168 Cr. for 100% of MVIL.
On conservative note we will assign a value of ~INR 250 Crore for this piece of spin off.
Putting the jigsaw together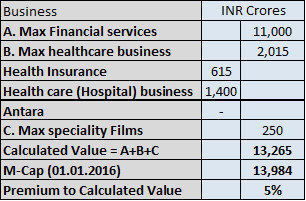 At the current m-cap we are paying about 5% premium over our conservatively build total value of each unit. There is no free lunch on offer here but bear in mind most of business are growing and now
they will get undivided dedicated management attention. Also life insurance business is not directly listed in India so may see some traction with investors. In past this kind of spin off have resulted in value unlocking.
I will be delighted to get more inputs from
you especially special situation experts and insurance industry specialist as I am completely new to this area
Disclosure – I am long with a tracking position to see how event unfolds.
Caution – I have made many mistakes in past in analysing spin off situations, please use discretion
Originally posted here - http://wp.me/p4bScp-sy