Maruti Suzuki is poised to breakout of a mammoth 139 day triangle with a potential move of 1200 to 1300 points (which is the length of the base of this triangle)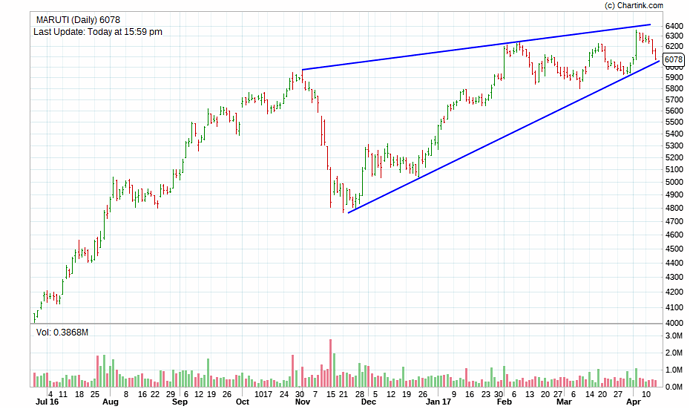 At a standalone level its TTM PE is ~28 . A 1200 point breakout upward would mean a PE re-rating to ~32 (at a standalone level ) and a break downward would mean a PE re-rating of ~23-24. I think given its balance sheet position Mr Market will re-rate it at ~32, this means an upside of about 20% from current levels in (hopefully) the next 139 days or 5 to 6 months. With an ROCE of 33% to 34%, exceptional OP margins of ~15%-16% & a great capital turnover ratios - Maruti has outstanding & numero uno numbers in the auto industry. The bull market we are in is in the mood of celebrating numbers this summer.
Disclosure - am accumulating with a short term view of ~ 6 months.
Please note - this is not based on any tested theory. This kind of analysis is speculative and hypothetical and unless convinced avoid it.
Views invited!