Another marco factor that I routinely like to look at primarily because buffet has said that total market cap to GDP over 1x is not sustainable.
Currently it is hovering around 84% as seen by this graph: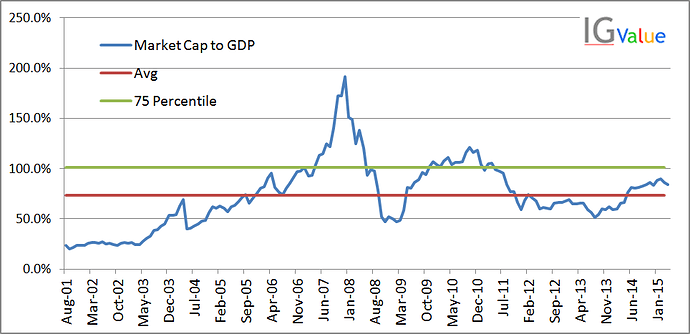 My detailed thoughts on the topic are at: http://www.igvalue.com/2015/05/total-market-cap-to-gdp-does-1x-hold.html
The questions that I am still trying to answer:
Is my argument about 1x being applicable of India sane?
When the free float percentage is lower does this factor fundamentally change? On first thoughts it should not be I am still a bit confused about it.
How can one collect highly accurate data on total private company revenue vs public company revenue? Currently I am using the data from the MCA website on paid up capital.
Does the private equation also ruin the analysis on the corporate profits to GDP?
Do small firm profits count as corporate profits or do they count as employee compensation?
As always macro factors can only indicate very broad trends. Value investing in my opinion should only be done with Individual stocks. The places where it becomes tough to take decisions one way or the other is where macro factors can be useful.
BTW: I tried to find an appropriate thread for this but was unable to find it.
Cheers.