The Mandhana Retail Ventures Ltd (TMRVL) holds the global exclusive licensee of 'Being Human' Clothing.
It de-merged from Mandhana Industries Ltd and listed on December 14 2016.
The brand retails Mens, Women's and Boys apparel through more than 600 selling points worldwide.
Being Human is a strong, asset-light, brand play with three USPs:
Fashion
Celebrity
Charity
CMP - 189
Market Cap - 410 Cr
Equity Capital - 22 Cr
---
Shareholding Pattern
Promoter Holding - 43%
Individuals < 2L - 12%
Individuals > 2L - 22% (Rakesh Jhunjhunwala 12%, Nimish Shah & Ramesh Damani 1% each)
Others - 23%
---
Global Distribution
Total Selling Points - 600-700
India
Domestic contribution to revenue: 70-80%
Offline Selling Points: 150-200
Online Selling Points: 5 major marketplaces
EBOs: 55-60
Contribution of India E-Comm to revenue: 10-15%
Contribution of EBOs and Shop-in-Shop to revenue: 55-70%
International
International Contribution to Revenue: 15-25%
Offline Selling Points: 200
Online Selling Points: 5 online stores in different markets
EBOs: 5
From the segment reporting, we can notice that in terms of profitability (margins), both Domestic and International/Export Revenue are almost equally profitable.
However, there is lesser capital employed in Export Sales than Domestic Sales as Export Sales.
As analysed in the Financials section, the export revenue is highly fluctuating.
---
Financials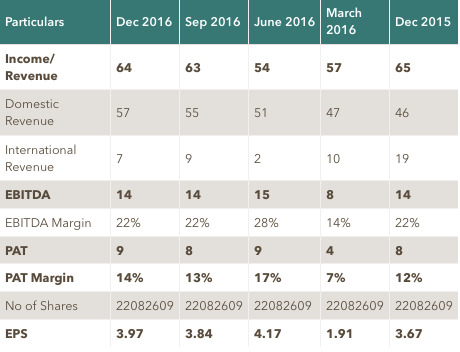 We can also calculate an annualised ROCE of 40%.
---
Brand Value
Being Human holds 3 major USPs:
Charity; - TMRVL pays a 5% royalty to the Being Human foundation. I consider this as a crucial advertising expenditure.
Designs & Quality at a great price points. From the feedback I received, everybody agreed that Quality and Design is on par with other premium brands.
Salman Khan The association with Salman Khan is a major pull especially in the Hindi heartland.
Manish Mandhana says that when Bhai's controversy is doing the news rounds, sales actually go up - Manish Manhana on impact of Salman's person life on Being Human brand - YouTube
For a brand that is only 5 years old, Being Human has a very high brand recognition and recall. Even amongst those who have not purchased, there is instant recognition. Hence, the only challenge for TMRVL is to convert this strength of high brand recognition into a purchase.
---
Positives
Only 1 family member on the board - Why was Being Human demerged from Mandhana Industries? - YouTube - By inducting professionals in the board, the management has re-assured its focus of creating a large, clean retail company independent from Mandhana Industries.
There are indications of diversifying into other retail properties as well.
Guidance of 20-25% revenue growth in FY 17.
Steady product extensions (boys and fitness wear) and international expansion.
---
Concerns and Risks
High Promoter Pledge (78%)
Fluctuating Export Revenue (Requires further study)
Salman Khan's controversies would have little impact on sales as Quality & Design Focus is an equally important consumer pull.
---
I'm working on the Working Capital and Cash Flow Analysis.
Invite all forum members to share their opinion.