Mandhana Industries – Demerger
To begin with, an honest disclaimer, I have no back ground experience on company's financial system/analysis. However, the reason forced me to write on this subject is no discussion on Mandhana-Demerger till date.
I do see some potential value in Mandhana Demerger. Requesting forum experts to guide me further whether to stay invested or exit.
The brief :
Mandhana is going to demerge Retail division (Being Human, Salman Khan brand). Details available on number of stores and future plan in many websites. The key take away is…
The retail division is going to post 40% Y-o-Y growth till 2019.
Higher Net profit margin.
The promoters increased their shares and very upbeat on retail division.
The bad :
- Promoter pledged shares.
- Though high court approved the scheme on 29-March-2016, till date the company not fixed the record-date. I suspect its due to worry of pledged shares' stop loss triggering on ex-date.
- Solely depend on Salman Khan.
The only available financial figure of Retail is from their Standalone Dec-2015 qtr result declared recently and compared with the same Qtr result in previous qty which included retail details.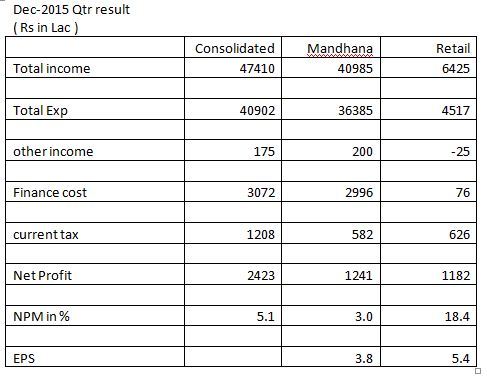 Annualized EPS for Retail division may be around 22 in FY2015-16 and 31 ( 40% growth ) in FY2017. Though high growth sector PE rating may be higher around 25 or 30, I have given conservative figure as 20. For Mandhana, I considered 10 PE.
The expected demerger-unlocking in few months time……100% gain. Demerger ration 3:2, i.e 2 Retail for every 3 held in Mandhana.
( I'm not able to stick 2nd image showing the profit calculation of demerger…will add in the thread ).
Apologize if I offended the financial experts or violated the forum rules / regulations.
Discolsure : Invested at 315 and 286.
Happy Investing
C. Saravanan