The promoters never diluted equity -
Mar 2007 Mar 2008 Mar 2009 Mar 2010 Mar 2011 Mar 2012 Mar 2013 Mar 2014 Mar 2015 Mar 2016 Mar 2017 Mar 2018
Share Capital 13 16 14 14 13 13 13 13 13 13 13 13
| CMP | 38 |
| --- | --- |
| P/E | 2.5 |
| P/B | 0.3 |
| P/E*P/B | 0.6 |
| Div Yield | 7.9% |
| Market Cap | 249 |
Cash+Investments 491 = 2x Mcap 249.
FCF/CFO 89%
Trading terribly cheap PE = 2.5 earnings, P/B = 0.3, and Cash is almost 2x of Mcap.
Now company is almost debt free ( massive deleveraging happened) -

Has always been making > Rs 100 Cr yoy and Mcap Rs 249 Cr.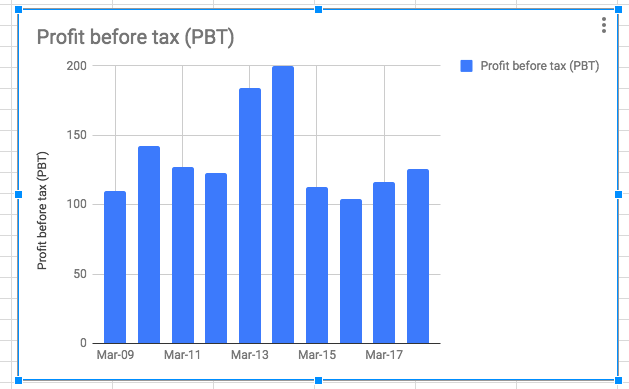 Company looks terribly cheap but it has always traded cheap -
Historical PE 10Years: 3.27
Historical PE 5Years: 3.03
Historical PE 3Years: 3.56
I am confused why its trading this cheap and always been trading this cheap.
Would love to know views of folks here. To me looks like company is not fraud - Has made CASH , which can be seen in balance sheet. Promoters have shared profits with minority shareholders in terms of dividend.
Total Div 10 Yrs 107
but i am not able to understand what markets hate about this company ? Was it the debt which was too high years ago , which has now come back. should we see the rerating on the cards ?
Disc - Not invested.