"My portfolio is bleeding red No more cash to add to positions "
Immature investor like me have experienced some point time this situation .This is excellent piece of writing .I hope senior will add some value to this topic .This is covered in bits and pieces in several threads . But a dedicated thread is needed .
Running a race is a process and winning any race is an event . we must have sound process to mitigate the risk and one required to have sound process to cut down the loses as soon as possible . SAR SALAMAT to pAGARI HaJAAr . If head is safe than one can wore many crowns . To be i the game one must protect the capital than looking for the multi-baggers , in event of that we end in buying at Top and selling at the Bottom …
We have different biases in our head . Two dogs in the head are almost fighting everyday GREED and FEAR … and the one who win is the one to whom we feed more .We must create processes that out senior members always advocate and from time to time they told us .But sometimes I KNOW MORE always influence our decisions .
I request seniors VP's to add some value to this thread as i may not have such a vast experience collectively this forum has . i have found a good resource which i share below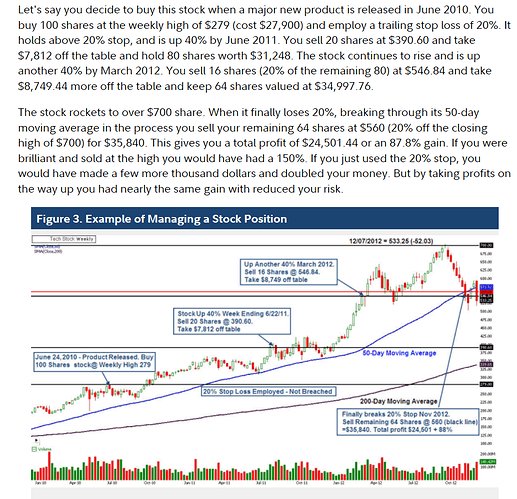 source:
https://www.fidelity.com/learning-center/trading-investing/trading/managing-positions
BUYING IS EASY and SELLNG IS DIFFICULT This is universal employing cash is easy but when to exit is the most difficult part of investing journey i have encountered . Due to this i have high Notional losses n my Portfolio . "FOOL and HIS mOney is INVITED everywhere "
some of the time tested strategies are:
Set a Target Price. When you buy a stock, do some research and establish a realistic target
*** Sell Before You Buy.** For every stock you add to your portfolio, sell one you already have.
Sell Your Stocks When the Market is Up, Not Down.( Tip: Sensex or Nifty may be not correct criteria Check the sector performance one can google sector wise performance on money control )
Monitor Even Your High Quality Stocks. HOW: Create Google alert , Watch the filing and quarterly results .
Rule 20-20 Maximum stop loss should be 20% and to the extreme maximum 20 shares in portfolio though 12-15 give you required diversification
YOU must have Risk Reward ratio in place and exist as soon as stock hits the stop loss position sell it unemotionally .
*At he year end sell your most losers to adjust the TAX Effect SHort term and Long term tax gain tax is approx. 15%
*2% rule never ever allow a stock position to lose more than 2% of the overall portfolio. If your portfolio of 10 lakhs maximum one stock lose should be 20000. One can adjust according to the the allocation .
In the little book that create wealth Pat Dorsey mentioned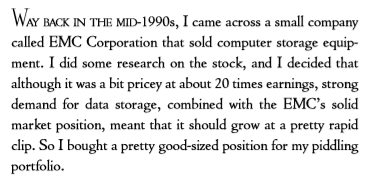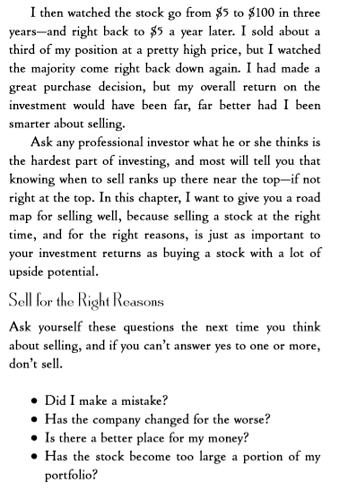 and he concluded the chapter with the following notes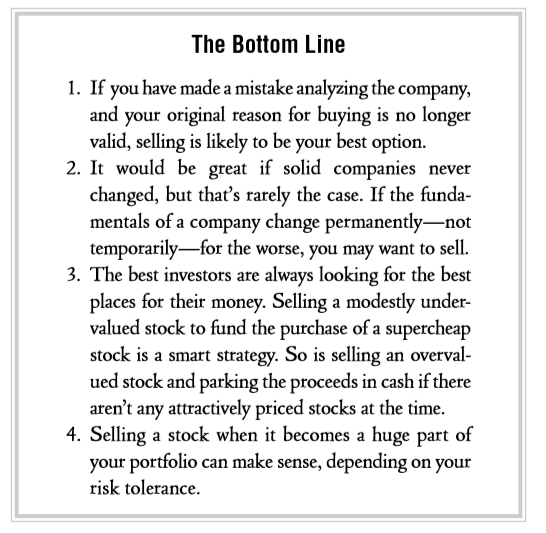 the book is copyright
it is available in public domains at
http://csinvesting.org/wp-content/uploads/2013/07/Little-Book-That-Builds-Wealth_Dorsey.pdf
Disc : This if for education and learning purposes ,Moderator may remove the link if some issues arises