Tried searching VP forum about Man Infra but suprisingly no thread found, so creating a new one.
Man Infraconstruction Limited (MIL) is a construction company engaged in the business of civil construction. The Company provides construction services for port infrastructure, such as land reclamation, soil consolidation, and operational services; residential constructions, such as high rise building, townships and luxury villas; commercial and institutional constructions, such as information technology parks, office complexes, shopping malls, schools and hotels; industrial constructions, such as factories, cold storages, heavy engineering and warehouse facilities, and road constructions, such as earthwork and paving, electrification, landscaping, upgradation and drainage. Its residential projects include Blue Ridge, SRA Township, Lifescapes Amber, Signia Sky, Mundra Township and Neelkanth Greens. Its infrastructure projects include Gateway Terminal and Vallarpadam ICTT. Its commercial and industrial projects include Kohinoor Education Complex, Sai Complex and Viraj Profiles Ltd.
Bright future on the back of a strong order book: As on 30th June, 2017 the company's EPC order book stands at Rs. 7,096mn majority of it contributed from the port infrastructure sector followed by the residential sector and commercial and industrial sector constituting a very negligible portion. The government recently has received the development rights from the urban development department of the government of Maharashtra for 14 buildings in MHADA Layout in Ghatkopar East and 2 buildings in Vikhroli East. In April, 2017 the company also launched their first phase of land redovolopment projects in Ghatkopar East having an estimated value of Rs. 1250mn. Man Projects Limited, a subsidiary of Man Infraconstruction Limited received a prestigious order worth Rs. 7516.9mn from Bharat Mumbai Container Terminals Private Limited for development of the fourth container terminal at Jawaharlal Nehru Port, Mumbai. The project is expected to be completed and executed in FY18.
Asset Light Real Estate Operations: As against the general real estate model of purchasing land with upfront cash payments, Man Infra has built a 50 lakh sq. ft. project pipeline in Mumbai by partnering with existing land owners / redevelopment projects. We think this is the best strategy in Mumbai real estate model where the Land Cost forms a significantly higher proportion of the total cost of project.
Debt Free Cash Surplus Real Estate Company: Man Infra is one of the few companies in the sector with zero debt at standalone level.
Strong Cliental: The company has a strong cliental in both their major business segment i.e Port Infrastructure and Civil Infrastructure. To name a few in the port infrastructure segment the company has clients such DP World, Port Pipavav, Century Ply, MAERSK etc. While in the civil infrastructure segment the company has clients such as Tata Housing, Godrej, DB Realty, Adani, Goddrey Phillip, Bharti Airtel etc. The company also has a history of repeat orders from these marquee clients.
Strong Execution Capabilities: In total the company has executed onshore port infrastructure work for 7 ports in India and completed a total of 3 residential real estate projects. A total of 7.5mn sq. ft of residential projects area are ongoing/upcoming in Mumbai/MMR. The company is also expected to start recognizing revenue for 2 of it's ongoing real estate projects in FY18.
Robust Project Pipeline: Based on its existing projects, Man Infra along with its partners / JVs have a pipeline of almost 50 lakhs sq. ft. of projects to be executed over next 5-7 years. This provides tremendous visibility of sales and profits for 5-7 years. All its projects are in residential space as follows: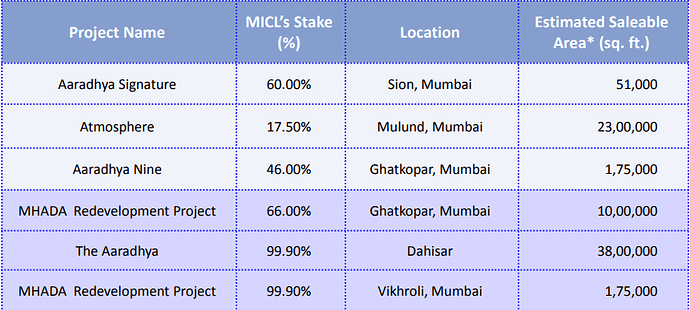 Highlights on Main projects:
a) Mulund Project: 'Atmosphere', a real estate project in Mulund, is being developed in joint venture with Wadhwa and Chandak Realtors, with an approximate saleable area of 2.3 million sq. ft. Within a few days of the launch of the project, 40% of phase I was sold indicating strong demand. For this project, 100% contracting work is awarded to Man Infra where it will also earn a contracting (EPC) margin.
b) MHADA Development Project at Ghatkopar, Mumbai: Man Infra has already signed MoU for redeveloping 12 MHADA colony buildings. As a part of the deal, Man has to provide residential accommodation to existing tenants of MHADA and in return it will be able to construct and sell 4.65 lakh sq. ft of residential apartments. This project will be a very rewarding project for Man Infra and should be completed in next 3-4 years.
c) Dahisar Project: Through Man Vastucon LLP (where Man holds 99.9%), Man Infra has obtained development rights to develop 59700 sq. meters plot which will convert into approx 26.4 lakh sq. feet of saleable area at Dahisar. Man Vastucon LLP will undertake the development of the property. The other JV partner will be compensated by sharing 35% of gross sales realization as land cost. This project is in continuation to Man's asset light policy, where in the company will save huge upfront investment cost and minimize the investment risk.
d) Multiple Other Projects: There are multiple individual building projects like Aaradhya Residency, Aaradhya Saphalya, Aaradhya Nalanda, Aaradhya Signature in and around Central Mumbai. 4. Perfect Project Location: We believe that location of the project for a real estate company is of supreme importance. With respect to Man Infra, all its existing projects are located in popular and densely populated areas of Mumbai – Mulund, Ghatkopar, Sion and Dahisar. Owing to a strong demand in these areas, the price correction (if at all) is very limited. Eventually this should translate in better sales realisation and margins for Man Infra as and when projects start.
Good Reputation as a Builder: Real estate buyers always look for some trusted brand or name on which they can rely upon. Man Infra has lived up to the brand by providing quality construction and timely delivery of its projects. In March 2015, the company completed one of its residential projects at Ghatkopar East in Mumbai where it has also obtained Occupation Certificate ahead of scheduled delivery of the project by 6 months. Its past execution as EPC provider to companies like Godrej, Wadhwa and Tata among others is further testimony to its execution skills. We believe that all of this will help the company to sell better than the competition.
High cash Balance which provides higher Liquidity: The company is sitting on a high cash & bank balance worth Rs. 4,852mn in FY17 and Rs. 5,373mn in Q1FY18 which provides the company with higher liquidity.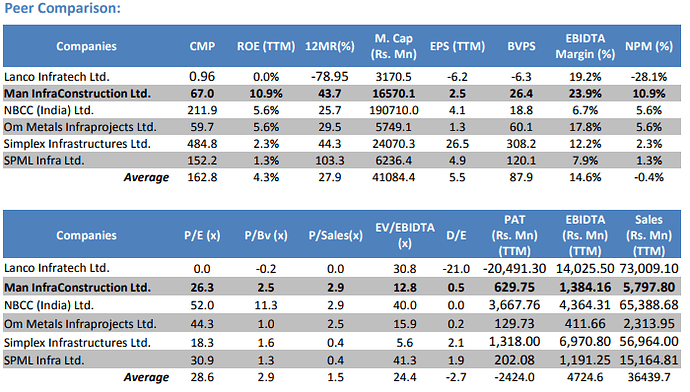 Investment Risks
Heavy Dependence on Residential Segment Man Infra is heavily depended on revenues from the Residential Segment. Moreover major part of its order book also consists of orders from the Residential Segment. Such dependence on a single segment may prove to be very dangerous for the company if this segment faces some slowdown in the future.
Competition from New and Existing Players India's Infrastructure needs have got attention from major national and international players. It is very likely that Man would be facing tough competition particularly in the Port Infrastructure segment from other established companies. Winning of contract bids (both private as well as public) may just become that much more difficult.
Regulatory Delay for Approval of Projects: As the company has a policy of starting projects only after all approvals are in place, any delay in regulatory approvals can lead to subsequent delay in project implementation.
Investor Presentation for H1 FY 2018 can be downloaded from this link:
Diclosure: Invested