The company is one of the pioneers in the Aluminium extrusion industry in India; its plant in central India was one of the first to be commissioned in the year 1989. In the year 2009, the company was rebranded as Maan Aluminium Ltd.; the new entity now includes trading and manufacturing operations, having industry experience and knowledge of over 32 years.
Extrusion is a process of shaping material of various different aluminium alloys into specific shapes as per the dies, these extruded sections have a definitive cross-sectional profile for a wide range of uses. The extrusion process makes the most of aluminium's unique combination of physical characteristics, its malleability allows it to be easily machined and cast.

Maan has an annual capacity of 9,000 metric tons under one roof with three hydraulic extrusion presses of 900, 1,200, and 1,450 tons which are controlled by Microprocessor-based technology and programmable logic control (PLC) system. In FY 19-20 the company had achieved production of 6535.55 MT.
They have a fully integrated plant with a Billet casting and Die manufacturing facility, their in-house foundry has two furnaces with a capacity of 5 and 10 metric tons respectively. They possess an inventory of more than 10,000 special dies for our export and domestic customers. They have two in-house anodizing plants to provide their customers with surface finishes from silver, champagne, brown, bronze, and black, with up to 25 microns and length up to 7 meters.
With its well-equipped state-of-the-art tool room comprising the latest CNC machines like Wire Cut, CNC Milling, and Spark Erosion Machines, Maan has the capacity to produce nearly 150 dies & toolings per month. Maan's comprehensive range of custom-made shapes and profiles finds applications in some of the major industries like Automobiles, Agriculture, Rail and Road Transport, Building and Construction, Heavy Engineering, Architecture, Electronics, Solar Energy, and Defense.
Financials of the company:
Quarterly Results:

Profit & Loss:

Share Holding Pattern: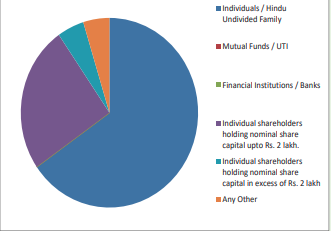 Promotors stake has remained constant at 65.32% for over a decade.
Aluminium market overlook
According to a new research report by Global Market Insights, Inc., the global Aluminum market size is set to surpass USD 210 billion by 2027. The surge in demand for semi-fabricated products from the transportation, automotive, and packaging sectors is propelling the global market growth during the study timeframe.
The rapid expansion in the automotive industry is likely to drive the demand for aluminum cast products. Nearly 60% of the cast products are directed toward the automotive industry. In addition, the growth of aluminum is supported by the rising demand for aircraft in developing nations such as China and India. Aluminum is a feasible option across a broad spectrum of sectors due to the rising prices of alternatives such as copper & zinc.
The extruded processing segment will show substantial growth in the global market and expected to show a CAGR of 3.8% between 2021 to 2027. As the extrusion process is relatively lower in cost than other processes gives rise to an extensive adaptation of extruded process by large aluminum manufacturers.
In addition, the product offers a high strength-to-weight ratio, and its ability to be extruded into any shape irrespective of its complexity and tight tolerances will cater to diverse design applications. The incorporation of computer-aided designs in the extrusion process will also fuel the aluminum market segment growth as they offer reduced design time, improved tolerances, and strong control over each stage of the process.
The automotive sector holds a major share of global aluminum consumption in 2020. The aluminum industry is focused on the research & development of new body shells for trams, high-speed trains, buses, regional and underground trains. Aluminum is used for the manufacturing of car body structures and panels, suspension parts, safety systems, among others. As a result, up to 50% weight reduction can be achieved if aluminum parts are used.
Aluminum acts as a key material in aviation as it lighter the plane body with the highest possible capacity. The material contributes to improved fuel efficiency along with offering improved corrosion resistance. In addition, the automotive industry has been highly effective in reducing CO2 emissions with improved usage of aluminum in varied products.
Reasons to invest
With only 2/3rd of the production capacity being utilized currently no major CapEx is needed to cater to growth in demand.
Better operational efficiency:
a. Working capital had reduced slightly i=over 5 years even though there has been an increase in production and sales
b. Debtor days have reduced and inventory turnover has increased over the last five years.
There was a significant increase in the volume of shares purchased on the 17th and 18th Feb. This indicates the entry of HNI or DII.
Risks
Comodity prices are cylical in nature. Rise in Aluminium price would result in margin squeze.
Company's share price has already moved up a lot this year.
Sources
Disclamer: Invested less than 5% of my portfolio. Planning to increase it to 5%.