Lumax Industries offers a wide array of complete Automobile Lighting Systems and Solutions, which includes; Head Lamps and Tail Lamps, Sundry and Auxiliary Lamps and other related products and accessories for Four Wheeler, Two Wheeler, Trucks, Buses, Earth-movers, Tractors and a variety of diverse applications.
Lumax signifies 'LUMINOSITY MAXIMA' for automobile users.
Lighting products have become an integral part of vehicle styling & design
Lighting products have become an integral part of vehicle styling & design of lamp is being upgraded continuously to enhance the appeal of the vehicle. Further, OEMs now demand lower wattage & higher luminosity lamps to save energy which has made these products more technologically advanced.
The role of lighting manufacturer has progressed from being merely a component supplier to collaborate with OEMs from the concept stage & work as a team.
The auto lighting products in India now seems to be heading towards integration of advanced features with improved design languages.
Collaboration with Stanley Electric has given it a strong technological footing, apart from enabling it to garner business from the Japanese OEMs
Lumax's technical collaboration with global automotive lighting leader Stanley Electric (which holds 35.77% equity stake in the company), has given it a strong technological footing, apart from enabling it to garner business from the Japanese OEMs. The company has been a preferred supplier for several models of the OEMs.
Lumax, which has collaboration with global lighting major Stanley Electric, is likely to be a beneficiary of this as apart from having its own established design & development team, it can procure latest technology from Stanley Electric, which has cutting-edge technology for automotive lights. Further aggressive adoption of LED by OEMs offer an opportunity to auto lighting suppliers like Lumax to expand its customer base as LED requires completely new expertise in the optical design to maximize the benefit from LED.
Hogs a huge 60% market share
Lumax accounts for over 60% market share in the Indian Automobile Lighting Business, catalyzed by its over two decades strong technical and financial collaboration with Stanley Electric Company Ltd, Japan, a world leader in Vehicle Lighting and illumination products for Automobiles.
Enjoys patronage of all major automobile companies
Its top five clients i.e. Maruti, M&M, Honda Cars, HMSI & Tata Motors account for ~79% of revenues, with Maruti alone accounting for around 35% of revenues.
In the passenger vehicle industry, while it has been supplying for most of the models of Maruti, it also supplies for models like Honda City, Jazz, Amaze, Brio, Zest, Etios, Etios Liva, Scorpio, Bolero, Sumo Victa, Safari, Nano, etc. For CVs & 2- wheelers, Lumax supplies to Tata motors, HMSI, Hero Motocorp, Yamaha, etc. In the luxury car market Lumax has been supplying for some models of Bentley, Audi & JLR.
Going forward too, the company is in agreement to supply for most new model programmes of OEMs for both cars & 2 wheelers. Maruti has contracted Lumax to supply lamps for all the new models till FY17. The company will also be supplying to HMSI, Toyota & Yamaha for the upcoming models. In the next 4-5 years, its PV & 2-Wheeler clients are expected to roll out around 30 models & 12 models respectively.
Yamaha is setting up a facility near Chennai & Lumax will supply for all types of lamps for several models including the facelifted Ray Scooter that will begin production in early 2015. Nissan's recently launched facelifted sedan, Sunny, also has Lumax's headlamps. It is also supplying small lamps to Nissan's Qashqai & Juke models in UK.
Plans Rs 300 crore Capex, to double turnover in 5 yrs
Lumax Industries plans to invest Rs 300 crore and double its turnover to Rs 2,500 crore in the next five years.
Over the time, the company has substantially increased its manufacturing capacity and R&D capabilities. Keeping in view the present order book the proposed investment would be around Rs 300 crore in green-field, brown-field and capacity expansion plans in next 5 years, to be funded through internal accruals.
During the past couple of years, the company has invested about Rs 160 crore in its Bawal and Bangalore facilities. Capacity utilisation stands at ~75% currently.
Debt reduction plan on track
Long term debt stands at ~INR 1000 mn and we expect Lumax to repay INR 300 mn debt each year over the next 2 years. Revision in payment terms with Maruti has resulted in higher working capital debt for Lumax Ind. Though interest cost is expected to rise as a result of this but reduction in discount expenses will be higher than the interest outgo, thereby benefiting Lumax on a net basis.
Financial : On equity of Rs 9.35 crore and face value of Rs 10 per share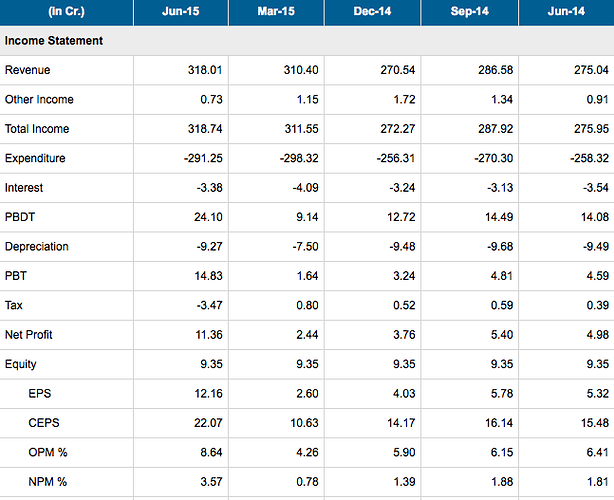 Disclosure - Invested