Hello Everyone,
After being mute spectator for long on this great forum, I am sharing my portfolio here.
Before that about me, I am a techie currently in Pune and entered stocks world sometime in 2015. Things are going okay for me but not great. I read one up by Peter Lynch and Five rules by Dorsey and tried to read as much as possible from this forum and in general from web. As a person, I learn by doing. I don't have patience to learn and then do, same reflects in my investment journey as well.
I am really amazed by the thought process and generosity of the members here. Hats off.
The reason for sharing the portfolio now is correction we are seeing in the market and I think it's the best time to readjust my portfolio. Looking for your precious advice on
-how can I improve my future returns


-When to sell?
-Am I on a right path or should leave stock picking and stick to MFs. You can be blunt.
Please don't expect in depth details from me on the companies I invested coz most of the details are already available on this forum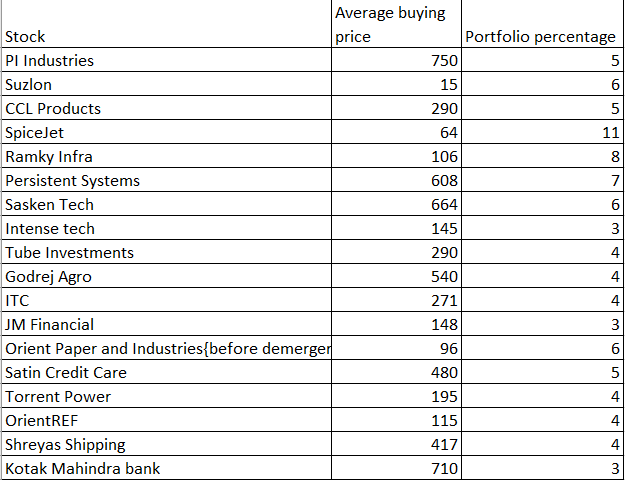 Other than that I have below small positions constitute my remaining portfolio:
Cipla
Kesoram
IDFC Bank
Patels Airtemp
PTC
Websol Energy
Lasa
PI Industries- I entered it after bad Q2. Story is well covered on this forum. I expect it to be a good compounder for next 2-3 years. Will add more if it comes around 800.
Suzlon- Will wait till Q4 results. Are the increased volumes overcome decreased margins? Lets see.
CCL Products- Again well covered here. Success in domestic consumer business can rerate the stock. Exports already doing good. I don't see much downside on this. Will add more if it comes below 270.
SpiceJet- I see aviation as a growth story not cyclic. I avoid cyclic. I expect spicejet to do good for next 2-3 years.
Ramky Infra- A turnaround infra story was available at good valuations. I am tracking their debt reduction efforts in next few quarters. Not planning to hold for very long term.
JM financial- It's a risky sector for me as I don't understand much but it's the sector in demand. Keeping my fingers crossed.
Orient Paper and industries- I used to read spin offs can give you good returns. This one turned out one for me.
Persistent Systems- being a techie, I liked the areas in which company was working and trying to grow. Valuations were attractive. Will add more if it comes around 700.
Sasken tech- similar argument as Persistent.
Satin Credit Care- Was amazed by its growth and was unaware of the risks lending business carry. Entered before demonetization. Added more during fall. It remains a risky one but for next 2-3 years I am willing to take risk.
Torrent Power- One of the better one in power stocks. Good Dividend paying company betting big into renewables as well. But too much dependence on govt policies looks risky to me. Tracking this one on QOQ basis.
Orient Ref- Consistent growth. I see it as proxy to steel sector. Will add more if it comes around 150.
Shreyas Shipping- Got lucky with this. One of my friend suggested this. Looked positive to me after reading their annual report and company is posting excellent results from last 2-3 quarters. Tracking this one QOQ basis.
Intense tech- In the bull market, I forgot to check margin of safety. Still suffering due to that. Company and product are good but where are the earnings ?? Will wait for one more quarter. May be this story is developing patience in me

Kotak bank- My salary account used to be in this bank and I was quite impressed with their services. Then I read about Uday Kotak and invested some money in stock. My first investment. Planning to keep for long time…will add more if market give some opportunity.
ITC- proxy to rural growth. Cigarette remains a stable business and they should be able to overcome all short-term pains. One of my defensive pick.
Godrej Agro- Proxy to rural growth. Excellent management. I expect it to be consistent compounder.
Kindly Provide your feedback and suggestions.