Hi,
First a brief introduction. I'm Mahesh , an engineer by profession and a newbie VP. This is my first post on this forum and anywhere stock related for that matter. I come from a family averse to stock market, and my financial knowledge is rudimentary to say the least although i am trying to learn via Coursera (Online Course site) and lot of lurking on VP forum (as a guest) .
Please forgive mistakes in my analysis and correct me so that I may keep learning. Also I'm surprised that this company docent have a thread on this forum (Am i missing something?)
CMP: Rs. 537/-
P/E: 37.69
A Very brief history (since its a well known name)
Linde India is a part of Linde Group who are world's largest industrial gasses company by market share as well as revenue.
Linde India has acquired Praxair (2018) and BOC (2006) and is the dominant player in the Gases front in India.
Linde India consists of 2 Units
Gases and Related Products
The Gases and Related Products segment comprises of pipeline gas supplies (Onsite) to very large industrial customers mainly the primary steel, glass and chemical industries, supply of liquefied gases through Cryogenic tankers (Bulk) to cater to mid-size demands across a wide range of industrial sectors and compressed gas supply in cylinders (Packaged Gas) for meeting smaller demand for gases mainly across fabrication, manufacturing and construction industry. The primary production of gases (oxygen, nitrogen and argon) is mostly achieved through cryogenic distillation of air in Air Separation Units (ASU). Oxygen, Nitrogen and Argon may also be produced in the gaseous state and supplied through pipeline to the Onsite customers, or produced in liquid form and stored in insulated cryogenic tanks for supply to Bulk customers or further processed in the Packaged Gas plants to bottle compressed gas in cylinders. They also provide medical quality gases for pharmaceutical use such as medical oxygen, synthetic air and nitrous oxide.
Project Engineering Division
The Project Engineering Division (PED) comprises the business of design, engineering, supply, installation, testing and commissioning of Air Separation plants and related projects on turnkey basis i.e. manufacturing works to fabricate core proprietary equipment such as distillation columns for air separation plants, cryogenic liquid storage tanks, ambient and steam bath vaporisers, process vessels, LINIT plants, small sized cold boxes, containerised micro plants for cylinder filling for in-house use as well as for sale to third party customers. The PED derives support from Linde Engineering, Munich by way of transfer of technology for design and manufacture of plants in India
Linde has made its foray it Frozen Food Industry and commissioned a state of the art Food Lab and Technology Centre in Vijayawada, A.P., wrt Instant Quick Freezing (IQF) freezer for shrimp freezing.
"The benefits to the customer are not only in terms of cost savings but are also in terms of enhancement of quality. The Linde's IQF technology with use of liquid nitrogen also allows the customers to tag their premises as ammonia free."
Linde has signed a new contract to develop an air separation unit (ASU) for Indian Oil (IOCL) refinery at Paradip in Orissa, India.
Offshore Technology | Oil and Gas News and Market Analysis
A Financial Look: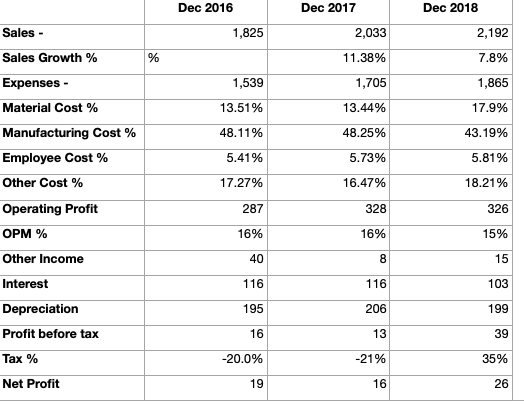 (Source : screener.in)
Linde is virtually a debt free company and has a strong financial lineage thanks to its parent group.
Concerns :
Post Praxair merger, The Competition Commission of India required Linde to divest in its JV Bellary Oxygen Ltd., Hyderabad Cylinder Filling Station (excluding the Nitrous Oxide facility) and the Chennai Cylinder Filling Station.This will have a definite effect on the profitability and its presence in the South. (Bellary Oxygen alone contributes close to 39% of consolidated PAT for Linde)
Bellary Oxygen Ltd was subsequently a slump-sale to lnox Air Products Private Ltd. for a sale consideration of Rs. 54.9cr subject to any adjustments.
( Linde India board approves sale of Belloxy Divestment biz to Inox Air Products )
( Linde to sell JSW plants to comply with Praxair merger )
The Covid19 slowdown will have a big impact on the economy and Linde is not exempt from the same. Linde is heavily dependent on Steel, Automotive and refineries for their business. I believe that the economic recovery will be spectacular and with many MNC's looking to end their dependance on China, will find an investment option in India.

Almost all major players in this industry have de-listed (Ellen-Barrie and Inox Air Products). Linde is no different. Linde tried for a de-listing exercise but it failed as they did not accept the 'Discovered Price' of Rs.2027/-. (But they may try again since the share price has corrected quite a lot ??)

Strictly from a level of a novice, I'm not too sure if the company is very investor friendly (esp minority investors), latest copies of their Corporate Presentation and con-call transcript are not available (last copy on the website was Q2/2017). I was going through the Covid19 Impact con-call of Thermax , where it was very crisply explained by the management regarding the impact due to the pandemic and forward visibility.

Form 10K link HERE makes for good reading for further understanding.
(https://sec.report/Document/0001707925-20-000015/)
Conclusion: As I stated earlier , I am a novice investor and learning from this forum. I am waiting for the stock to correct further to make an entry.
Disc: Not Invested , on my radar