Background
LASA Supergenerics is a company primarily in the business of Veterinary API's (Active Pharmaceuticals Ingredients). Until recently LASA was a subsidiary of Omkar Speciality Chemicals Limited and has independently listed on the stock exchanges today 21st September 2017.
Management
LASA is led by Mr. Omkar Herlekar as the CMD who has done his Bachelor of Science and Master of Science (By Research) in Chemistry from the University of Mumbai and further a Doctorate Degree from the Institute of Chemical Technology which is one of the most reputed chemical education institutions in India. Just as a interesting tidbit, the institute is also known for one of it's well known alumni Mr. Mukesh Ambani. The reason I mention it is to let you know on the respect the institute enjoys among Indian Chemical Industry and why one can give credence to Mr. Omkar Herlekar's chemistry knowledge. A short list of the ex-students is available here: UAA Super Stars - UDCT Alumni Network
Omkar Herlekar has a specialization in Catalyst Chemistry and has several process patents to his credit.
A lot of the information on LASA has been captured extremely well by AlphaInvesco and instead of repeating it I would highly recommend a full read at https://www.alphainvesco.com/blog/lasa-supergenerics-omkar-speciality-chemicals/
Financials (Credit to AlphaInvesco for the image)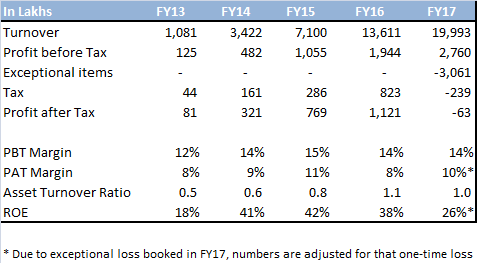 Further to the above financials (as the article was before the next set of financials were released), the latest current financials are now with us and they are attached below:
2017 Annual Report: LSL Audit report & Financials_2016-17.pdf (1.9 MB)
2018 Q1: June-17-Qtr-Result-LASA.pdf (17.6 KB)
Going through the latest financials with the previous data as posted above and a small addition, the annual sales for 2015 were 71 Crore, 2016 they were 136 Crore and in 2017 they were just shy of 200 Crores. But when we look at the last 2 quarter sales the run rate is now around 60 Cr per quarter. This should translate conservatively to 240 Crore in sales for full year 2018, even with no further growth and just maintaining the current run rate. But it is quite evident that sales are growing at a exceptional pace. It is possible the company may deliver around 250-270 Crores in sales in the coming year and that would mean 25% to 35% sales growth, which is what they have been doing for the last few years.
The below is from the pre listing SEBI mandated advertisement in the newspapers:

For the full pre listing advertisement please use this link: http://www.lasalabs.com/cs-pdf/Free%20Press%20Newspaper%20ad.pdf
When read carefully, it explains most of their business in bullet points. Just to make it easier…
Fungible manufacturing facilities.
No major product dependency.
Over 400 customers in 27 countries (de-risking customer and geographical dependency)
10 DMF Approved Products & 7 Process Patents applied for.
They also mention they have 4 units. (A key monitor-able and expected soon is the start of operations at Unit 5 which will increase their manufacturing abilities and thus in my opinion provide further sales growth).
This to me looks like a interesting and developing story with a lot more to play out. Their major listed competitor is Sequent Scientific who is doing a top-line of around 1000 Crore but unlike LASA Sequent is still not profitable except for the last quarter. The market size is quite large and the management of LASA seems capable of scaling up and keeping the growth momentum moving positively at least for the next visible 6-8 quarters.
Risks
Like any Pharma business it is subject to many regulations which may have a sudden impact on the future business of the company.
Pro's
-They derive most of their sales from their patents and thus enjoy protection from competition.
-Execution ability resulting in increased sales has been shown over the last 3+ years.
-The company is owned and led by a qualified specialist in catalyst chemistry who works on developing the processes himself, has proven his knowledge and skill with previous patent filings which are now bearing fruit for the business, and the growth of the company is not dependent on external specialists who may leave the company.
Disclosure: I along with another ValuePickr member met with the management on 14th of September and we will try to post the notes that we can publicly as soon as possible. I can say this for the moment though, we walked away impressed with their plans.
Disclosure: I have a holding in LASA, my views may be biased, I may buy more anytime or sell anytime.